By: Li Wing Kiu、Elisa Luk、Japson Melanie Jane、Ezra Cheung

Edited by: Choy York Borg Paulus、Cecilia Wong、Daisy Lee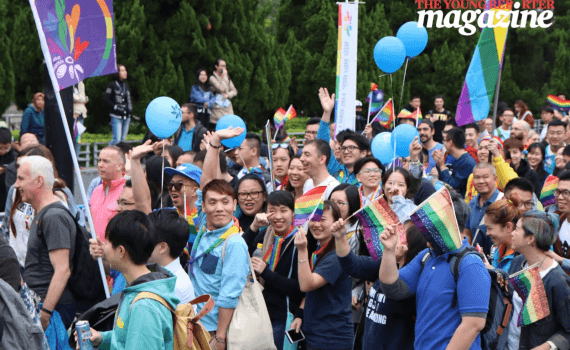 Hong Kong Pride Parade 2017: Goodbye to LGBTI discrimination
By: Li Wing Kiu、Elisa Luk、Japson Melanie Jane、Ezra Cheung

Edited by: Choy York Borg Paulus、Cecilia Wong、Daisy Lee

2017-11-25
The Pride Parade 2017 kicked off at two pm today, with hanging lucky scrolls in Victoria Park, signifying the smoothing out of the path, for people of all sexualities. The slogan for this year's parade is "turn the tide, walk with pride". Gary Fan Kwok-wai, current member of the Sai Kung District Council, believes that sexual minority rights should be legally protected. "Everyone should be equally treated, including sexual minorities," said Fan. Professor Alfred Chan, the chairperson of the Equal Opportunities Commission, said there will be legal consultations concerning transgender rights next year. Professor Chan said everyone, especially the government, should cooperate to achieve equality in society. "Everyone is born equal," said Kwok Ka-ki, member of the Legislative Council. However, Kwok thinks that the road to equality for the LGBTQI community is always not an easy one in Hong Kong.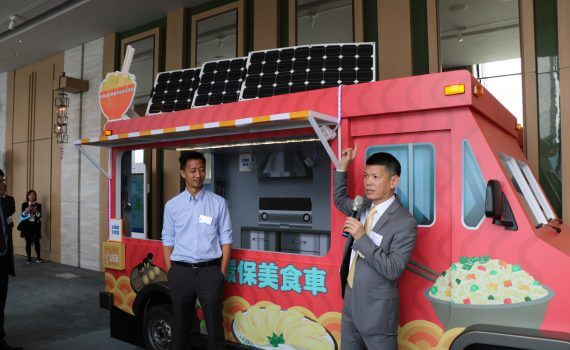 Hong Kong's first solar-powered food truck wins catering award
By: Holly Chik、Michelle Ng

Edited by: Choy York Borg Paulus

2017-11-07
Hong Kong's first green food truck won the Gold Prize of Catering in Traditional Cuisine of CLP's Greenplus Award Programme. The solar-power panels, which cost over $20,000, are installed on the vehicle's roof to supply electricity for fans and for customers to charge their electronic devices. "The eye-catching panels also demonstrates the eco-friendliness of the vehicle whereas other energy-saving measures are usually not obvious," said Trevor Ng, Managing Director of Pat Chun, who has been operating the $800,000 truck since March this year. The company also adopts an energy management system which can be operated with a smartphone to improve energy efficiency. "With the system, we can collect real-time energy consumption data and adjust the use of electricity," said Ng. For example, they can use the remaining heat generated by the automatic rice-fryer to cook their stewed beef brisket. To reduce interior temperature, they opted for a heat-resistant automatic rice-fryer. The solar panels on the roof also serve as a heat barrier during hotter days. A centrifugal range hood and a grease trap are also installed to collect used cooking oil that will be converted to biodiesel for the car. Ng said they save about 25% on their electricity bill after implementing these measures. Such environmental protection measures "mitigate climate change, lower business cost and create new business opportunities," said Philip Yung Wai-hung, Permanent Secretary for Commerce and Economic Development (Commerce, Industry and Tourism).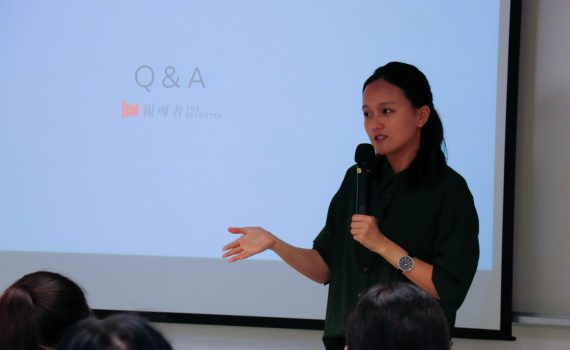 Uncovering invisible slavery: the underbelly of Taiwan's fishery industry
By: Michelle Ng、Ezra Cheung、Alexandra Lin

Edited by: Choy York Borg Paulus

2017-10-26
"Taiwan is an island, surrounded by ocean, but it seems that most people are not familiar with its fishing industry," Cheng Han-wen, a Taiwanese investigative journalist said. Initially, Cheng and her team wanted to write about the decline in capture fisheries. However, when they were carrying out an interview with a fishery overseer, they discovered the industry's enslavement of young Indonesian fishermen by accident. "The stories about the exploitation of fishermen are rarely covered," added Cheng, "because the Taiwanese media often focus on the epic grandeur of its offshore fishery." The discovery later guided them to an Indonesian village, where eight in ten villagers said they had been to Taiwan, as some of them were proficient in Mandarin. A villager who used to work in Taiwan's fishing industry was mentally traumatised; another "jumped to his death", according to Cheng.   Cheng and her team have won three SOPA awards in 2017 on reporting about the exploitation in the Taiwanese fishing industry . "The ship master has also beaten me up," Cheng quoted from her interview with Supriyanto, a fishery labourer from Central Java, Indonesia and was later found dead in a Taiwanese commercial offshore fishing vessel due to sepsis. Reduced to a bag of bones, his dead body was then sent back to his home in Central Java. Although his story had been covered by several outlets, no one went as deep as The Reporter: An award-winning alternative media composed of ten journalists and three photojournalists, specialising in investigative and in-depth reporting. "If a fisherman and a fish were to drop into the ocean at the same time, no doubt the fish would be rescued first." said Cheng.  Despite receiving international recognition for the story, the young journalist still feels powerless about the issue because the coverage has not brought about immediate change in the society. …