A rise of local prosthetic makeup
Special effect makeup artist Gary Chan seeks ways to support artists in Hong Kong
by Connie Fong and Susan Gao
A sweaty-stocky meat deliveryman dismembers the corpse of a 16-year-old female prostitute, tearing the skin from her face.
The signature bloody scene appeared in the award-winning local crime movie "Port of Call". 26-year-old Gary Chan Ka-wai was in charge of special makeup effects.
Dubbed "the little king" in the field, Mr Chan says he wants to be more than just a makeup artist. He hopes to improve the art industry and society through his work.
"I was lucky that I got lots of opportunities," said Mr Chan. He wants to create more opportunities for others.
As Mr Chan participated in many local art competitions, he found out that many of the rules and judges in those competitions were not professional or qualified.
So, he decided to organise one himself. At the moment, Mr Chan is organising a face-painting competition for local artists.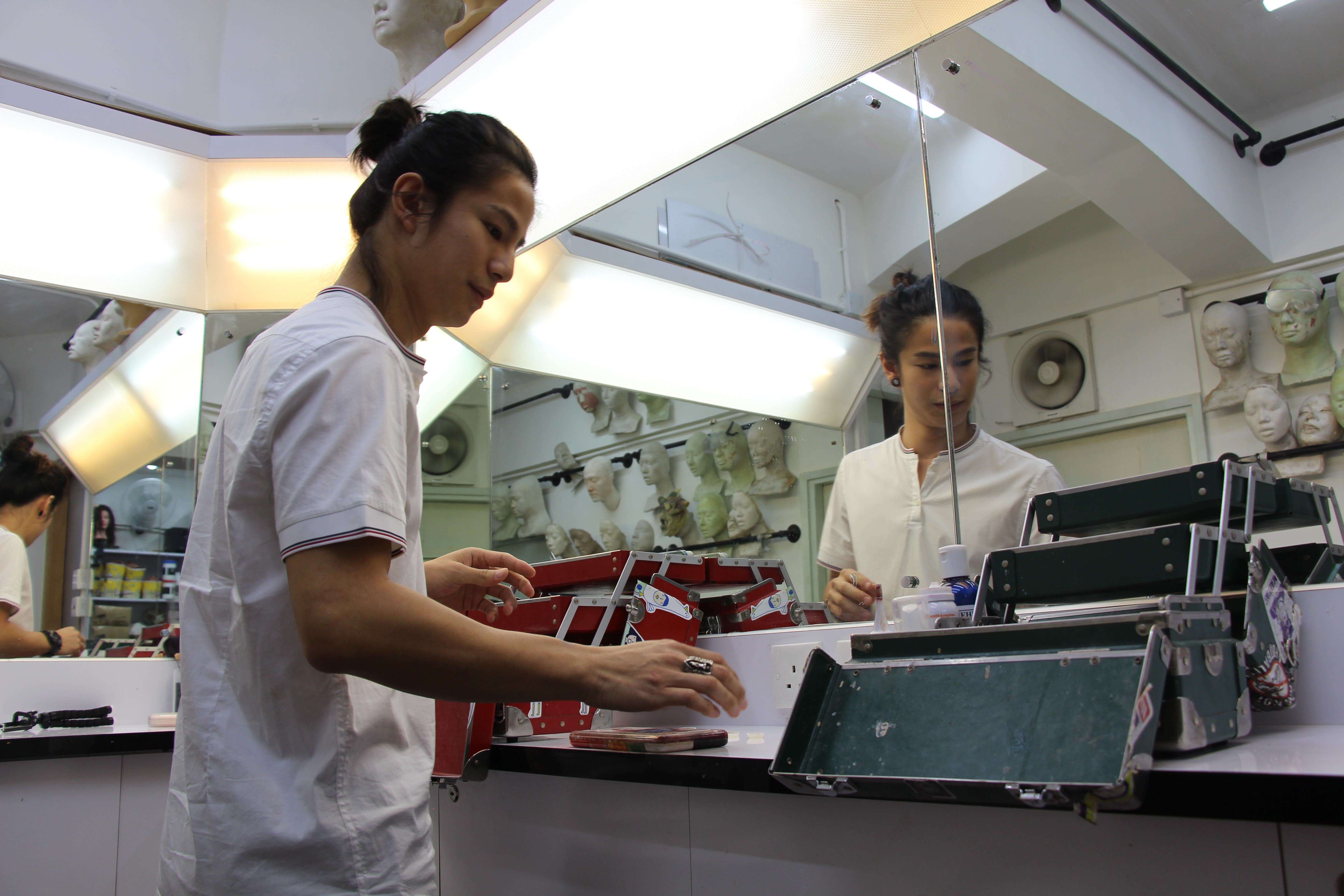 Mr Chan said its aim is to support local artists, since filmmakers nowadays usually prefer hiring foreigners. "The moon seems fuller in foreign lands," he said.
Many production companies either simply edit the script and stories to eliminate the need for special makeup or find foreign makeup artists if they have enough budgets.
Mr Chan implores production companies to hire locally - and to respect local artists by giving them a budget to work with. "Don't think that we're beggars," he told The Young Reporter.
Although many skilled artists have emerged in Hong Kong, the major problem in the prosthetic makeup industry is still a shortage of talent, he added.
It takes at least a year to train a qualified special makeup artist, but many people do not have that patience, he said. After a couple of weeks or months, when they find it cannot bring them good money, they will stop practicing and quit.
Another reason is the gap between their expectations and reality, he said. People may think doing special effects makeup will take hours, which is already a long time but the truth is it can take months.
He said his most recent project is making an adult-size corpse in the fetal position. This unusual posture poses great difficulties, taking twelve people almost a month to complete.
Mr Chan said this is his most satisfying piece yet. "I cannot show you now, but when you see it, you must be like "Wow. That's amazing!"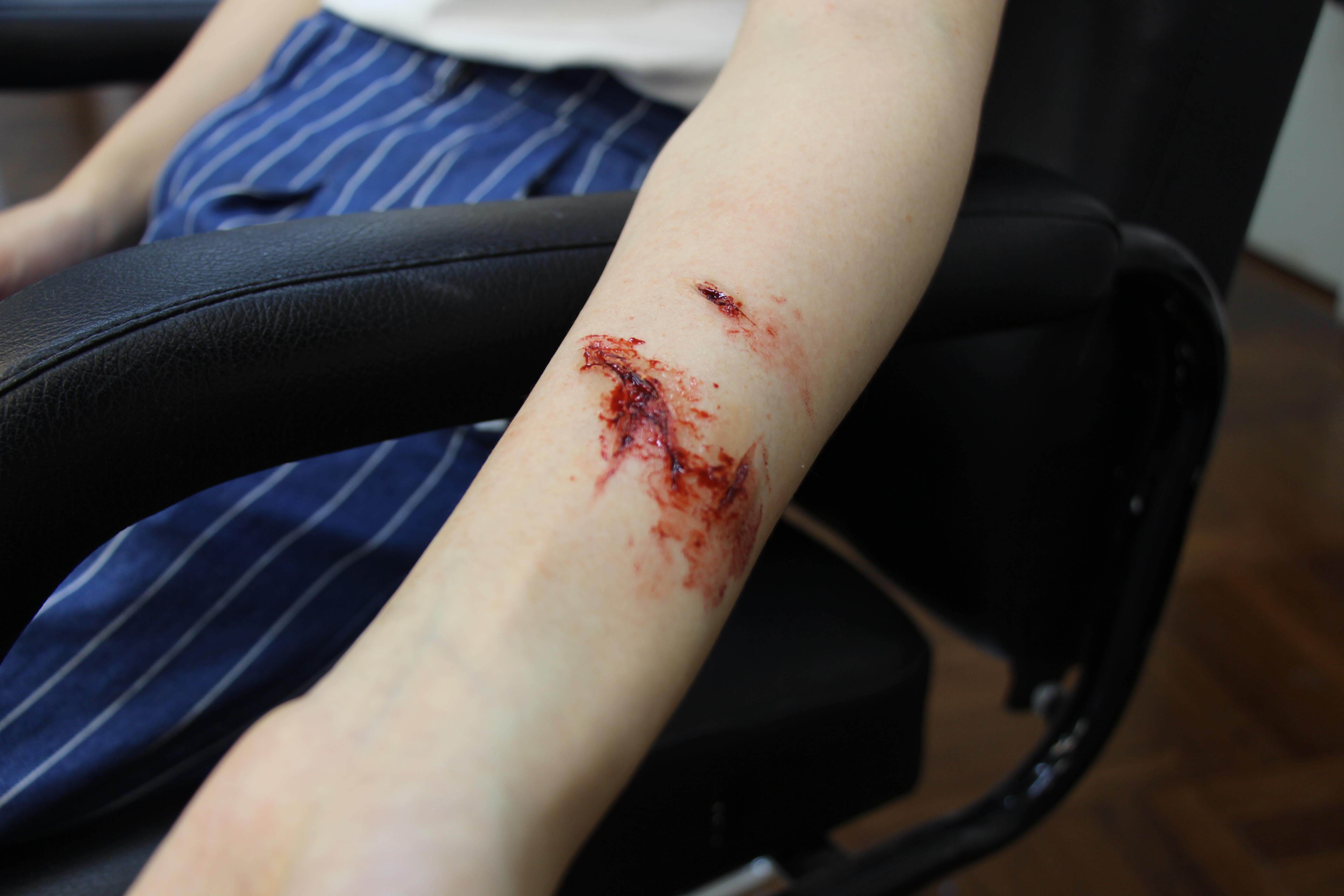 Mr Chan has been a prosthetic makeup artist for three years. Despite so many difficulties, he said he never thought of quitting.
Most production companies only have low budgets for special effects makeup, Mr Chan said. He said he would always use the best quality products for clients, and if they did not have enough budget, he would pay on his own.
"It's not that I do it cheaply," he said, "it's because this was the only budget they had, and this was the only chance we got. I wanted to show off my skills, so I would take it anyway."
Special effects makeup cannot earn enough money for his living, said Mr Chan. He also works in a company selling professional makeup products, in which he has developed relationships with customers and in turn will benefit his prosthetic makeup career.
"When they need special effects makeup, they will come and find me, because they trust me," said Mr Chan.
Financial difficulties never stopped him from chasing his dream. At first he did not have much money, so he signed a contract with a company supporting him to study abroad, promising to work for it after graduating from Cinema Makeup School in Hollywood.
"I'm just lucky," he said, "but luck is what happens when preparations meet opportunities."
Mr Chan said he always did lots of preparations. When he was not at work, he would be practicing, teaching himself online, or consulting experienced artists.
Other than Port of Call, he works for other film production, commercial, advertising, fashion institutions and even pre-wedding shootings. He has also organised many training programs in Hong Kong and Mainland China.
But he does not consider himself as successful at all. "Special effects makeup is only one of my tools to do something else," he said, "I will never be successful until I realise my dream."
"I want to be a politician," said Mr Chan with his back straight, "I hope I can influence people in a good way, not only (people) in this field, but also the public."
(Edited by Michelle Chan; video edited by Sharon Shi)