Myanmar people march to demand peace to "stop war"
By: Holly Chik、Wing Li、Dorothy Ma

Edited by: Cecilia Wong、Isabella Lo

2017-05-24
Thousands of citizens protested against multiple domestic wars happening in the north where most ethnic groups live on February 5, demanding a peaceful Myanmar, said a leading demonstrator.
About 7,000 people marched in downtown Yangon in February, carrying toy guns and poems, to protest the long-running civil war in northern Myanmar.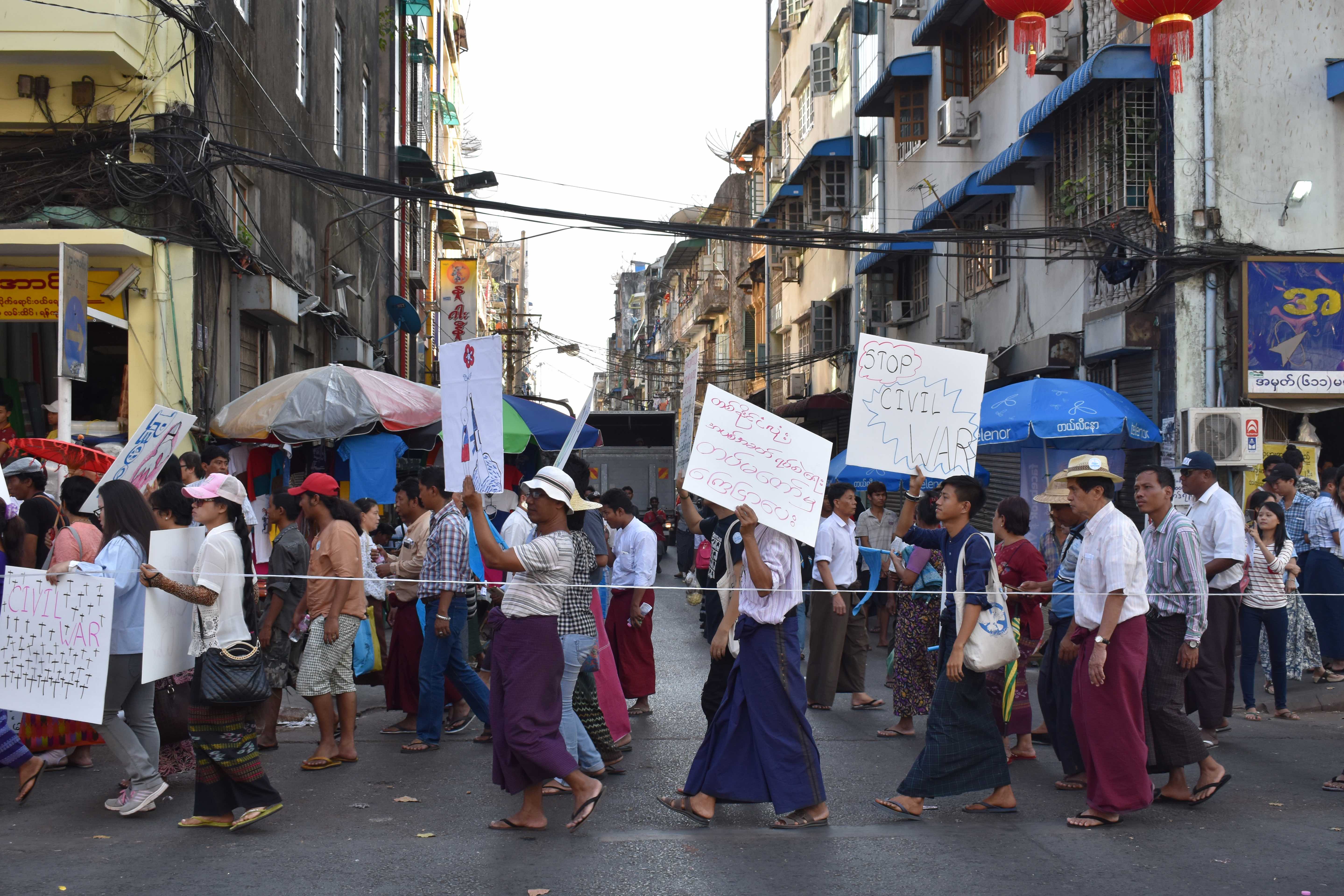 The protesters marched to Maha Bandula Park and distributed leaflets printed a poem titled "I Hate the War So Much", expressing their discontentment with several civil wars happening in Myanmar.
Conflicts between ethnic-minority militias and government forces have been flaring high up in northern Myanmar for feuds, competition over natural resources, and demands for more autonomy, dating back to the end of the second world war and the end of British colonial rule in 1948.
Myanmese leader Aung San Suu Kyi has been trying to forge a nation- wide peace agreement between all ethnic groups after years of war in Myanmar's many border regions, but ethnic minorities have a deep-rooted mistrust of the central government.
Many student unions and volunteers from non-governmental organizations participated in the demonstration, which was organized via Facebook, while, dating back a few years ago, Myanmar has no comprehensive internet network across its boundary.
"We come here because we want peace... My parents don't allow me to go, but I am here. If there is a next one, I would like to join because of peace," said Sad Un San, a 16-year old student at East Yangon University.
He said he came to the demonstration to demand peace and condemn the raging wars across Myanmar with his junior classmates who are about 15 years old.
"In our country, people are fighting for no reason", said Hah Eie, a law student from Dagon University who distributed food and drinks to pro- testers for free as a volunteer of the revolutionary movements - Food Not Bombs Myanmar, an organization that supports the petition.
Kyaw Kyaw, the Founder of Food Not Bombs Myanmar, said the plight of Myanmar is mainly caused by "racism" in which Buddhists hate Muslims, leading to endless war in this country.
Taking Wirathu, dubbed the "Burmese Bin Laden", as an example, he is a Buddhist monk who has stoked religious hatred across Burma by warning against Muslims who "target innocent young Burmese girls and rape them", and "indulge in cronyism" on social media.
Some members walked for two hours from other cities, like Mawlamyine and Sagaing, to Maha Bandula Park in Yangon, said Khin Mg Naing, the founder of GEAR.
International human rights scholar, Larry S. Dohrs, who is working for U.S. Campaign for Burma, came to support the demonstration and said the internal disorder between ethnic minority groups and the military in Myanmar is "serious".
There has been having devastating cruelty against Rohingya, an ethnic minority group's, children, women and men, shown in UN human rights report.
The country suffers from many internal conflicts including Kachin and Shan of the north, Kayin in the midland and Tanintharyi of the south, overall known as world's "longest running civil wars". Acoording to Myanmar's government, it recognizes 135 distinct ethnic groups, identified based on their geographical location, including Burmese Chinese, Indians, Anglo-Burmese, Lisu, Rawang, Naga, Padaung, Moken, and several minorities living in Shan State.
Myanmar civil war involves several armed groups that have been fighting against the government, and some- times against each other, for decades, according to Frontier Myanmar, an English magazine in the country.
In October 2016, three border police were attacked during security operations in Maungdaw, Rathidaung and part of the Rakhine State, the three major conflict areas in Myanmar, according to the UN.
Though State Counsellor Aung San Suu Kyi is the de facto leader, the military still retains control of the Home Ministry, Defense Ministry and Border Affairs Ministry, said Dohrs.
Aung San Suu Kyi led the National League for Democracy to a majority win in Myanmar's first a largely fair vote - although the Muslim Rohingya minority, who are not recognised as citizens were denied voting rights in 25 years in November 2015. Since taking power, the NLD has faced international criticism for ignoring abuses against the Rohingya.
"I think the biggest obstacle is the military's control over the ministry. The military still controls much of
the economy and certainly controls much of the politics. They designed the constitution which Aung San Suu Kyi's party rules under. They didn't design it to give power, they designed it to retain power," Dohrs added.
The government led by Aung San Suu Kyi, Myanmar State's Counselor, as well as the foreign minister, aims to bring peace to the country, said Uminkhin, the Secretary of the Central Economic Committee of National League for Democracy, the governing party of Myanmar.
Reported by Holly Chik, Wing Li and Dorothy Ma
Edited by Isabella Lo and Cecilia Wong