Hong Kong bike-sharing initiatives' secretive rise
By: Japson Melanie Jane、Angie Chan、Scout Xu

Edited by: Daniel Ma、Sean Hsu、Choy York Borg Paulus

2017-10-04
The Lands Department confiscated around 30 bikes in Tin Shui Wai and Yuen Long, most of which are from GoBee, the first bike-sharing service in Hong Kong.
Unlike existing bike-rentals, bike-sharing services allows users to rent green bikes by scanning QR codes with their mobile phones, posing no restrictions on where to pick-up or drop off the bicycles.
Sha Tin District Councillor Sunny Chiu Chu-bong finds the bike-sharing service is a good concept and can be very convenient, though problems have arisen since before its implementation.
However Chiu said there are no regulations towards these services, but taxpayers are paying for these bikes.
"They are using government land to make profit, without approval from the public."
The district councillors were not informed of the bike-sharing service until they started receiving complaints; Some complained of alarms going off and are unable to be turn them off; Bikes were inappropriately parked, blocking the road. These are only some of the common problems found since the launch of the service.
"Hong Kong is not ready for bike-sharing services," he added. " The city lacks government regulation and infrastructure. More similar companies are going to surface and that will worsen illegal parking."
Sha Tin resident Chan said this service is quite convenient, but it's not very well-known and the payment method is quite complicated. Though she is concerned of the parking problem, she would choose to pick up these green bikes for a free 30-minute session.
Another resident Michelle Cheung feels uneasy about the registration and payment method of the services. She fears about privacy problems which could hinder with the usage of the service.
"The government should make them register and plan out the areas for them to park the bikes." She answered when asked about possible government action, regarding the disruption caused by the service.
Martin Turner, the president of Hong Kong Cycling Alliance said bike-sharing can bring benefits to communities, especially in improving daily commutes around the city.
"This app-based service originated from Mainland China, and Hong Kong fortunately has the opportunity to be in this business at an early stage", said Turner.
It is clearly the next stage of the cycling industry and it will be successful, he added.
In Shenzhen, shared bikes have exceeded buses as the second most popular means of public transportation, reaching 4.53 million rides everyday.
"It's a revolution folks, and it's coming our way." Turner said on his Facebook page, after sharing the news of Shenzhen.
Bike rental owner Yeung said their industry will be affected by these bike-sharing services, as people have chosen the green bikes over the rental ones.
The damage has been minor as people who would like to cycle for a full day or to exercise, would still prefer renting from a shop, where they could rent bikes with gears, lights and customizable baskets.
He does see benefits of the bike-sharing services, as people no longer need to worry about drop-offs and they are also able to rent a bike during night time if wanted.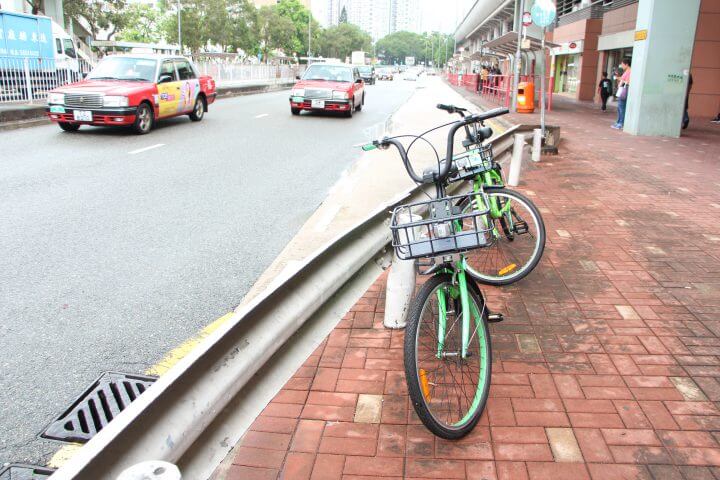 Two bikes parked right outside of the MTR station.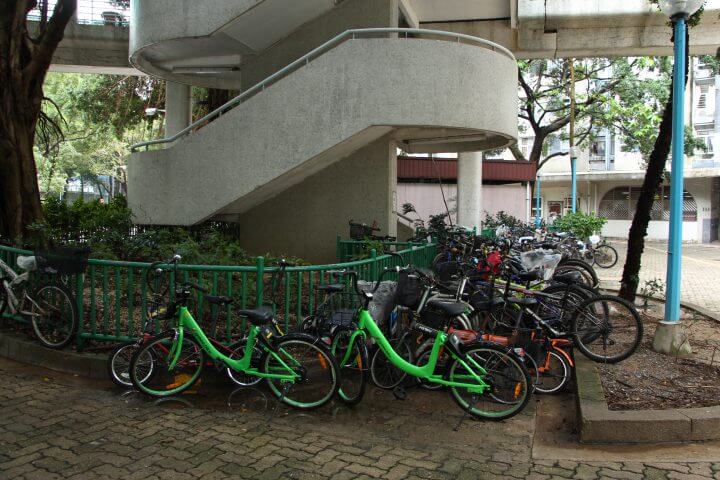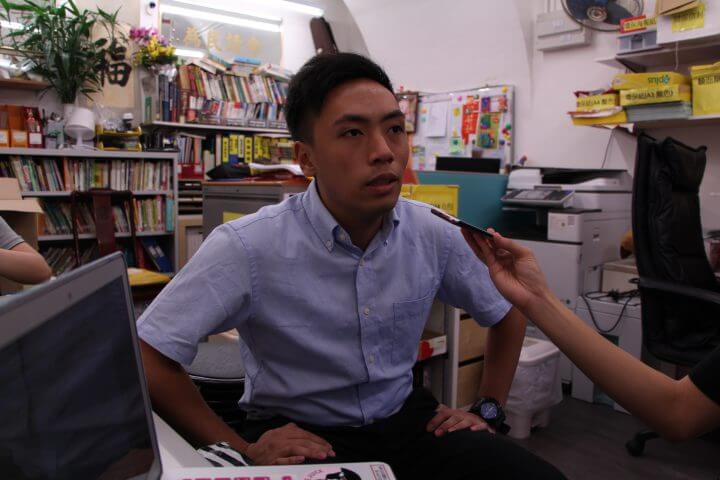 Sunny Chiu, a Sha Tin district Councillor. Sha Tin is one of the first places to supply the sharing bikes.