Lack of seat belts on minibus poses threats to passengers' safety
By: Elly Wu、Michelle Ng、Sharon Pun、Candice Wong

Edited by: Fred LAI、Celia Lai

2017-10-04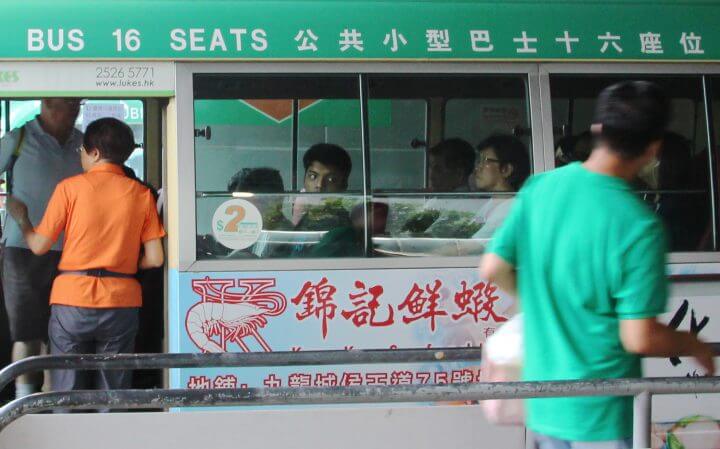 More than 40 per cent of light buses in the city do not  have seat belts, despite mandatory requirements to install them.
A crash involving a minibus in Shek O three days ago again raised concern on the potential threat to safety. Twenty six passengers were injured.
A new law enacted in 2004 states that all minibuses must be fitted with  seat belts. The Young Reporter talked to more than 60 minibus passengers and found that only 29% of them would wear seat belts when taking a ride.
Tam Chun Tak, Secretary of HK, Kln & NT Public & Maxicab Light Bus Merchants' United Association, says the high cost of fitting seat belts is a problem.
He believes that without government subsidy,  it will take at least 15 years for seat belts to be installed on all light buses, and they have no plans to install seat belts in existing minibuses.
"The only way to ensure all minibuses have seat belts is to replace some of the existing vehicles, " Tam said. That's because the frame of some of the  current buses cannot be fitted with seat belts.
But former Secretary for Transport and Housing, Cheng Yu-wah, now a legislator, says the government has provided help to the industry.
She explained that there have been three incentive schemes since 2004 to encourage minibus owners to replace their own vehicles in order to comply with environmental and safety standards.
Out of the 64 minibus passengers The Young Reporter reached, 87% pay attention to whether seat belts are installed on minibuses, but only 29% wears them sometimes. No one said they would refuse to take a minibus without seat belts.
Wong Hei-man, 20, who was once fined for not wearing a seat belt on a minibus, says she is not concerned whether a minibus has seat belts before she takes a ride. She does not buckle up even if seat belts are provided.
"I think Hong Kong people generally are not used to wearing seat belts from a young age," she said.
Mou Hiu-tung, 20, one of the passengers, said she only fastens the seat belt when she thinks the ride is dangerous.   
"Speedometers often ring on minibuses going from Mong Kok to Aberdeen," she said, "that's when I think there's a need to fasten the seat belts."
Despite her concerns about safety, Mou would still get onto minibuses without seat belts installed, since convenience is her priority.
Not until 2019 will all minibuses be equipped with seat belts, according to the Environmental Protection Department, out of environmental concerns.