Cultural tours fail to pull mainland tourists during Golden Week
By: Holly Chik、Caroline Kwok、Ezra Cheung

Edited by: Angela Cheung、Emily Cheung

2017-10-04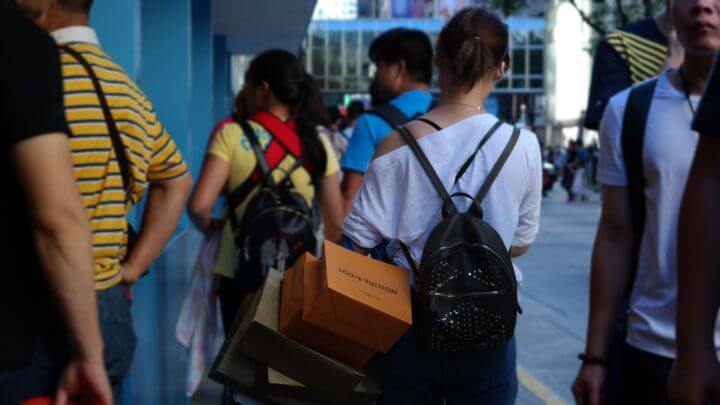 Not a lot of mainland tourists come to Hong Kong for cultural exploration or eco-tours, spokesperson of Mainland Travellers Centre of China Travel Service said.
The company offers different one-day tours including popular tourists spots such as Ocean Park and Hong Kong Disneyland, but they also offer cultural and eco-tours.

For example, China Travel Service provides cultural tours to Kowloon Walled City Park and site visits to the Hong Kong UNESCO Global Geopark.
Both types of packages targeted at mainland travellers but cultural and eco-tours are usually less popular amongst customers regardless in peak seasons or in regular days.
Over these few days of the National Day Golden Week, over 150 individuals from the mainland came to Hong Kong daily for one-day tours of traditionally popular tourist attractions. Yet, only less than 60 joined either cultural or eco-tours every day.
China Travel Service spokesperson said the company did not marketise any of their tours as flagships and customers could make their own choice.
"Usually they are here (in Hong Kong) for shopping and popular tourists spots," spokesperson said.
Ho Ho Go Experience is a tour agency which covers tradition and off-the-beaten-path attractions. The founder, Ling Ho, also said no mainland tourist has joined their cultural tours after they were launched in 2015.

• 20 Most Popular Countries as Mainlanders' Tourist Destinations
(Data from China Tourism Academy)
Former Chief Executive Leung Chun-ying aimed to diversify the visitor source market and develop cultural and creative tourism, as he announced in the 2016 Policy Address.
The government defined "creative tourism" as tourism and minglement of experimental activities with local characteristics, citing South Korea, Brazil and New Zealand as examples.
Brazil offers tourists samba dance learning experiences instead of just watching a dancing show, whereas New Zealand organises indigenous related hands-on workshops operated by local tutors.
The economic impact of creative tourism in South Korea in 2010 was about 1.6 trillion won (HK$10 billion) and supported about 25,600 jobs, according to the Organisation for Economic Co-operation and Development.
However, tourism sector lawmaker Wayne Yiu Si-wing said the government is working passively with a "the less you do, the less mistakes you make" attitude in developing cultural tourism.
For instance, some travel agencies have tried to submit applications to the government in the hopes of organising tours on weekdays to the High Island Reservoir East Dam, a popular tourism spot at the Hong Kong UNESCO Global Geopark.


But due to possible water pollution and adverse effect on the environment, the Water Supplies Department and the Agriculture, Fisheries and Conservation Department refused to allow travel agencies to operate shuttle bus into the area on weekdays.
Travellers who would like to visit the Dam can only use the shuttle-bus services which run during weekends and public holidays.
The government also did not make effort in packaging or creating routes for cultural walks, said Yiu. Instead, the government invested too much in commercial attractions.
One example is the Hong Kong Disneyland, which the government poured $58 billion into its expansion scheme.
The lawmaker also said the government did not set up adequate ancillary facilities in potential tourism spots.
Wi-Fi coverage, lavatories and rest areas, for example, are not available or enough in some hiking trails that can be further developed to serve as mature attractions, said Yiu.