HKFTU urges mandatory testing for school staff for the resumption of face-to-face classes
By: WANG Jingyan 王婧言

Edited by: Robin Ewing

2021-05-13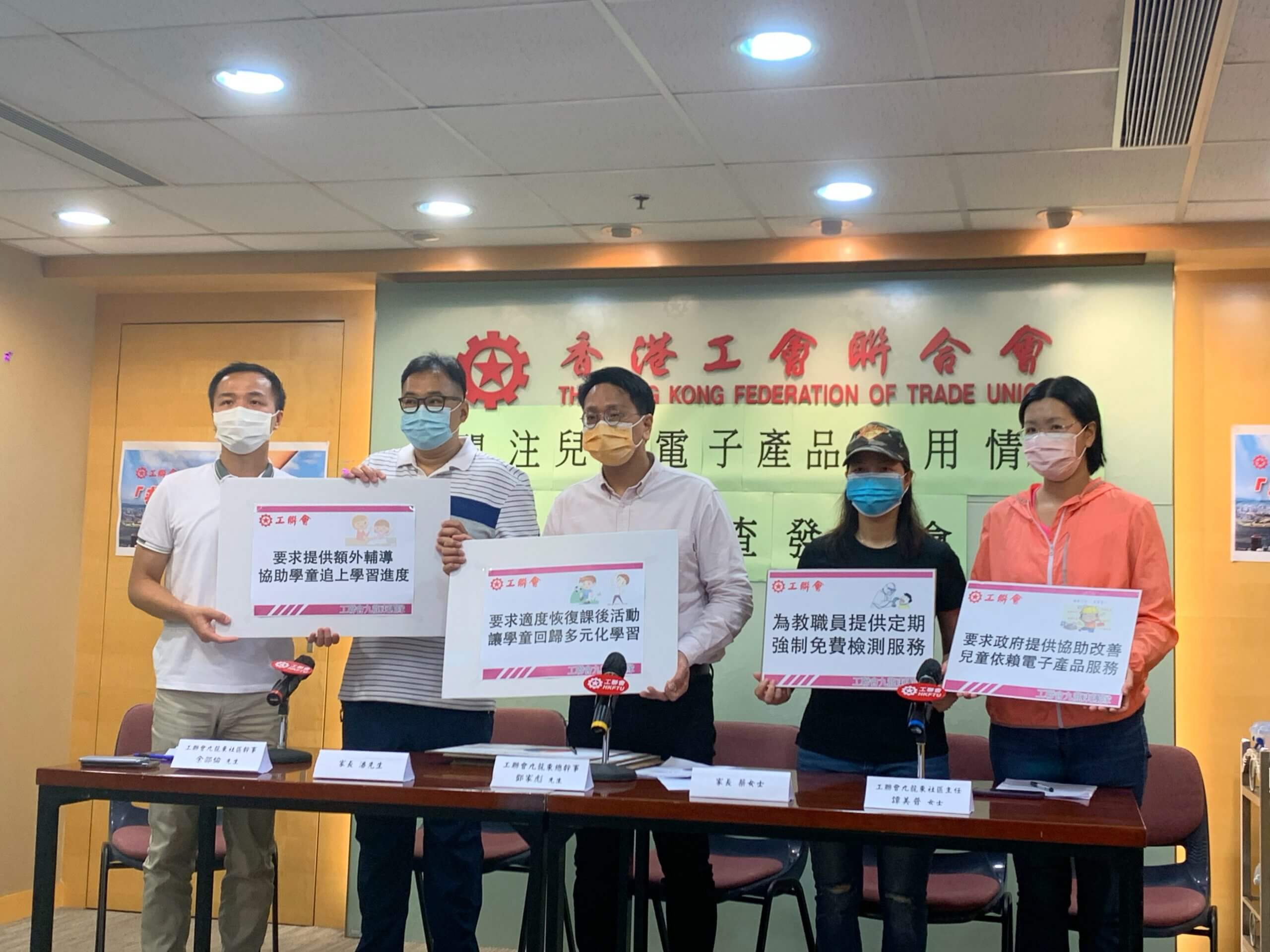 The government should implement free mandatory COVID-19 testing for teaching staff in primary and secondary schools in Hong Kong and take measures to reduce children's addiction to electronic products, the Hong Kong Federation of Trade Union urged at a press conference today.
Primary and secondary schools will start half-day face-to-face classes from May 24.
"The first thing is mandatory tests for all teachers and workers in school to keep students at low risk of infection," said Tang Ka-piu, Kowloon East Chief Community Officer of HKFTU, adding that the union hopes the government can also provide free tests for students if possible.
The union interviewed 849 parents and 1,158 school children in early May.
Over 90% of children interviewed spent more than four hours on online studying and nearly 80% spent an hour or above on electronic devices for entertainment, Mr Tang said at the conference.
He also said that 95% of parents interviewed agreed that online teaching increased children's dependence on electronic devices and nearly 90% agreed that online teaching causes problems to their children's health, such as poor eyesight, back and neck strain and unstable moods.
"Online learning also increases the conflicts in families as parents want to prevent their children from spending too much time on phones, but the children reject it," said Yu Siu-lun, Kowloon East Community Officer of the Union.
Parents at the press conference said they are concerned about the efficiency of online teaching, as they both found their children pay less attention to class and play games or watch YouTube instead.
Parents said they required extra-curricular tutoring to help students catch up with courses.
Smaller classes for online teaching would increase the quality of online classes, Tam Mei-po, Kowloon East Community Director of HKFTU, said.
The union also encouraged the Leisure and Cultural Services Department to open more entertainment services for children so that they can spend more time outdoors rather than on mobile devices.