Coronavirus pandemic adds to the burden of special education needs(SEN) students and families
By: Kate Zhang

Edited by: Nick Yang

2022-03-15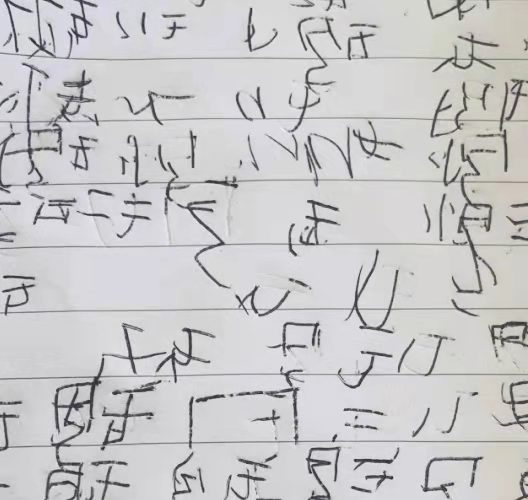 Kelvin Wong, 35, is looking for a tutor for his 8-year-old daughter, who has dyslexia.
His daughter is a student in a mainstream school. She is in the bottom of her class because she reads slowly and has difficulty in writing.
The girl's teacher was often dissatisfied with her grades. This caused her to be fed up with school. She had not been to school for three months before the suspension of the face-to-face lessons due to COVID-19.
"My daughter often cry and tell me that teachers and classmates think she is stupid. She said she tried very hard to write correctly, but she still wrote the words upside down," said Wong.
Despite thinking the school does not provide adequate care for his daughter, Wong understands a school with limited teachers cannot take care of children with different needs at the same time. 
"I think my daughter needs more care and patience, and that is why I very much hope to find a tutor to help her," said Wong.
In Hong Kong, students with special educational needs (SEN), who have learning difficulties or disabilities, can access mainstream schools. However, like Wong's daughter, many are treated unequally. For instance, they lack adequate care and are discriminated against. 
With the outbreak of COVID-19, SEN students are learning online at home, forcing school offered training and rehabilitation courses to stop. The suspension of normal on-campus classes and training exacerbates the inequalities they face. Some SEN students displayed poor learning results from online classes. Some even noticed their illnesses gradually worsening. Without the school's educational support, extra remedial and training courses are needed. Some families experienced huge financial burdens in this regard. 
There were at least 82,858 confirmed SEN children in Hong Kong, representing more than 8% of all children in Hong Kong, according to a conservative estimate of the Society for Community Organization.  
The government adopts a dual-track mode in providing special education. Students with more severe or multiple disabilities will go to aided special schools for intensive support services, while other students receive integrated education, meaning they can attend ordinary schools and take the Hong Kong Diploma of Secondary Education Examination.
 Liu Xiang, 31, is undergoing quarantine in Shenzhen with her 7-year-old son Jackson diagnosed with ADHD. His symptoms include impulsive behavior and having trouble concentrating.
The boy is studying in a mainstream school in Hong Kong. After the outbreak of COVID-19 in the city, Liu decided to move back to her hometown of Foshan with her son. They are required to undergo a mandatory 14-day quarantine at a hotel, fulfilling the requirements of local epidemic measures.
Jackson needs to take two hours of online classes every day in the hotel room to maintain the standard learning progress. However, during class time, he failed to sit still and was often distracted. 
"He yelled at me when I criticized him. I even had the idea of hitting him a few times, but I knew that would only make things worse," said Liu.
Liu does not allow his son to give up on his studies because in several years, he would need to take the same exam with other ordinary kids. She thinks it is cruel and unfair to kids like Jackson, but they do not have a choice.
Liu speculated that her son's condition has worsened, possibly because of the isolation. Taking care of her son took a toll on Liu, who became irritable and had trouble sleeping.
"I have been trying to help him with his studies, but it is not working well. There is very little that teachers at school can do to help at the moment," said Liu.
Tang Kit-yi, a lecturer of the department of education studies of Hong Kong Baptist University, thinks helping SEN students during the pandemic is a challenge for both schools and parents.
"Many teachers are struggling with online teaching, so they cannot give adequate attention to SEN students. Even the needs of mainstream students haven't been fulfilled," said Tang. "I don't think most parents have any spare energy to help them because even parents face problems under the pandemic."
Lam, 37, who refused to reveal her full name, cares for her 8-year-old son with autism alone.
Lam's child had been in rehabilitation at school. After the outbreak of COVID-19, she had to pay roughly HK$5,000 every month to enroll her child in off-campus training sessions. She does not receive any subsidies from the government. 
"I have to pay this huge expense for my son's recovery, and I hope his school life will resume soon as I cannot afford it for long," said Lam.
Off-campus training and treatment for SEN students are not affordable for all families. 70% of the parents surveyed revealed the average monthly cost of off-campus training exceeds HK$3,000. Most of those who did not choose off-campus training said they could not afford it financially. Almost all respondents would like assistance from the government, according to a survey by the HK Round Table on People's Livelihood last month.
Some issues raised by grassroots families over the years have not yet been addressed, according to a survey regarding charges for the supporting services for children with SEN by Society for Community Organization.
The complaints include the affordability of support services provided by non-profit organizations, the gap between pre-school and school-age services, the limitations of the school-based support model for integrated education and the pressure on caregivers.
The organization posted on its website suggesting the government to review whether existing support services truly benefit grassroots SEN families and allocate more resources to them in the 2022-23 Budget.
Wong believes the government should do more for SEN students instead of putting the burden on parents and schools.
"I think it is very unfair that my child was born with a learning disorder. The government should pay more for these children to ease the stress that SEN families face," said Wong.