HK Swimmer Haughey Breaks Asian Record, Wins Second Olympic Silver Medal
By: Jayde Cheung

Edited by: Alison Leung

2021-07-30
Hong Kong people cheered and applauded on Friday as they witnessed local swimmer Siobhan Bernadette Haughey breaking the women's 100m freestyle Asian record and winning her second silver medal at the Tokyo Olympics.
Collected her first silver medal in the women's 200m freestyle two days ago, Ms Houghey finished the 100m freestyle at 52.27, only 0.31 seconds behind Australian athlete Emma McKeon, who made an Olympic record at 51.96. 
Setting the new personal and Asian best, the second silver makes Ms Haughey the first Hong Kong swimmer to attain two medals in the Olympic Games.
Speaking at the press conference, Ms Houghey said 80% of the performance depended on her mentality. "I broke the personal best at the semi-final and achieved my goal. I just wanted to enjoy the 100m race," said Ms Haughey.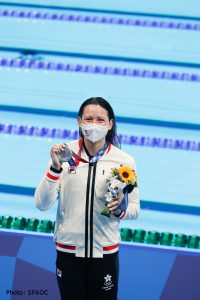 Tokyo Olympic marks Hong Kong's best performed Olympic Games so far, including two silvers achieved by Ms Haughey and a gold from Cheung Ka-long in the men's individual foil fencing which is the city's first medal in the game. 
Approximately 500 audiences at APM, a shopping mall in Kwun Tong cheered for the 23-year-old while watching the live broadcast together. 
Crowded on two floors, supporters brought along cheering tools like pom poms that made loud sounds by hitting and decibels reached the maximum as Haughey's silver medal was secured. No one could help but cry out their excitement and appreciation.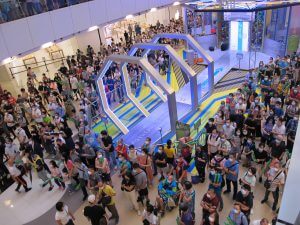 Ten-year-old swimmer Yu, who withheld his first name, was inspired by the outstanding performance of Ms Haughey. "I will practice swimming more often, but winning an award in the Olympic Games is too difficult for me," he said.
Audiences showed both the national flag and regional flag of Hong Kong after Ms Haughey won the silver again. Two days ago, people also gathered at APM to celebrate Cheung Ka-long winning. Some audiences jeered the Chinese National Anthem during the award ceremony and tried to cover the anthem by shouting "we are Hong Kong".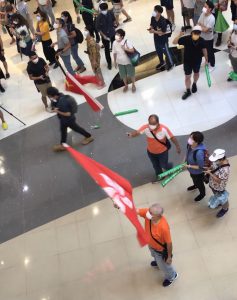 "They wanted to advocate their political stance, stressing that Hong Kong belongs to China," said Adam, who did not disclose his Chinese name. "I don't understand why they brought those flags during a swimming competition."
"Despite the problem of lack of resources, many athletes quitted sports which cannot earn a living," said an audience who withheld her name. "I used to play rowing and volleyball, but I gave up because Hong Kong athletes only focus on winning," she said. 
Timothy Fok Tsun-ting, the president of the Sports Federation & Olympic Committee of Hong Kong, China, told The Young Reporter that the government should offer better facilities and coaches, to improve the treatment of the athletes.
"We have been urging the government for years, I really look forward to a serious review on the athlete's treatment," Mr Fok, who accompanied the athletes to Tokyo, said in a phone interview.