Hong Kong: Sweltering summers challenge residents of "pigeon cages" as temperatures soar
By: Yuqi CHU、Juncong SHUAI

Edited by: Chengqi MO

2023-04-28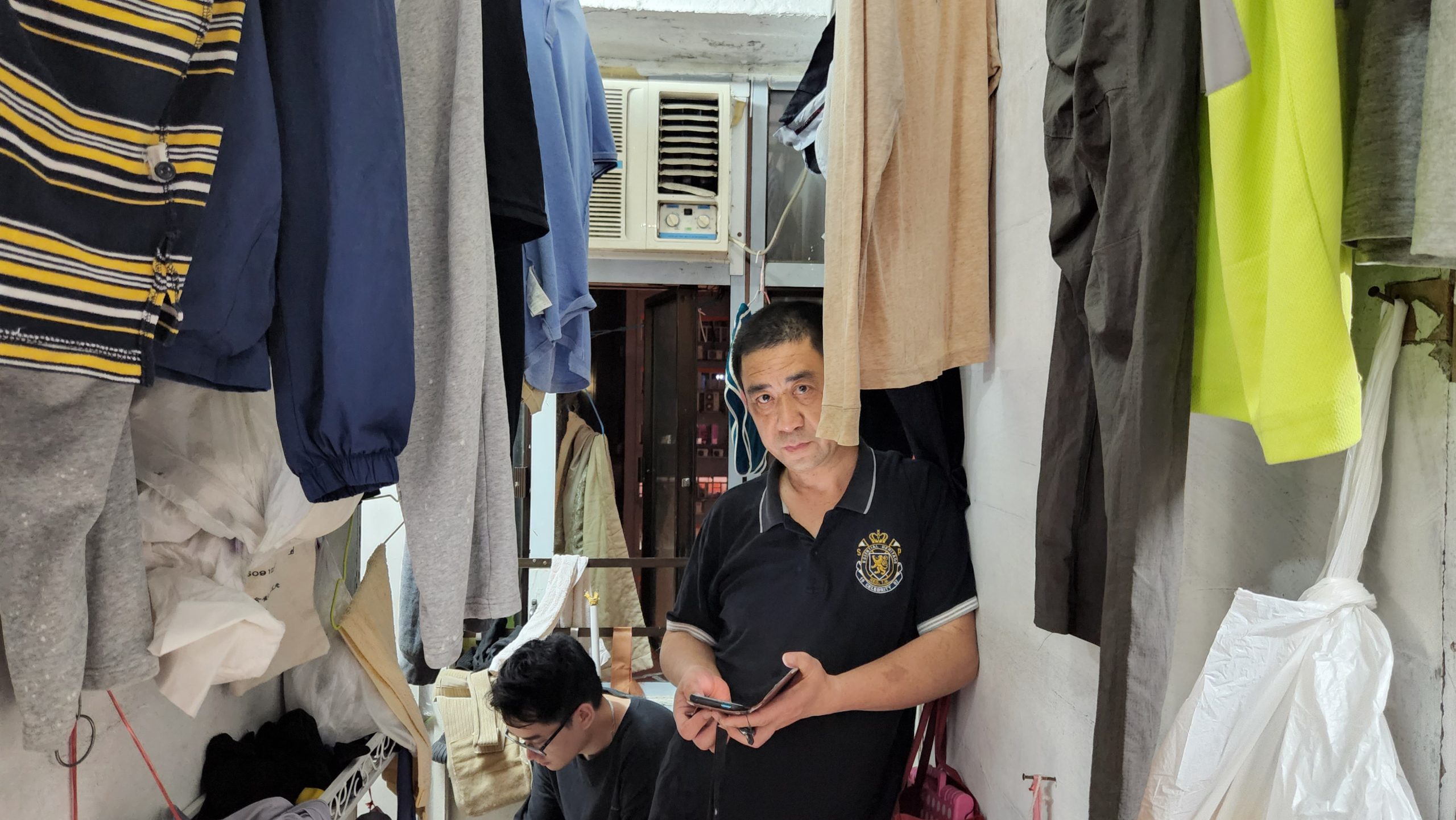 At the end of the narrow aisle crammed with household goods, an old air conditioner hums as it struggles to cool the flat where 11 residents live in eight tiny cells separated by makeshift wooden walls. 
Around noon, Xia Renhui 52, who has been living in this subdivided flat in Tsuen Wan for five years, prepares his lunch in the shared kitchen. The thermometer hanging on the wall records a temperature of 37˚ C. The scalding water from the tap and the steam spurting out of the rice cooker make Xia feel smothered.  
"The whole room feels like a smelting furnace. Every inch of my skin is burning," said Xia.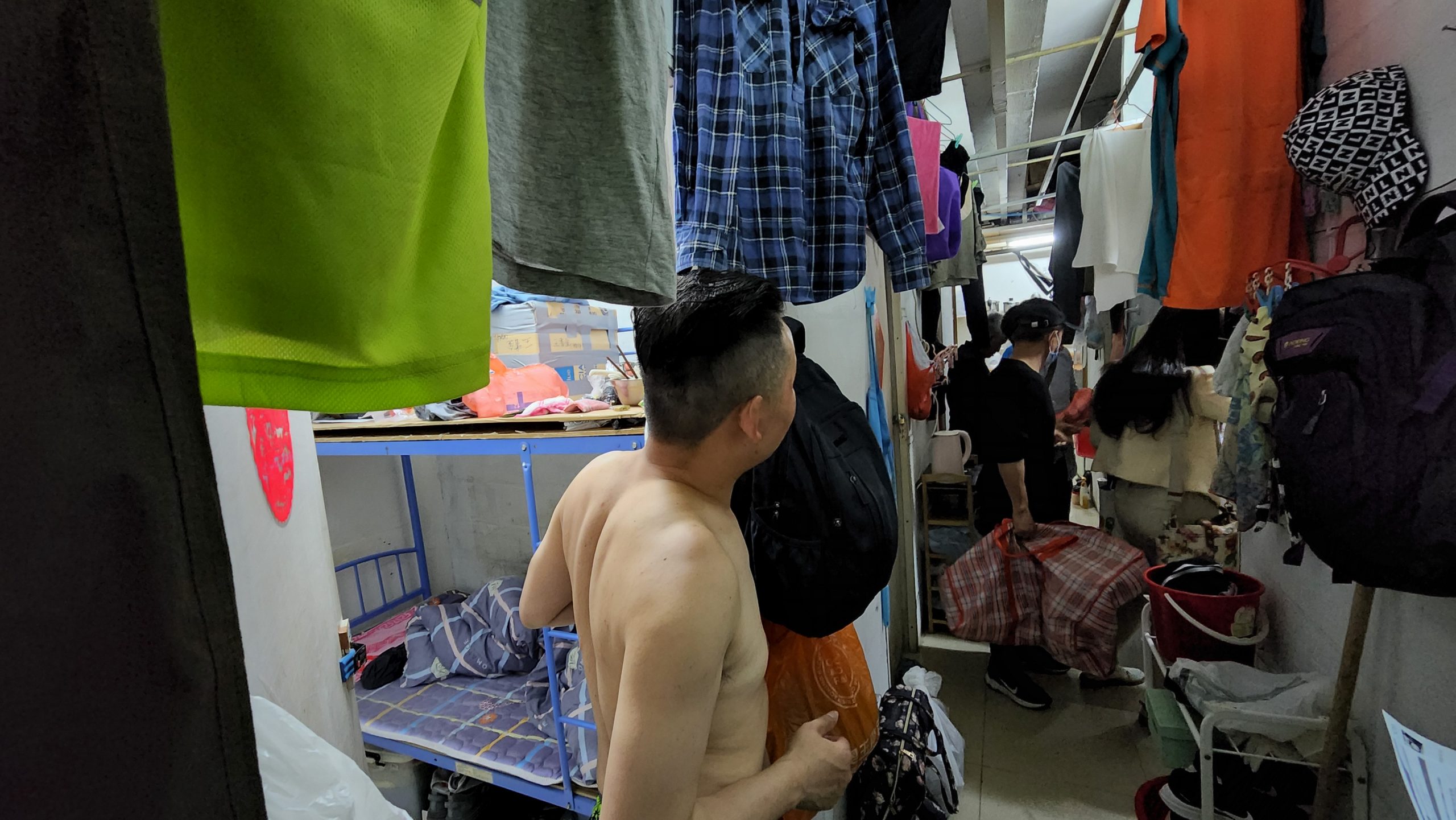 In Hong Kong, more than 214,000 people like Xia live in subdivided flats, according to government statistics, where increasing summer temperatures are made worse by cramped, unventilated construction and expensive air-conditioning bills.
Globally, over the past few hundred years, greenhouse gases from industrialization have led to global warming and an increase in extreme climates, according to a United Nations report.
Hong Kong keeps breaking its temperature records. Last year, Hong Kong residents survived the hottest July in the past 138 years, when record keeping began, breaking a previous record set in 2020. And a high temperature of 35°C or above was recorded for 10 consecutive days in July last year, topping the annual record, according to the Hong Kong Observatory.
At least five cases of sudden death at work suspected to be related to heat stroke have been reported between June and July in 2022. Hot nights increase the risk of death by about 2% to 3%, while a prolonged period of five or more hot nights raises the risk to 6.66%. Women had a six percent higher risk of dying from hot weather, while older adults had a five percent higher risk, according to the Future Cities Institute of the Chinese University of Hong Kong.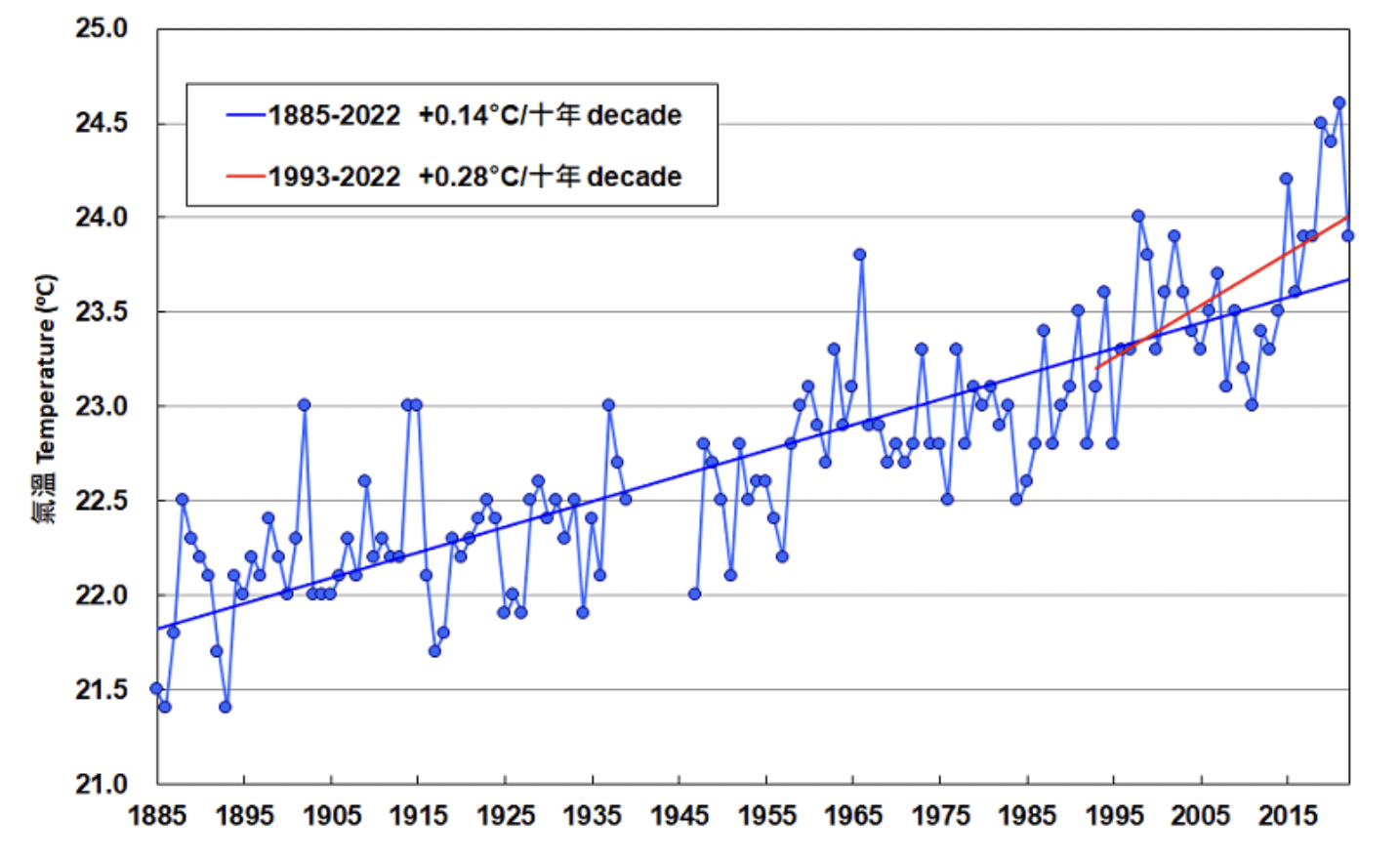 When Xia is not working, he cooks at home to save money. However, because his flat is so hot, he usually takes his meal downstairs to the park to eat.
"Eating outside is not as enjoyable as a picnic. It's always more than 30 degrees outside, but the air is fresher, not as suffocating as in my small cage," Xia said.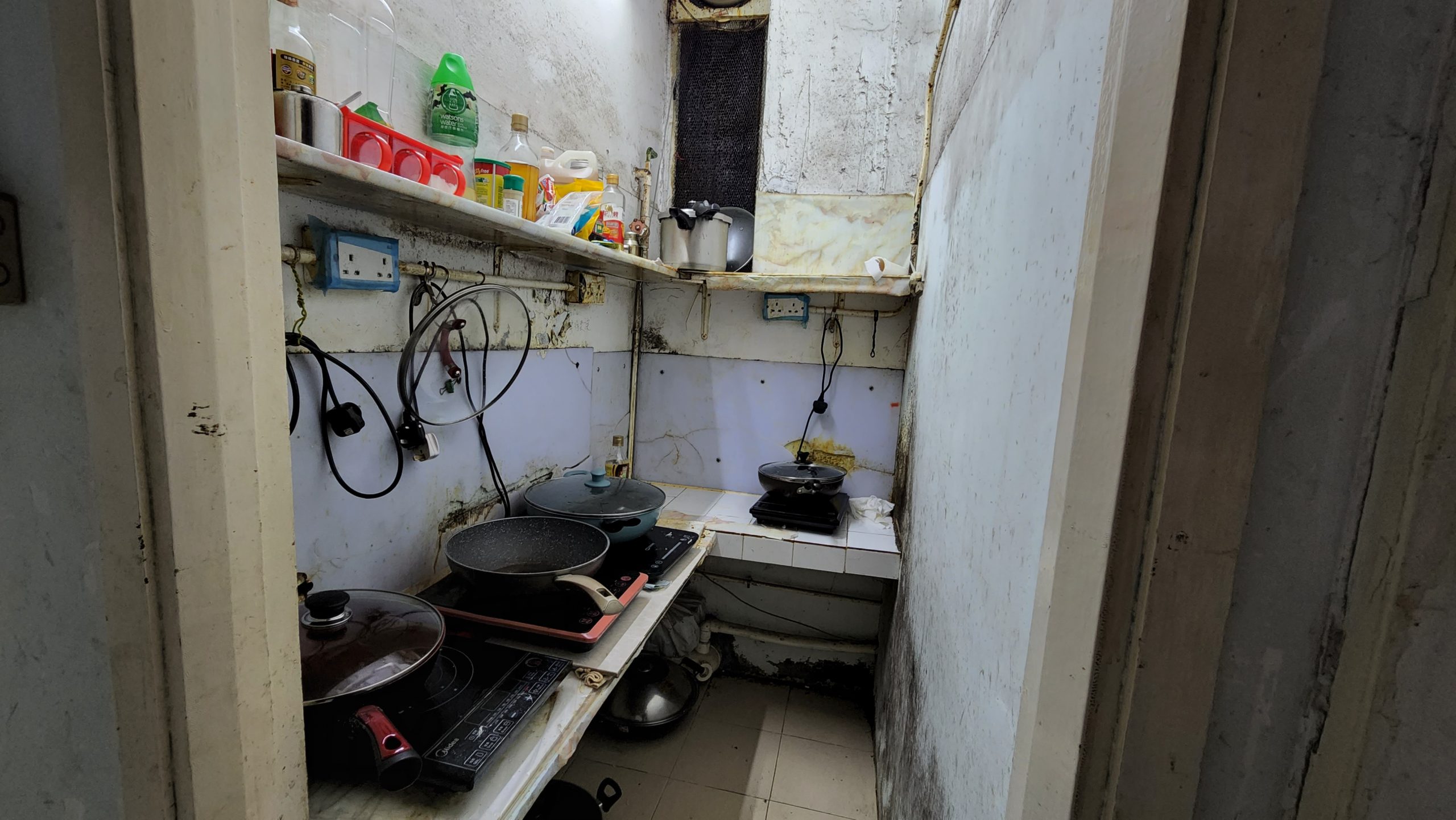 Nearly half of subdivided flats are hotter than the streets, with a maximum temperature difference of 5.8 degrees, according to OXFAM Hong Kong, 
"The problem of heat dissipation and air circulation was not considered when the subdivided flats were built because many of these are illegal buildings without professional design," said Moon Chan, a Legislative Council member's assistant, who specialises in land and housing issues.
Tenants sharing the subdivided flat where Xia lives reached a consensus that the air-conditioner can only be turned on from 10 pm to 5 am the next day during summer.
"If the air conditioner is always on, it will be overly expensive. Now the monthly electricity bill of HK$400 has already put a lot of pressure on me," said Shuai Xiaoting, 51, who lives in another room opposite Xia's in the same flat. 
Shuai pays HK$2,500 a month for her 5 square metre cell. "If the summer keeps getting hotter, I can't even afford the present accommodation in the future."
Living with 10 other strangers, Shuai said she can't keep her door open to let in the cold air from the public air conditioner out of safety concerns. Instead, she uses a noisy fan to blow on her bed all night.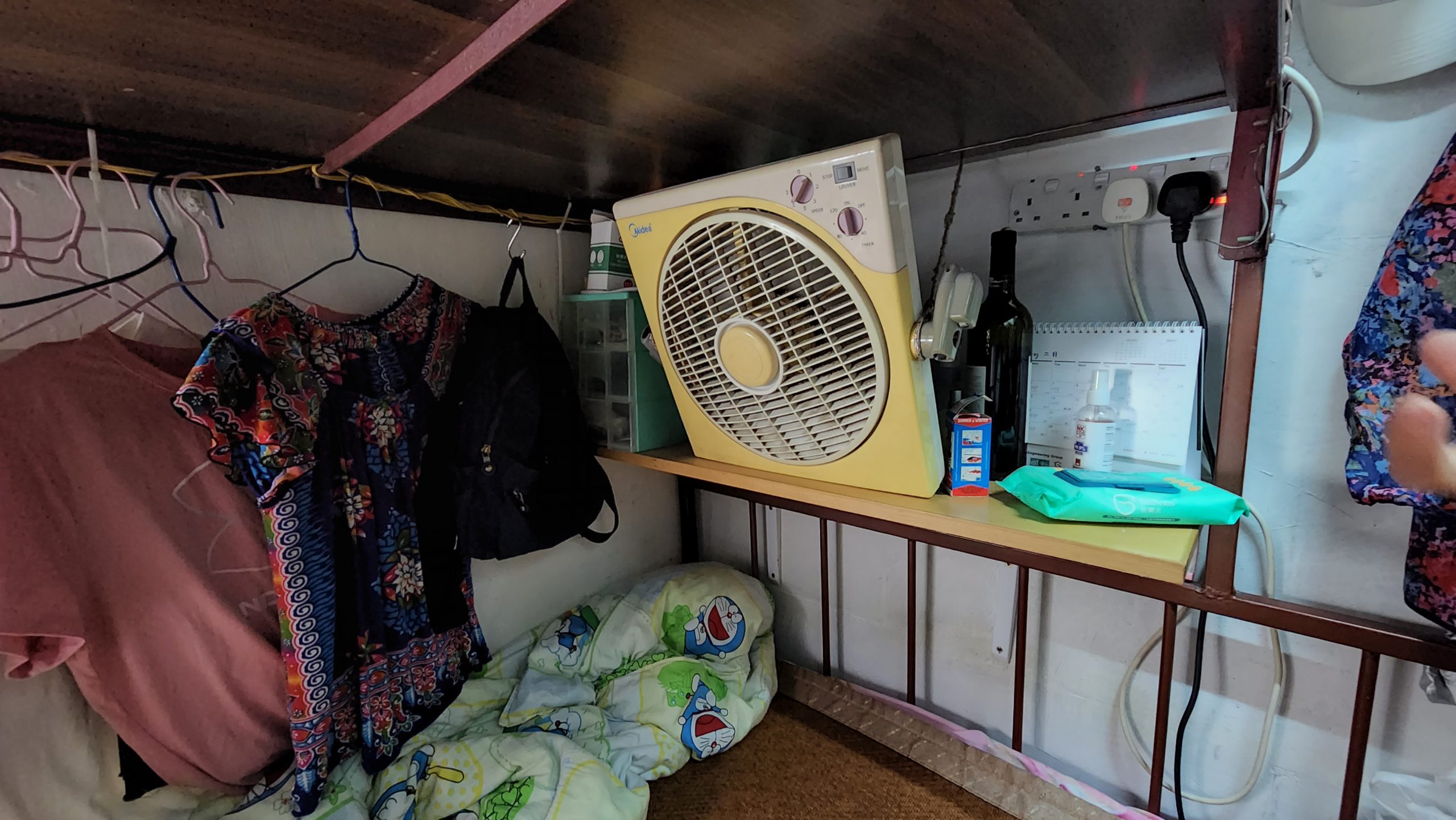 "As night comes, I am often worried that someone might come in, steal my belongings and even threaten my safety if I keep the door open," she added.
Despite suspecting that the landlord overcharged tenants for electricity bills, Shuai had no choice but to pay the bill. For most subdivided flats, the bills are under the landlords' name. "HK$500 for electricity bills per month is not a small amount for us, but we are unable to voice our grievances and must keep them to ourselves," Shuai said.
William Yu, the Chief Executive Officer of the World Green Organisation, said in an analysis that some landlords of subdivided flats charge HK$1.29 per unit for electricity fees, far exceeding the regular unit rate of HK$0.987 for 30%. 
Chan said electricity bills are directly sent to the landlords, which makes it difficult for residents to obtain evidence of being overcharged. More importantly, residents fear being kicked out after arguing with or even suing the landlord.
In addition to financial stress, health issues also threaten the occupants. The heat wakes up Shuai during the summer nights in recent years. "Insomnia becomes more frequent summer-by-summer," said Shuai. "Lack of sleep makes me unable to concentrate on my work in daylight. I always feel dizzy while I am at my unit in the summer."
Research by OXFAM Hong Kong finds that more than 40% of subdivided flat residents face deterioration of body condition in the torrid summer.
Many social organisations have paid close attention to the "summer dilemma" of people living in subdivided flats and tried to bring a boon to those affected. Hong Kong Christian Sheung Tao Church, located at Tai Kok Tsui, with many old buildings around, provided shade for neighbours and manual workers last summer.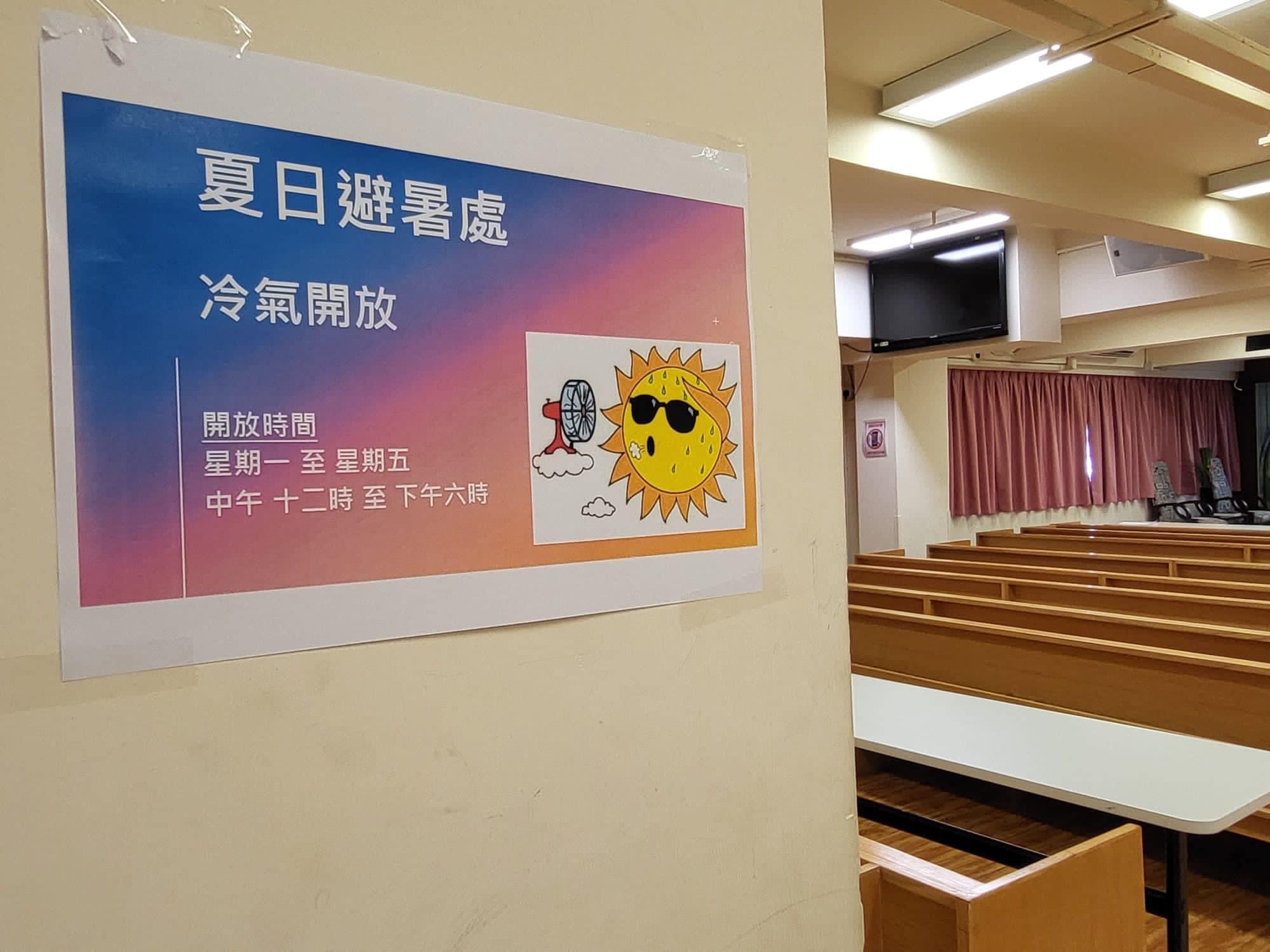 "We designated a small area inside the church equipped with air conditioners and televisions for people who wanted to avoid the summer heat," said Cecilia Yu, a staff member in the church. "Most visitors are the elders living nearby, who would otherwise endure the heat in their stuffy rooms."
Yu said many people came in as early as 11 am to take up seats which would be packed within an hour and they wouldn't leave until 6 pm.
The Hong Kong government also offers an electricity subsidy valuing HK$1,000 for the subdivided flat residents through Community Care Fund.
However, all subsidies are in the hands of the landlords, who have no incentive to rebate the government's electricity subsidy to their tenants, according to CarbonCare Innolab, a non-government organisation dedicated to mitigating climate change in Hong Kong.
This summer is expected to be the hottest on record, the Hong Kong Observatory said.
On a night last week, Shuai woke up from the heat again. "That nightmarish feeling returned. We are dreading another record-breaking heat wave," she said.
"The concept of climate change is too abstract for us, but the temperature rising year by year is concrete, like a dull knife for us who live in the subdivided flat," Xia said. "To remove this knife, the government and the whole society must work together to bring about changes."