Music education is used as a tool for students to race to the top
Parents are advised to lessen the pressure on their children to learn musical instruments
Hong Kong students are pushed to master musical instruments in order to survive in the competitive environment of elite schools. Yet when music no longer serves the interests of children, parents are advised to lessen their pressure.
The Hong Kong Institute of Family and Education revealed in November that 2.5 per cent of parents had arranged for extracurricular classes that were not of any personal interest to their children. Ninety per cent of students aged between six and 18 were forced to join classes below the age of six and 85 per cent disliked the classes and hoped they could join less.
Local children are starting their musical training at a younger age than ever. The figures showing children participating in official music exams are exceedingly high in Hong Kong in comparison to other countries.
According to the Hong Kong Examinations and Assessment Authority's annual report in 2007, the Associated Board of the Royal Schools of Music received 90,950 entries. The figure constituted 50 per cent of the total number of entries the board received in the whole of Asia, which was almost seven times the figure for Europe (excluding the United Kingdom and Ireland).
Ms Louifa Lee, a graduate of the Hong Kong Academy for Performing Arts in 2002 and now a soprano, vocal and piano teacher, said she was in the choir since the age of six and began learning the piano at the age of nine.
Yet despite the overwhelming options and classes that are available now, children today are reluctant to engage in music education, whereas most children back then had to beg their parents to enroll them in instrumental classes.
The youngest student Ms Lee ever came across was only four-years-old, and a few of them who were forced to take up piano lessons were even unwilling to place their hands on the pianos keys.
"Parents' attitude may kill their children's interest in music," Ms Lee said. "Especially when they bluntly express their expectations to have their children either winning the Hong Kong School Music Festival or attaining the highest standard of certificate as soon as possible.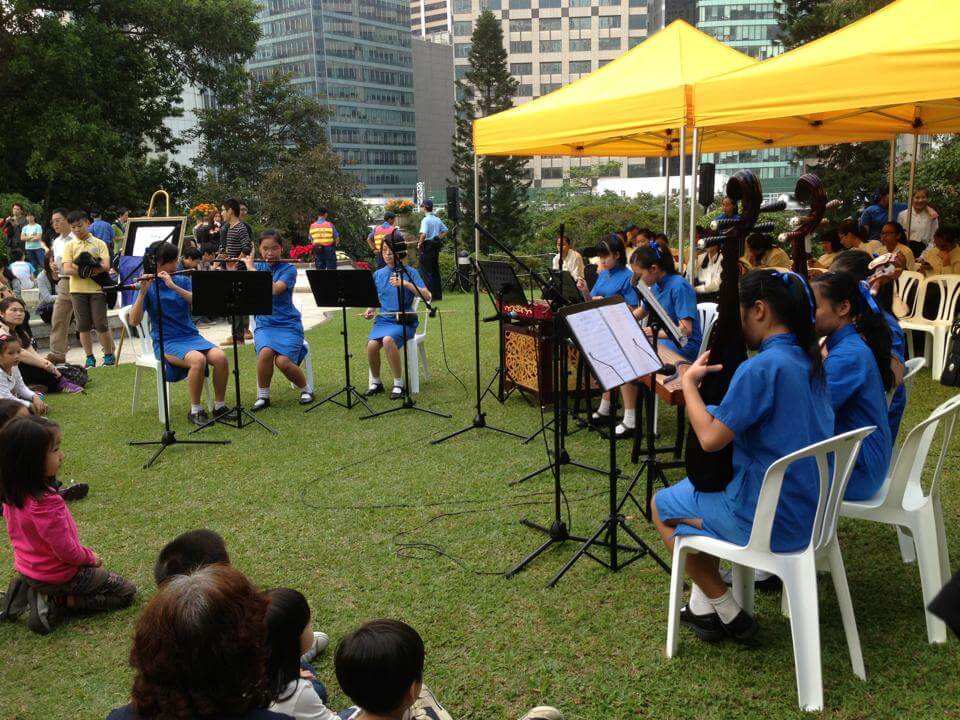 "But I realise parents do not have much of a choice because they are simply following the rules of elite schools. A nice portfolio can get their children into a good school even if the children's academic results are unsatisfactory," she added.
In some elite schools such as Heep Yunn School, students are required to be able to play more than one instrument, excluding the piano.
Ms Joyce Yu Chi-man, a music teacher at Heep Yunn School, said such policies have to do with the objective of "One Sports/ Arts in Life", which was put forward to facilitate full-scale development for students.
Dr Annie Mok On-nei supported the notion of "One Sports/Arts in Life," yet casted doubt on the sustainability of music participation. "When you give music any extra-musical meaning, you ruin it," she said.
Dr Mok said musical training had become a tool for competing to enter elite schools and was not a desirable outcome since students did not find it meaningful if it was all about academics.
Even though students may be capable of playing numerous musical instruments, when the participation in musical training no longer reflects one's passion in music, it cannot guarantee the finest technique.
"In Hong Kong, 30 out of 40 students in a class can play the piano, but it's a different story in Italy, where only two or three people out of a village of 1,000 can play but all of them are fine pianists," said Mr Pierre Tang Long-tao, a music student at the Chinese University of Hong Kong who had been to Italy for vocal and piano master classes.
Dr Mok pointed out that the sustainability of music might even be higher in the developing parts of the world, such as the Philippines and the city of Chiuchow in Guandong Province.
"I have interviewed an 80-year-old Chiuchow musician who persisted on playing his instrument for more than seven decades, even when he had a hard time to earn a living in Hong Kong," she said.
"Chiuchow people learn music as a form of leisure out of their own will to do so, whereas music teachers in Hong Kong spend so much time drilling scales and exam techniques which scares students away," she added.
Ms Yu said that she would not wish to see students who only knew how to play songs from graded exams or the competition syllabus. She pointed out that Hongkongers did things from a utilitarian point of view and focused on how to impress others through the achievement of oneself.
Hong Kong people need a concrete reason to do things and the mere enjoyment of music might not be valid enough reason for them to pick up musical practice, she said.
"I hope music education in schools will be less knowledge-based and more creative instead, it should not be boring," said Dr Mok. "Active participation in music is what is most important."
Reported by Carain Yeung
Edited by Catherine Lim