Eco-savvy businesswoman supports blue technology development in Hong Kong
Some years ago, when Ms Smook worked for "Next", a jeans retailer, she started to realize the problem of how manufacturers directly discharged the dyed water and waste fabrics into the river near the factory in Bangladesh.
"I was absolutely shocked and I don't want to be part of the waste," Ms Smook said.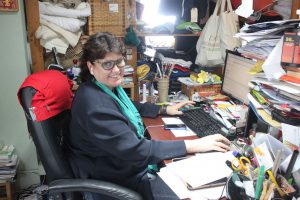 Ms Smook is also sick of the frequent use of shortcuts in production because cost is the only concern for many retailers. She thinks it is so irresponsible of them to not care about the environment.
"When we say we are throwing something away, there is no away. Away is actually to the landfill, away is actually to the ocean," she added.
Ms Smook, an eco-savvy businesswoman and a veteran in blue technology industry, is keen to change the recycling business in Hong Kong and she is on the track of blue economy development.
From advising the Maxim's Group to reduce the use of plastic packaging to directing her own company, "InnovAsians", Ms Smook always leads a healthy and environmentalfriendly life.
For example, from time to time, Ms Lizette Smook would spend a whole day at the Luohu Commercial City, one of the most popular shopping malls in Shenzhen. But unlike many shopaholics, what she is after is not fancy counterfeit clothes or bags bearing the fake labels of luxurious brands, but colourful fabrics.
When she is back to Hong Kong, her next stop is usually to an old Shanghaiese friend, who is also her "private tailor" to help her turn the colourful fabrics she has just bought into clothes that fit her well.
"Blue technology is all about turning wastes into something useful," she mentioned that retailers and consumers nowadays were producing too much rubbish and had little awareness of making good use of the things they threw away.
To support local companies that aim at greener business practices, Ms Smook founded "InnovAsians" in 2007. Her company counsels retail corporates and hospital authorities on the application of sustainable technologies in developing and manufacturing eco lifestyle products.
"Scientists struggle to solve the environmental problems by developing green technology but that was palliative. Nothing was really changed," she added. "Why can't we take a step back and make use of our own wastes, instead of relentlessly extracting oil to produce plastic, which also brings about toxic products?"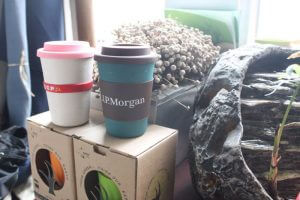 Her company has provided coffee cups, which are made up of bio plastic upcycled by bamboo, for more than 5000 employees in J.P. Morgan Hong Kong, which originally produced 15,000 disposable cups every day.
Having worked and lived in Hong Kong for 18 years, Ms Smook admitted that it was very hard to start a business in Asian countries.
"Language, culture differences… many barriers to get over," she explained.
She was once cheated by a supplier of bio plastics from Mainland China, which disappeared after receiving her deposit. Luckily, she has some Chinese friends in the legal profession now, who can give her advice before she makes investment in China.
Despite the crowded living condition and pollution in Hong Kong, Ms Smook never regrets about starting a business in Hong Kong, where to her is a place full of opportunities to meet people from all over the world and collaborate with big companies.
"It is easier to spread the idea of blue economy globally when you're working with big companies in Hong Kong," she said.
"It is good to say J.P. Morgan, Starbucks, Maxim's Group and Ocean Park are my clients, people will trust you and listen to you."
Apart from taking charge of "InnovAsians", Ms Smook is also the vice president of the Hong Kong Entrepreneur Club and she loves this post even more than being the CEO of her own company.
She assists young entrepreneurs in Hong Kong to start their businesses, from giving advice to individual business plans to providing platforms for interaction and networking with other business partners.
"I like getting along with young people, and keep them dreaming," she said. "It is all about experienced entrepreneurs giving back to other upcoming entrepreneurs."
She mentioned that these young people reminded her of the memory that when she first came to Hong Kong alone with no ideas on how to start a business or whom to seek help from.
Growing up in the countryside of Cape Town, South Africa, Ms Smook loves the open living area and clean air there.
"Boys and girls race along the tree climbing and we build tree houses there," she said.
Owing to the big difference between the 2 places, it took Ms Smook a while to adapt to the busy lifestyle in Hong Kong but her passion for the local culture makes her stay.
"I can't describe the feeling when I first stepped out from the Chek Lap Kok Airport. I thought, this is the city where I want to start my business," she said.
Ms Smook believes that young entrepreneurs are capable of making a change on the living environment while having a successful business.
"Forget about the money market, it is about innovation, it is about carry on dreaming, it is about never giving up, when you really want to make Hong Kong a better place to live," she concluded.
By Annie Lau
Edited by Stephen Leung