Taxi Apps Change Market Ecology
Illegal fare discounting is common among app users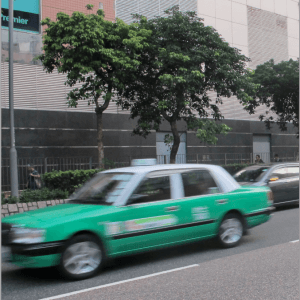 Now you do not need to hail a taxi on the street. Simply by entering your phone number and dropoff destination to the taxi apps in your smart phone, an available taxi will come to you. Because of its convenience and fare discount, this kind of apps is quite popular in Hong Kong – some have recorded 100,000 to 500,000 downloads in the past few months.
Taxi App-HK is the most popular cab-hiring app in town. It ranks second in Google Play free transport category and third in Apple's App Store free travel tier.
Spokesperson of Taxi App-HK, Ken, who refuses to reveal his full name, credited the success to the app's "localised and independent" background.
"Some developers bring the whole model from somewhere else to Hong Kong without making any adjustments," he said. "Other competitors may provide more comprehensive maps, more language options or more glamorous layouts but we know what Hong Kong people want and need."
There are 18,138 taxis in Hong Kong carrying 1 million passengers daily, according to Transport Department's statistics.
Among Hong Kong, London and New York, London has the highest taxis-per-capita ratio, followed by Hong Kong and New York. Hong Kong, however, has the highest ratio of taxis per square kilometer among the three cities.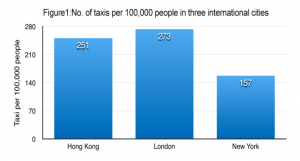 It is all about cost and efficiency.
The app processes around 3,000 orders a day. Of the 10,000 registered cab drivers, 2,000 are active users of this app.
It takes as short as 30 seconds for a consumer from order to getting on a cab if there are taxi drivers with the app activated nearby. The app automatically locates the user by GPS. The taxi driver who accepts the order will either phone or text the customer for the waiting time and the exact pick-up location.
As fare discounting is illegal in Hong Kong, it remains an "open secret" that drivers who use this app is very likely to offer a 15 per cent off discount. Offenders are liable to a maximum fine of $10,000 and a term of imprisonment of six months.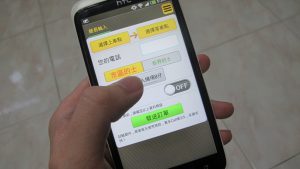 "Taxi-App HK is only a platform bridging passengers and drivers. What is discussed between them is their own business," Ken said. "Our goal is that when people need a taxi, they would immediately think of Taxi App-HK. Once they use our app, they won't switch to other apps."
There are many other taxi-hailing apps available in the app market like GoGo Taxi, Easy Taxi and HKTaxi.
The chairman of Taxi and Public Light Bus Concern Group, Mr Lai Ming-hung, said drivers could benefit from the taxi-booking apps.
"Imagine you have just dropped off passengers. If you have a taxi app, instead of looking for the next client, business opportunities will come to you," he said, "Discount taxi is a long existing problem. It is all up to the drivers."
When a driver drops off a passenger in a remote area, the driver may not be able to find a customer. The app serves as a platform for the driver to look for orders nearby, so that it is more likely for drivers to pick up customers before returning to the urban area. This is why Mr Lai calls these drivers as "return trip gangs".
On the other hand, some taxi drivers are not in favour of taxi-hailing apps.
"I don't understand why some drivers offer discounts," said Mr So Ting-bong, a night shift taxi driver who refuses to use taxi-hailing apps.
"The taxi fare structure is unfavourable to them. All drivers should obey the law and charge according to the taximeter. If not, why do we need the meter rate?"
According to Mr So, in order to determine whether a driver uses the hailing apps, the easiest way is to observe the number of smartphones attached in front of the driving wheel. The more smartphones, the more likely the taxi driver is using multiple taxi-hailing apps to find customers.
Mr Andrew Lee, a full-time taxi driver who has a smartphone placed in front of his driving wheel, echoed Mr So's view. He said life is tough for taxi drivers who offer discounts especially when they take long-haul orders. He added that long-haul orders such drivers take could be "deficit-ride" if they could not pick up customers on the returning trip.
In 2008, the government launched a public consultation on proposals that could open the way to legal discounting of taxi fares. Yet, the taxi fare discounting problem still remains unsolved.
By Harry Ng
Edited by Shirley Chan