A rundown of the recent events regarding the Putonghua incident at HKBU
By: Yoyo Chow、Michelle Ng、Holly Chik

Edited by: Michael Shum、Angie Chan、Ezra Cheung

2018-01-25
Two students at Hong Kong Baptist University were suspended on Wednesday after "occupying" the Language Centre.
The incident happened a week after the release of the results of the Putonghua exemption test, in which 70% of the students who took the test failed.
About 30 students headed to the Language Centre and occupied the centre for eight hours. Students' Union president Lau Tsz-kei later admitted that he spoke a Cantonese swear word during the exchange with an official from the Language Centre.
The University described in a mass email four days after the event that the language used by the student was "abusive" and that their behaviour was "hostile".
According to the mass email to all students, staff and alumni, two students were suspended from school "based on evidence currently available" because they "have been found to have conducted themselves in a way that made our colleagues feel threatened and insulted."
They have been suspended from attending classes and exams but allowed to set foot on the University's premises.
The University also said "their actions had also affected the normal operation of the University and seriously violated the Student Standards of Conduct."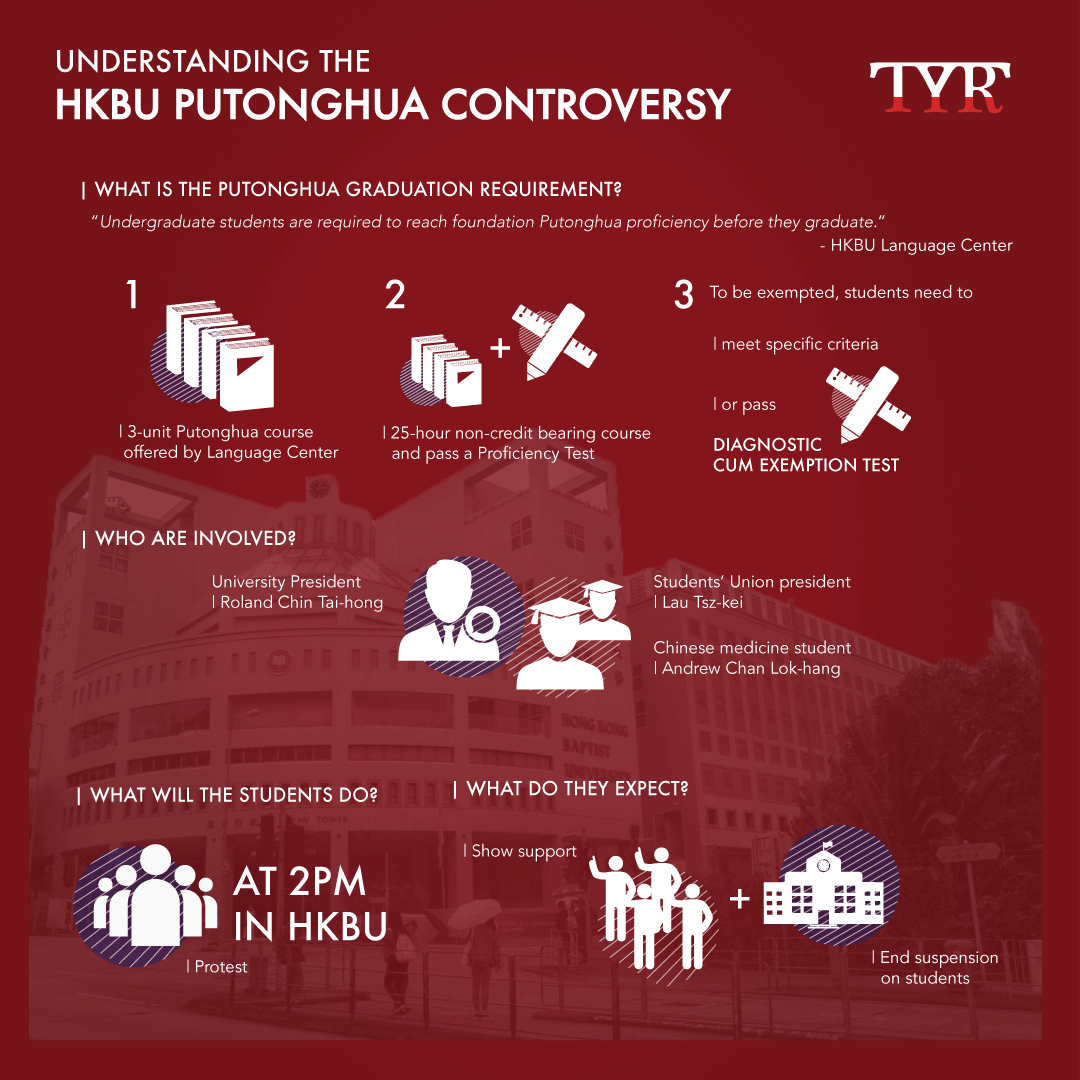 What is the Putonghua graduation requirement?

According to the Language Centre of Hong Kong Baptist University, it is stated that all "undergraduate students are required to reach foundation Putonghua proficiency before they graduate".
They can either pass a 3-unit Putonghua course offered by the Language Centre or take a 25-hour non-credit bearing course and pass a Proficiency Test conducted by the Language Centre.
To be exempted from the requirement, students have to meet one of the following criteria:
Non-Chinese speaking students
Attended the Chinese Language examination in the Mainland or Taiwan
Have attained Grade C or above in the HKCEE Putonghua subject
Have passed the Test of Proficiency in Putonghua conducted by the Hong Kong Examinations and Assessment Authority
Have attained Third Class, Grade A or above in the National Putonghua Proficiency Test
Have obtained a qualification that is deemed to be equivalent to one of the above by the Language Centre
Have passed the Diagnostic cum Exemption Test conducted by the Language Centre
The Mandarin exemption test, which was listed as one of the seven criteria students have to meet to be exempted from the Putonghua graduation requirement, was open for application in the first two weeks of October and students took the assessment from Mid-October to Mid-November progressively.
What will the students do tomorrow?
Student Union President Lau Tsz-kei said a protest will begin at 2 pm in HKBU campus. It will end at Sir Run Run Shaw Building where the President's Office is located. There is no plan for any occupy movement.
What are they striving for?
The Student Union said that the march is to showcase the support from students and hope the suspension on the two students will end, but not to force the school to do anything.