With your smartphone, geocaching brings you beautiful nature, treasures and fun
People are staring at Ms Emilie Pavey, a 31-year-old editor, who is climbing up a tree in Cornwall Street Park. Ignoring the awkward stares of spectators, she has been searching for something for the past hour, from looking under the benches to checking the bushes.
She puts on a smile when she pulls out a magnet sign saying "No Climbing". She unfolds the paper attached to the back of it and carefully writes her name on the log sheet – she just completed one of her tasks in geocaching of the day.
Geocaching, a not-so-common activity in Hong Kong, is a global treasure hunting game that has attracted more than 6 million people in the past 14 years. The participants, also known as "geocachers", hide and hunt for "treasures" across the globe, using devices that connect to the Global Positioning System (GPS).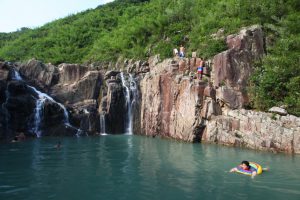 By navigating the location with GPS, geocachers then attempt to look for geocaches or containers that store surprises, such as logbooks and little toys. As caches are distributed around the world, geocaching is also popular for geocachers who are on holiday.
Integrating gaming with outdoor activities, geocaching is a fun activity that could be done during invigorating exercises, such as hiking, diving or rock climbing.
Ms Pavey, a regular geocacher, has hidden a cache five metres under water. So far, seven people have found it. The cache is rated level five for both difficulty and terrain. In order to find it, participants are required to swim to a buoy and dive.
Introduced to the activity by a British friend who was on a visit , Ms Pavey is now a geocaching lover who has found more than 500 caches in Hong Kong. She believed there were about 100 geocachers here when she joined the sport and about half of them were active players.
While most geocachers elsewhere are middle-aged or retired, Ms Pavey notices that adolescents make up a large proportion of the participants in Hong Kong.
Hong Kong being a compact city with dense urban areas close to rural areas, caches can be hidden in shopping malls, libraries, parks or hiking tracks.
With the unique characteristic of Hong Kong, Ms Pavey has seen a rise in the number of geocachers to more than 1,000, who have set up online forums, websites and Facebook groups.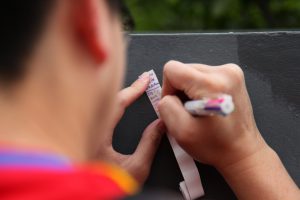 Geocaching is classified as a kind of orienteering that is done with the aid of GPS applications instead of traditional maps and compasses. However, Mr Lee Chikin, chairperson of Hong Kong Orienteering Club (HKOC) believes there are differences between orienteering and geocaching.
While orienteering is well organised and follows international regulations, geocaching is less organised and a game "just for fun", according to Mr Lee.
With the popularisation of smart phones, Ms Pavey predicts that geocaching will attract more people, as "everyone can play it with the application in their phones, even without paying."
However, Mr Lee said the HKOC would not organise geocaching activities, as members of the club did not know much about it.
With limited promotion, most people have no idea what geocaching is and the complexity of the game might put people off. Ms Cheung, a mother-of-two, has never heard of the game and is concerned about the safety of her children if they join the game.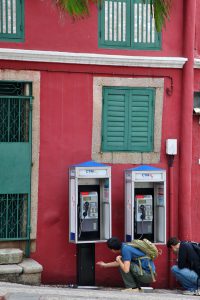 Besides looking for hidden caches on their own, geocachers get to meet one another at organised events such as picnics, dinners or sport activities.
Every year, the worldwide geocaching community also organises an international environmental clean-up. The event, Cache In Trash Out, focuses on trash clean up, removal of invasive species, re-vegetation efforts or trail building. The 13th Annual Cache In Trash Out will be held on April 25 and 26 in 2015.
By Jane Cheung
Edited by Katrina Yau