Hong Kong Tied Football World Cup Qualifiers Against China and It Means More Than Sports
By Harry Ng
Hong Kong football fans rejoiced as China held to a goalless draw amid racism row on September 3 when China also hosted a military parade.
Hong Kong stunned China by producing two goal-line clearances in a match which China produced 41 attempts, hitting the woodwork four times at Bao'an Stadium in Shenzhen just across the border.
Hong Kong fans, who booed the national anthem in the previous two World Cup qualifiers, behaved in the away game.
On the same day, China also held a military parade in its capital Beijing, showcasing its military might. Mr Tommy Deng Hanyu, a student from Shandong currently studying at Hong Kong Baptist University, said the parade was the real highlight of the day.
"The military parade is a symbol of national pride. It shows to the world that China has become one of the strongest powers,'' he said.
He said anti-mainland sentiments may have highlighted the match.
However, Hong Kong fan Mr Anthony Liu Chap-yin thought the football match between Hong Kong and China was far more important than the parade commemorating the 70th anniversary of defeat of Japan.
"Hong Kongers support the Hong Kong team,'' he said. "The match is between Hong Kong and China. On the other hand, the parade is all about China showcasing its military strength.''
The China Football Association earlier warned mainland fans "not to underestimate the black-skinned, yellow-skinned, and white-skinned players" in the Hong Kong team in a poster that triggered racism row.
In the match, Hong Kong's starting line up included the following naturalised players: Festus Baise, Godfred Karikari, Jack Sealy, Jaimes McKee and two mainland-born Chinese players.
Ivan Tsang Hin-lok, 19, who represented Shatin district football team in the 5th Hong Kong Games, said it was a common practice to use naturalised players in the football world.
"Naturalised players in the Hong Kong team have been playing in the local football league for many years,'' he added that the same applies in international matches like the World Cup.
After the match, Hong Kong goalie Yapp Hung-fai said on his personal Instagram that he had been called a "dog" by Chinese captain Zheng Zhi during a thrilling goalless draw in their World Cup qualifier.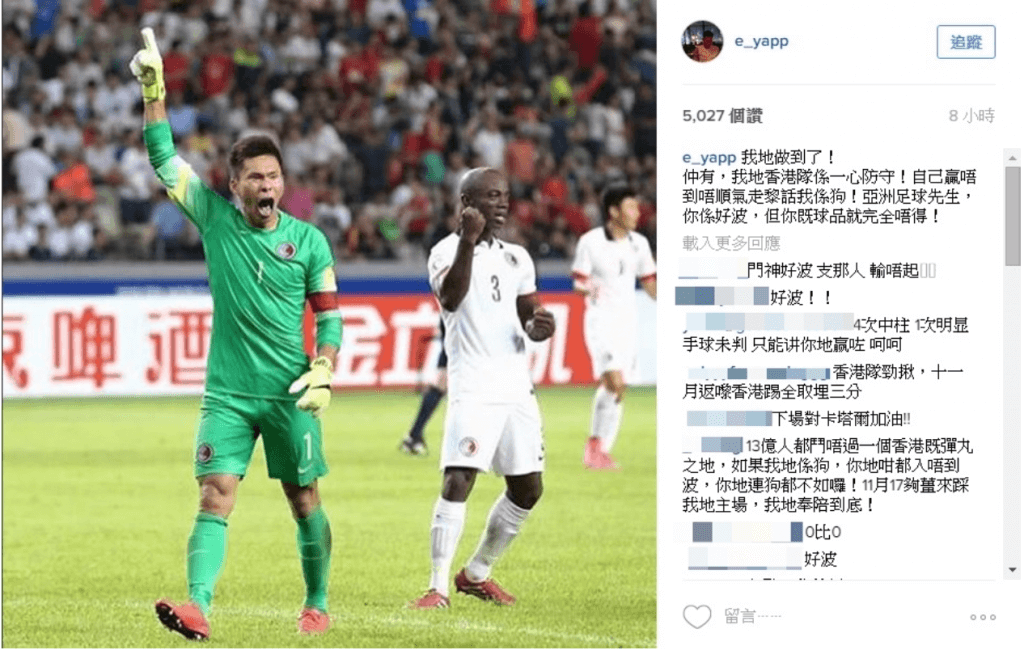 Zheng denied the accusation in an interview with Sina Sports, adding that Yapp feigned injury in the last minute of the game.
Hong Kong remains the top team in its group with seven points and a goal difference of plus nine. China ranks second with four points and one game in hand. Also in Group C are Qatar, Maldives and Bhutan. Hong Kong will play Qatar at Mongkok Stadium on September 8
However, the match against China in November 17 may not be held at Hong Kong Stadium with seating capacity of 40,000. The association chairman Leung Hung-tak said the venue application is yet to be approved because 50 rugby matches will be held in early November.  He further revealed government may suggest Siu Sai Wan Sports Ground at seating capacity of 12,000 instead.
International Practice for Naturalised Players

Under FIFA rules, players can switch allegiances once under two circumstances: they are citizens of their new country (in Hong Kong's case permanent ID card holders) and have not played for their original country in a competitive fixture at senior level.
One of the notable examples is Brazilian-born Diego Costa, who chose to lead the line for defending champions Spain at the 2014 World Cup on home soil but was knocked out in the group stage after two consecutive defeats.
(Edited by Crystal Tse. Copy-edited by Joey Hung.)