Judicial review a controversial next step for supporters of Johannes Chan
By Joanne Lee
As various groups seek to overturn the decision preventing Johannes Chan from becoming the deputy head of the University of Hong Kong, judicial review remains an option under debate.
After Johannes Chan's appointment of pro-vice-chancellor was rejected in a 12-8 vote by HKU's governing council, the Student Union president Billy Fung Jing-en said the group was considering judicial review to resolve the case.
However, most of Professor Chan's supporters are not enthusiastic about this proposal.
Kevin Yam Kin-fung, convenor of Progressive Lawyers Group, said the student union has the autonomy to apply for judicial review and he respects their decision, but the group will not provide any legal assistance.
HKU Alumni Concern Group member Patrick Wong Chun-sing said whether to apply for a judicial review depends on Professor Chan's will.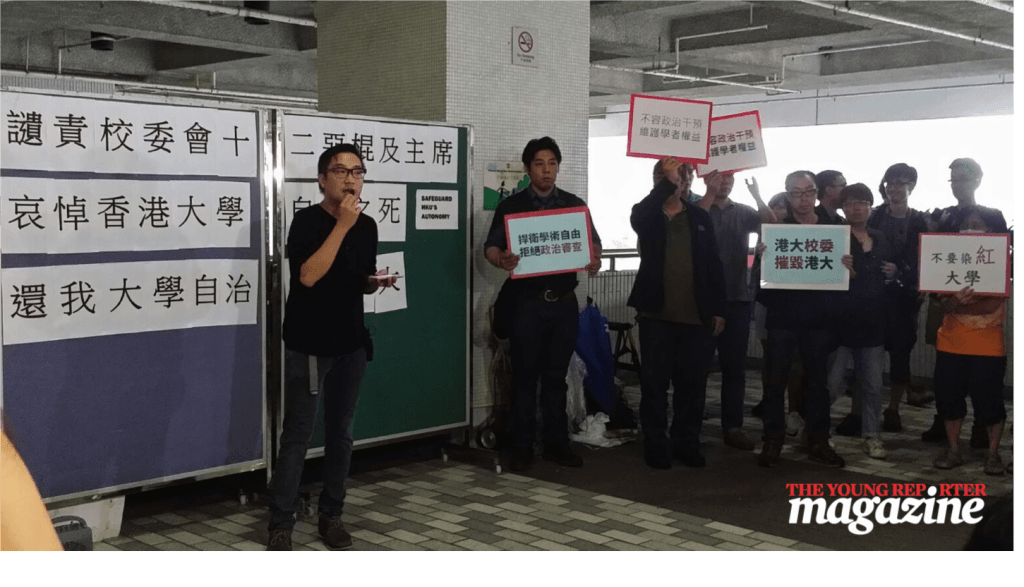 "As far as I know, Professor Chan has expressed that he does not have the intention of doing it in a RTHK radio programme," Mr Wong said.
Nevertheless, some are open to the suggestion.
Carmen Chan Wai-men, a HKU alumnus who co-organised a protest against the council's decision on Sunday, shows support for the Student Union.
"I don't know much about the legal system, so I can't tell if a judicial review would be plausible," Ms Chan said at the protest. "But I support the student union's decision."
HKU's governing council stays silent towards the plan. Council member Lo Chung-mau said he had expressed his view in his statement and declined to comment further. However, he restated that Mr Fung's action would bring major impact to Professor Chan.
HKUST Professor Francis Lui Ting-ming, who once publicly advised Professor Chan to withdraw from the selection process because of Chan's clear political stance, wrote in a recent column that a judicial review would not alter the council's decision.
The Student Union of HKU has not come to a final decision yet.
At Sunday's protest, about 80 alumni demanded that the 12 council members step down. The HKU Alumni Concern Group also urged the school council to publicise the reasons for rejecting Professor Chan's appointment and called for a reform in the council member selection policy.
About 80 alumni of the University of Hong Kong participate in a rally on campus following the rejection of Johannes Chan's pro-vice-chancellor appointment. The protesters, wearing black T-shirts, demand that 12 members of HKU's governing council who voted against the appointment step down. They also call for more to join Tuesday's silent march in support of university autonomy.

Posted by The Young Reporter on Sunday, 4 October 2015
The protest against the HKU council's decision has yet to come to a halt. Some academics and students are going on a silent march on Tuesday to "defend HKU's autonomy."
(Edited by Viola Zhou. Copy-edited by Jackson Ho.)