Unbox reality in rainbow concrete jungle
Canadian photographer discovers Hong Kong's colourful buildings and dreary lives of those residing in them.
HE climbs the roofs of public housing estates, scales fire escapes in industrial buildings and clambers along bamboo scaffolds, just to capture the painted facades for his artwork "Hong Kong in Living Colours". He is David Elliott, a 42-year-old Canadian documentary fine art photographer, whose work is displayed at the "Patterns of Living" exhibition.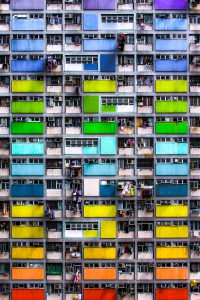 "I would like people to appreciate and celebrate the history of this beautiful city," said Mr Elliott. "And to provoke bewilderment in the audience: what are people's lives like behind these radiant facades?"
His collection features old buildings, the exteriors of which are painted by those who dwell within. Every image resembles a cube -- Mr Elliott's unique style.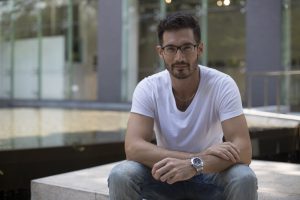 Mr Elliott was a model and an actor before he became a photographer. His previous jobs enabled him to travel around the world and that's how he gained inspiration for photography. The work of his Chinese great grandfather, also a photographer, have nurtured Mr Elliott's passion in cameras and films since 2008.
Captivated by the ever-changing landscapes of Southeast Asia and Himalaya, he left Canada and decided to stay in the East.
"Hong Kong is such a fascinating city with a stark contrast between the old and new," he said. "Since I'm half Chinese, it has also given me a chance to learn more about my culture."
He explained that his philosophy was to "take something that is old and give a modern twist to it". He tries to do also as an art collector and documentary maker.
"I want something that when you look at it, you will be drawn into it," he added. " I then want the viewers to start looking at it more closely and reflect about themselves." His latest subjects are the Pearl of the East's coloured buildings.
On putting together the "Patterns of Living" exhibition, he said it was the people behind those colourful walls who shocked him. He couldn't believe that while some families live in spacious apartments that measure thousands of square feet, while others cram into six-by-six feet cage homes.
"Buildings are often photographed in Hong Kong, but we wanted our visitors to appreciate a different aspect of Hong Kong, by looking at something they see all the time," said the host of the exhibition and Director of the Picture This Gallery, Christopher Bailey.
Coming from Ladysmith, a small town in British Columbia in Canada, Mr Elliott said one single estate in Hong Kong would be enough to fit in everyone from his hometown. But the question he asks is "does fitting everyone in cages like this guarantee living quality and happiness?"
Irene Ng, a visitor to the gallery, said the artwork made her empathise with people living in those buildings captured by Mr Elliott.
"They seem to be dragged down into a deep hole and cannot turn around for the rest of their lives," she said. "I know that more than three million people live in public housing estates in Hong Kong, and that is almost half of the city's population."
The photographer wanted to tell his audience that although wealth does not equal happiness, the income gap in Hong Kong is so big that some elderly people in their 80s have to work for a living by selling rubbish. Housing problem is the underlying theme of this set of artwork.
"I want my photos to be a documentary of this important piece of history," he said.
By Sharon Shi
Edited by Nathaniel Suen