SOPA 2015 - I don't draw to tell people what to think, says SCMP cartoonist
By Juliana Wu, Aaron Au and Sharon Shi
Political cartoons help people to find the right way of expressing their opinions, said Harry Harrison, editorial cartoonist at the South China Morning Post.
By "exaggerating" figures and news events and turning them into fun pictures, Mr Harrison has been illustrating Hong Kong's political and social issues since 1994.
His recent works on Occupy Central have drawn great attention. One of them shows a tiny cartoon version of Joshua Wong Chi-fung poking at a giant panda with his umbrella, with the words saying "one country two systems in action."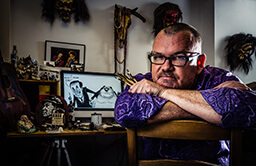 But Mr Harrison said as a cartoonist, he does not make people think in the way he does.
"In most cases, people who come to my cartoons have a stance," he said. "It's just they don't catch a suitable word to say it and my cartoon gives them the sense of 'that it is'."
Mr Harrison is one of six SOPA Award-winning journalists speaking at a forum at Hong Kong Baptist University this week.
Born to a military family, Mr Harrison has lived in Libya, Singapore, and the United Kingdom. He said the experience of moving around nurtured his sense of humour.
Mr Harrison said some of his cartoons had drawn criticisms, and some others were deemed "inappropriate to publish" by editors at SCMP.
"Not everybody can be happy," he said. "Having argument is a good thing. That means people are paying attention."
(Edited by Viola Zhou. Copy-edited by Joey Hung.)