SOPA 2015 - Didi Kirsten Tatlow Fish don't know they are in water
By Catherine Chen
"In this highly controlled, intense, Communist-Party-ruling China, anyone trying to get 'inside' are automatically perceived as troublemakers."
It is what Didi Kirsten Tatlow has learned from her 10 years' experience as a foreign correspondent in China.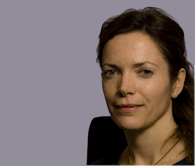 Although faced with great obstacles, the New York Times reporter never gives up her right to show the world what is inside the country where freedom of press is largely restrained.
Why can't a Chinese man talk about it
Speaking at the first sharing session of the HKBU-SOPA Award Winners Forum, Ms Tatlow addressed the dilemma of "inside" and "outside" when reporting in mainland China.
Ms Tatlow said as a foreign journalist, she has been denied access to information frequently. Many government officials and other sources in China believe she does not understand the situation and should not be covering about that.
"Only insiders are allowed to talk about the business," she said.
Ms Tatlow said she had been told that "only Chinese women are allowed to talk about the situation of Chinese women," a view she deemed "ridiculous."
"Why can't a Chinese man talk about it?"
I'll do this because it's truth
"Fish don't know they are in water," Ms Tatlow said. "The situation is about how we take a lot of things for granted."
Mainland state media have been accusing their foreign counterparts of selectively reporting on the negative side of China. Ms Tatlow disagrees.
"I'll do this because it's truth," she said.
But different interpretations can occur as a result of different personal views.
In a documentary titled Who is Xi, Ms Tatlow described China's president Xi Jinping as someone "who has removed or has been trying to remove a lot of corruptions from the system that is really threatening to people's well-being and livelihoods."
Some of her colleagues at The Times, however, see Xi's anti-corruption campaign more as an approach to amass power and get rid of political rivals.
Ms Tatlow said she acknowledge that the ultimate goal of the sanction against Bo Xilai and Zhou Yongkang was about Xi's own political movement, yet corruption is something to which "everyone is vulnerable."
"Anti-corruption means something to ordinary people," she said.
Ask "what happened"
Looking at China from the eyes of "outsiders," foreign correspondents can often spot problems that are ignored by those living inside the country.
Ms Tatlow said gender inequality is still a prominent issue in China. She belabored the local media on the way they cover the divorce of American Kim Lee and her husband, China's infamous English teacher, Li Yang. She said reporters used too many leading questions when interviewing the wife.
"Questions like 'Why did he hit you' or 'What did you fight about' can be simply replaced by 'What happened'."
(Edited by Viola Zhou. Copy-edited by Joey Hung.)