The government gender gap: from District Council to LegCo
By Julieana Wu
Everyday at 9 pm at Winnie Poon Yam Wai-chun's office in Kowloon Bay, Mrs Poon's husbandwaits for her to finish so they can go to the market together to pick up ingredients for dinner that Mrs Poon will cook.
Today, an elderly man is asking Mrs Poon where to get a vaccination. A woman drops by, home from her holiday in Malaysia, and hands Mrs Poon's assistant a packet of pastries. They have a brief chat and she soon leaves.
Mrs Poon, 61, is the district councillor of Telford Garden in Kowloon Bay. She was elected in 1985 to the then District Boards, which was renamed the District Council in 2000.
For the past 30 years, Mrs Poon has worked seven hours a day, five days a week advising her neighbourhood. She is a social worker by profession, wife to a civil engineer and a mother of three.
"I was like taking three jobs at the same time," Mrs Poon said, recalling the early days of her career when her children were small.
"Being a district councilor is very hard," she said. "It's even harder for a woman."
In the previous District Council, female councillors made up 23 per cent of all members, the highest proportion of women ever, according to the Home Affairs Department. In the current council, it dropped to about 21 per cent. That means there are 89 women compared to 418 men for the 18 districts.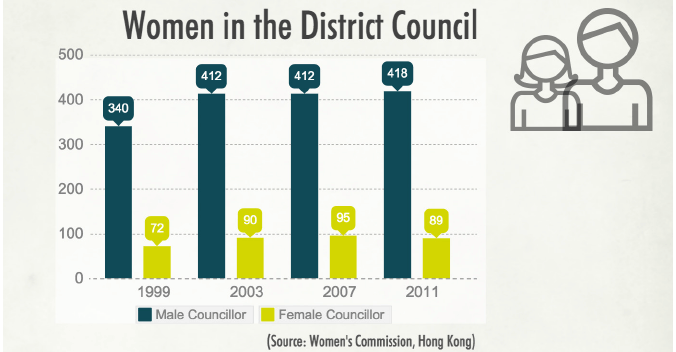 However, the number of female registered voters exceeded that of male in 2015 with about 1.9 million women to about 1.8 million men. A survey by the Women's Commission also shows that women tend to engage more in community activities, which the District Council deals with, compared to men.
"Women's issues are ignored nowadays," said lawmaker Emily Lau Wai-hing, who has been elected five times to the Legislative Council since 1991.
The under-representation of women causes basic female-interest policies, for example constructing breast-feeding facilities for mothers in public, hard to pass, said Ms Lau.
"Nobody ever comes to me with a problem about women's interests, " she said. "People all care about education, welfare and other things."
Ms Lau said more women should join policy making in Hong Kong and diversity in gender would lead to better decision making in society.
Yum Kwok Tung, who will be running in the November election for Kowloon City, said gender matters little in an election.
"Maybe some female candidates are more relatable, but generally speaking there's not much difference between males and females when it comes to the poll," he said.
Although the survey conducted by the Women's Commission found that 40 per cent of the respondents agreed that men performed better in political leadership than females, whereas women performed better in community service. This puts the increasingly politicised District Council in an odd position.
"Hong Kong is still a Chinese society," said Odalia Wong Ho Ming-hung, a professor of gender studies at Hong Kong Baptist University. "It's very hard for us to get rid of the concept that 'men rules the outside world whilst women take care of the household.'"
Family support is especially important for women who pursue politics, said Ms Lau.
Mrs Poon agreed. "I wouldn't have made it without the support of my family and my husband's family," she said.
Mrs Poon's eldest child is now 36. "Although sometimes I feel that I've missed something with my children," said Mrs Poon, "I wonder if they could have turned out any better if I had spent more time with them."
"I'm proud of my husband and my marriage. And having his surname Poon in front of my name doesn't mean I'm any lower than men," she added. "Being somebody's wife is a nice identity."
(Edited by Natasha Fernandes)