Spreading Love with Free Tutorial Classes
by Jonathan Chan
Valuing academic achievements, attending after-school tutorial classes have become a common and popular phenomenon among students in Hong Kong.
According to a research conducted in 2012 by Hong Kong Federation of Youth Groups, more than 70 per cent of primary school students and 61 percent of secondary school students had private tuition.
But not all households can afford tuition fees.
Leung Kai-yip, 34, is the founder of "On Fire", a volunteer tutors group. Having grown up in a low-income family, Mr Leung could not pay for tuition classes even when he had poor school results.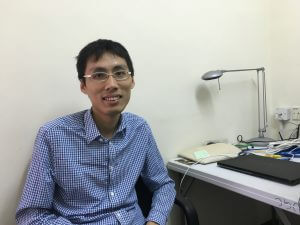 Inspired by his unfortunate childhood and a movie titled "Pay it Forward", Mr. Leung wanted to spread his love and influence others. He decided to start a project to help deprived students learn better.
"I believe knowledge is the key for underprivileged children to break the cycle of generational poverty and they deserve better," he said.
But starting the voluntary tuition group was tough.
At the beginning, Mr Leung had difficulties finding voluntary tutors and a place for classes. He also had trouble reaching out to students in need through the group's Facebook page.
He eventually came up with a new idea to approach parents near wet markets in different districts. At the same time, he found people willing to spare time for underprivileged students. Some were even professionals.
In offering free tutorial classes, Mr Leung stated certain criteria in the selection of students. For example, those who received School Textbook Assistance, attended project briefing sessions and accepted home visits.
On top of these, he emphasized the importance of students being enthusiastic in learning.
At this moment, "On Fire" relies on more than 100 volunteers and offers weekly tutorial classes at 25 locations across the city. Some classes take place in legislative or district councilors' regional offices and church premises on a rent-free basis.
Melody Chan, a 20-year-old student from Chinese University of Hong Kong, is one of the Math tutors. She joined the tuition group in 2013 after learning about the project on a poster.
Supported by a financially able family, she was encouraged to become a voluntary tutor and help students in need.
"Some students may find it difficult to catch up with the pace of learning at school and they need tutorial classes," she said. "I want to use my spare time to be a volunteer, and I believe this project helps children from underprivileged families learn better."
She wished to help her students get into university, in order to enhance their competitiveness.
Ms Chan said poverty was a serious problem in Hong Kong and many students cannot afford expensive tutorial classes, but they should enjoy equal opportunities in developing their interests in learning.
Mr Leung said short-term material aide might not be the best form of help for low-income families. What they need, he believed , is long-term commitment.
"I prefer volunteers with long-term commitment because they can build trust and relationship with the students.
More importantly, the students can feel that we care about them and they will be more willing to learn," he said.
"When students graduate from primary school, the group would still hold monthly gatherings and activities even if they no longer receive tuition lessons," he said.
Mr Leung planned to spend more time on logistical work. He also wished to launch a Summer internship project for secondary six students, in order to equip them with leadership skills so they can run the project in future.
(Edited by Jane Cheung)