Lifelong suffering of women in India
By: Scout Xu、Maggie Liu

Edited by: Lam Ka Sing

2017-10-25
Women in India suffer from violence throughout their lives, according to a veteran journalist covering the issue for years.
The violence starts from infancy, from infanticide and infancy neglect to domestic violence, said Nita Bhalla, the chief correspondent in South Asia at the Thomson Reuters Foundation, in a forum of Hong Kong Baptist University today.
Based in New Delhi, Nita Bhalla works as a foreign correspondent for about 20 years and wins an award for her coverage on human rights.
Meanwhile, since females are often considered inferior to males, if a family can only support one child for education, the opportunity always goes to the male ones, resulting in deprived opportunities in education, said Bhalla.
About half of Indian women get married under the age of 14, according to a government report, and the youngest was only aged 6, said Bhalla.
After they get married, sexual abuse within the family, wife-sharing and domestic violence tend to follow, she said.
Six out of ten men admitted they have committed domestic violence, including hitting their wives, confiscating their money and devaluing them, according to a United Nations report.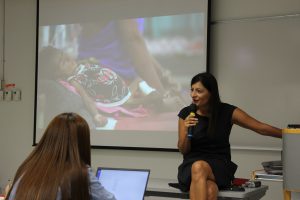 At the end of her talk, she says because there are still many positive stories, she can recover from overwhelming frustrations after witnessing disasters.
A famous case of brutality to females is the Delhi gang rape, in which a 23-year-old female student was raped by six men in a bus, resulting in her death and worldwide attention.
Under social pressure invoked by the protests, four attackers were sentenced to death by the government, while one of them, who was under 18, was charged with a three-year sentence.
"The death penalty can't solve the problem as we find in researches," said Bhalla.
"Our main focus should on the change in mindset and how we regard women in this society."