"As Simple As Possible" - Developer of CaiXin VisLab Talks About Data Visualization
By: Windy LI、Zoya Zhao

Edited by: Choco Tang

2017-10-25
The HKBU-SOPA Award Winners Forum with the award-winning journalist- Ashley Wei, reveals the principle of data visualization is making things "As Simple As Possible" and shares the skills of  data visualization. 
Ashley Wei, a data visualization designer and developer of CaiXin VisLab since 2015, has been awarded the SOPA Awards for three times since 2015.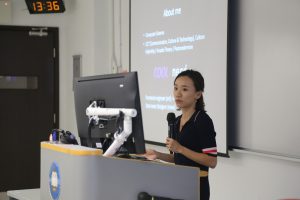 Wei revealed how to integrate arts and programming methods into projects to explore data news storytelling. "Data journalists should have a basic idea about programming to keep a good relationship with visualization developers and control the whole journalistic project" she said.
"Data visualization is all about mapping, and there are two kinds of data- geographic coordinates which can be transferred to screen coordinates and even 3D, and value which can be changed to attribute." Wei said.
"The importance of data visualization is showing the trend of the issue." she added.
Three architecture ways were raised by Wei for organizing data- long-form (the story is shown in one page), slide show (the story is presenting in PowerPoint); and full screen (the story is shown within one screen), among which slide show is the most powerful presentation on mobile phone.
Also, Wei pointed out that Excel is not as technology-lacking as people think. In fact, it's a good tool to visualize data since it can convert data to different types of chart efficiently.  
The HKBU-SOPA Award Winners Forum is a 4-day event inviting SOPA-award winners to participate in lectures and discussions on the journalism profession. Students are welcome to join from now to October 27th in designated venue in Hong Kong Baptist University.