Percentage charge in handling fees for Sevens' tickets on official sale platforms varies
By: Vanessa Yung、Anna Kam、Hailey Man

Edited by: Phoebe Lai、Yetta Lam

2019-04-05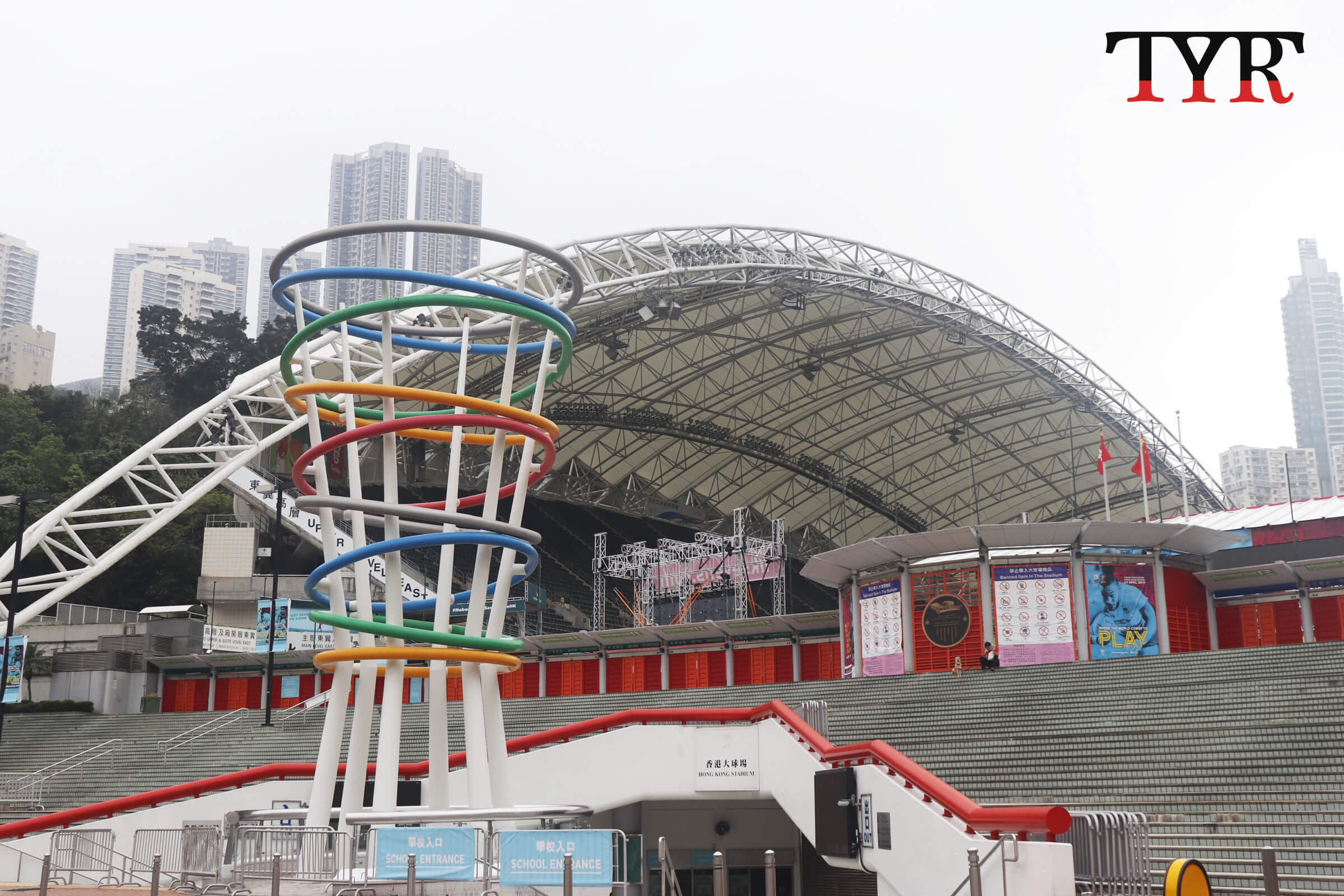 It's advertised as "where the world comes to play" by sponsors. This weekend, tens of thousands of rugby fans from around the world will cheer their teams at the annual on Hong Kong Rugby Sevens at Hong Kong stadium.
According to the Rugby Union's audit report, income from "entry and admission fees" raked in $1.3 million Hong Kong dollars. The finals on Sunday usually draw the largest number of spectators every year and tickets for those top team matches are sometimes hard to come by. For years, scalpers would approach fans, typically at Causeway Bay MTR station to offer tickets to those desperate to see the finals.
This year, the Hong Kong Rugby Union announced in October 2018, that the tickets were going to remain the same price as last year staying at $1950 for a full three day tournament ticket.
Currently, there are no laws in Hong Kong regulating ticket scalping. An online scalper who refused to give his name, claimed that he sold a three-day ticket package for $3600. That's a 80% markup on the original price.
"Few Hong Kong local fans would pay thousands dollars for the Sevens tickets. Buyers are mostly staff from insurance companies who want to offer tickets to their clients, [as a gift]," the anonymous seller explained.

According to the Hong Kong Sevens official website, Hong Kong identity card holders can enter a ballot in which tickets would be randomly allocated. Each person can apply for up to two tickets and a total 9,000 tickets would be sold this way.
Visitors from overseas can purchase the "Essential Sevens Travel package" from travel agents listed. There are also "hospitality packages" from, for example, Cathay Pacific, the Hong Kong and Shanghai Banking Corporation (HSBC).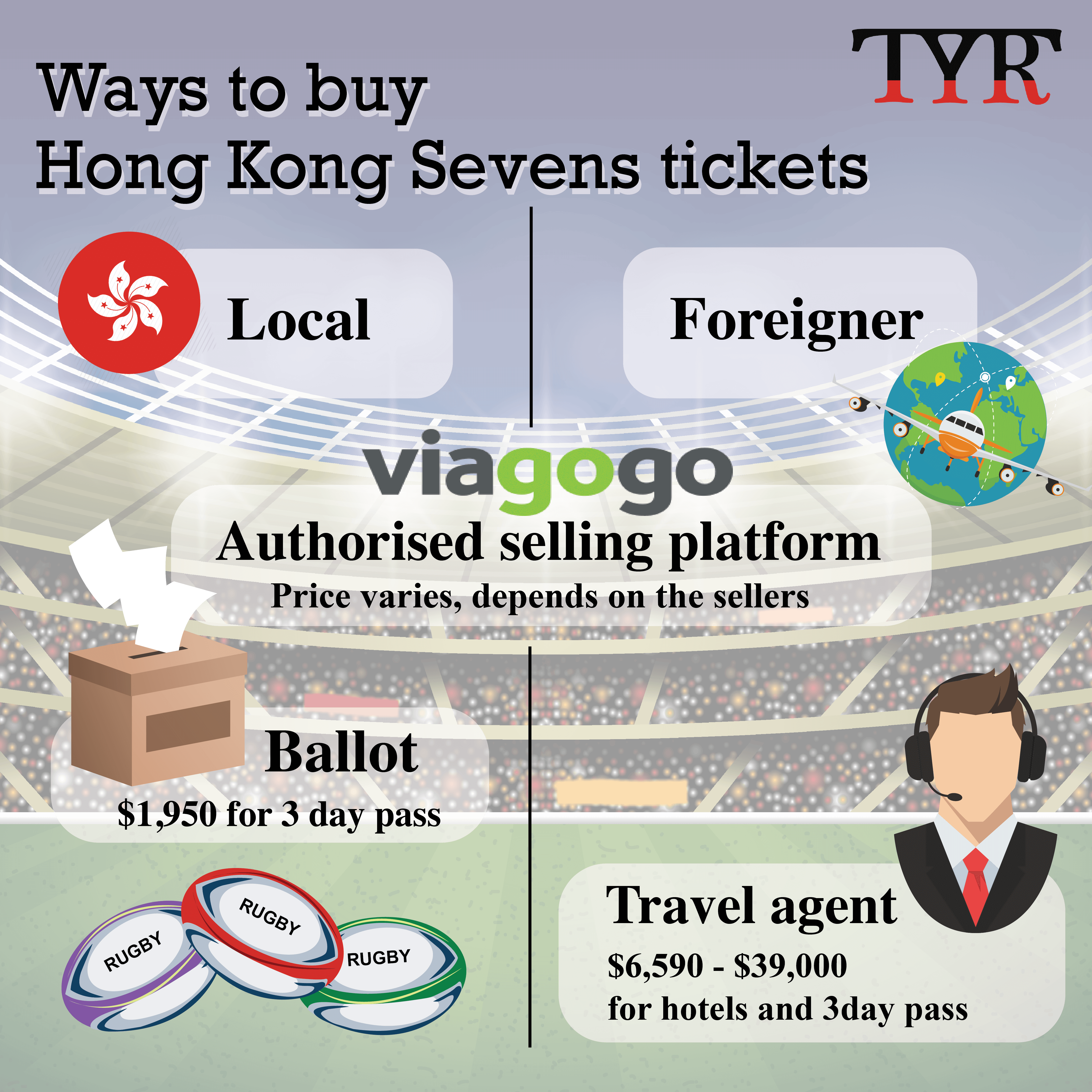 One of the travel agents on the website, Keith Prowse Travel, for example, offers packages starting from $2975 Australian dollars ( $16,600 Hong Kong dollars) per person, that include return tickets from Australia, four nights stay at a hotel plus tickets for all three days of the matches.
Alternatively, fans can buy tickets from Viagogo, a ticket selling platform promoted by the Hong Kong Sevens. Founded in 2006, Viagogo is an online marketplace matchmaking platform that offers tickets that are in high demand. The Hong Kong Rugby Football Union has been teaming up with  Viagogo since 2014 so that fans know that tickets bought from the platform would not be fraudulent.
Briony Carter Pattison, a mother of an avid rugby player was desperate to buy a ticket for her son. She paid $2287 for a three-day ticket plus $255 in delivery and booking fees on Viagogo.
"The actual ticket prices were not too inflated [from the original price] but the delivery and the booking fees were ridiculous," Ms. Pattison said.
Viagogo does not reveal the extra fees until buyers are ready to pay. In the end, the three day ticket cost Ms. Pattison $2287 more than the original price of $1950. The ticket itself was inflated only by $225, where as the bulk of the ticket cost was the delivery and "admin" fee. Ultimately, the final markup from Viagogo is 17% from the original price.
Ms. Pattison also found the online purchase process stressful. "You have no time to think.You get eight minutes from start to finish." said Ms. Pattison.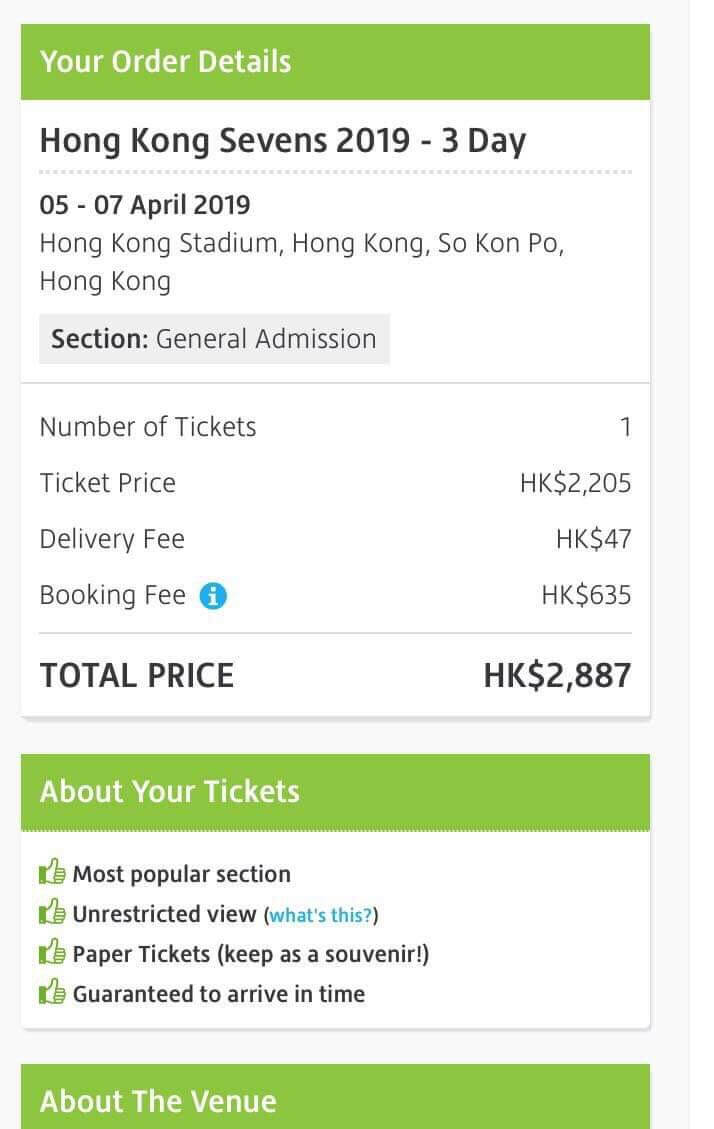 She questioned why the Hong Kong Rugby Football Union works with Viagogo and not have any official on-site ticket sales.
Local rugby fan, Bruce Yim, also found the official Sevens website confusing.
"The retail prices of the tickets are not stated [clearly]. I do not know the original price. There is no way to determine whether the black market or even the official reselling platform prices [Viagogo] are regulated."
Nieve Heskin, an American who lived in Hong Kong, bought a ticket in 2017 through Viagogo months before the event.
"I heard that the tickets would be gone quickly once they went on sale." Ms. Heskin explained. 
She thought that she paid for the face value of  the tickets since she purchased them very early on. But she later found from friends that she attended the sevens with that she had paid way over what the original value was.
Viagogo has no "standard percentage" service fee for both the buyer and the seller. It only states on the official website that "service fees may vary" depending on the event. Buyers are charged with "admin fees" to maintain the platform and customer services while sellers are also charged a fee to cover the costs of advertising to potential buyers.
Hong Kong Rugby Union public relations spokesman, Andy Yeung, said that the union only recommends fans to buy tickets through Viagogo because tickets from scalper may turn out to be fraudulent.