Parents Happy to See Schools Return to Full Capacity
By: REN Ziyi David

Edited by: Robin Ewing

2021-05-24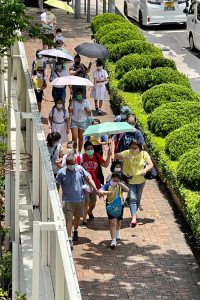 All local schools and kindergartens returned to face-to-face teaching today for the first time in six months after the relaxation of Covid pandemic restrictions. 
Classes are at full capacity on a half-day basis.
"I am happy to have my kid back to school," said Manto Hong, a 43 year-old father with a daughter at a primary school in Kowloon Tong.
Mr Hong said he wishes the schools could be allowed to open up longer.
"She will be able to meet more friends," he said. "Learning in the classroom might be more effective."
Kelley Mang, a 42 year-old mother with two daughters studying in a primary school in Kowloon Tong, said full-time school might not be a good idea right now since the vaccination rate is too low.
"It is good to send my kids back to school," she said. "I am still a little bit worried about the close contact problem." 
The Hong Kong government is considering expanding vaccine eligibility, following the US decision last week to open up Pfizer-BioNtech shots to age 12 and up.
The number of fully vaccinated Hongkongers is close to 900,000, or 12% of the population.