"Moat city": Covid policy raises questions in Shijiazhuang
By: Nick Yang

Edited by: Jenny Lam

2021-08-10
Since the beginning of this month, Covid precautionary measures in Shijiazhuang, the capital of Hebei province have forced the closure of cinemas, and cancellation of face-to-face classes in kindergartens and tutorial schools. Some events have been cancelled and department stores have stepped up their disinfection routines.
However, there has not been a single case of Covid in Shijiazhuang for more than five months.
A staff member of UME cinema answered the hotline and said that the policy was implemented with very short notice. They do not know whether they will be paid during the closure.
"We are still waiting for a further plan from our company," she said.
Party officials explained that the city should act as a "moat" to protect Beijing from the pandemic.
Geographically, Beijing is surrounded by Hebei province. For years, Shijiazhuang and Hebei province have seen themselves as the "capital political moat", safeguarding the stability of Beijing.
On August 5, Wang Dongfeng, the secretary of Hebei provincial Party committee, said at a conference dealing with COVID-19 that Hebei would do a good job in pandemic prevention and control, and resolutely acted as the moat of the capital with practical results.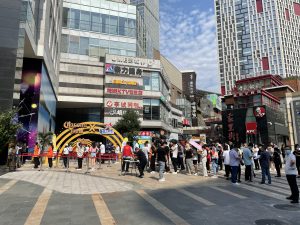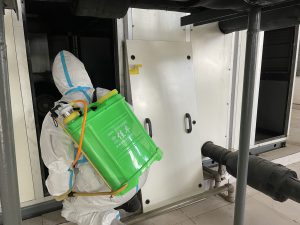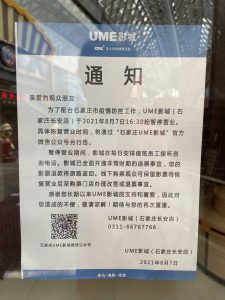 The policy is leaving some cinema-goers baffled. According to an announcement posted by China Film Administration on August 4, cinemas in medium and high risk areas should be closed temporarily, but in low-risk areas attendance can be up to 75%.
Kang Hongming, a university student living in Shijiazhuang thought that it was not reasonable to close the cinemas. "Beijing has 23 confirmed cases now but the cinemas there are still open. Shijiazhuang has zero cases but all the cinemas are closed. It's weird," he said. " Sometimes the local government considered Beijing first instead of its own citizens," he added.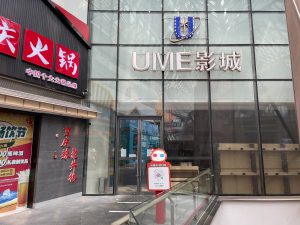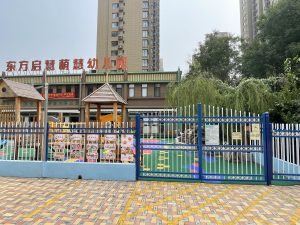 Wang Yuying, an instructor at Saintach Education, a tutorial school, agrees with the policy.
"It's a difficult period for training institutions. The income of  the staff has dropped," Ms Wang said.  "But the measure is for safety. Once there is a confirmed case in the institution, it will be a big problem," she added.
Parents are having to find ways to take care of their children since the kindergartens closed.
Liu Xiaoqing is the mother of a 5-year-old girl. "I am lucky because her grandparents can help me. Some parents can only keep their children at home, and some have to hire nannies," she said. But she supported the policy despite the inconvenience. "The classrooms are too crowded. It's wise to stop face-to-face classes. Children's health is the most important," Liu Xiaoqing added.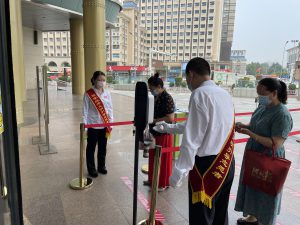 Zhan Xiaoyang, the Deputy Secretary of municipal Party committee in Shijiazhuang, said on August 9 that all departments at all levels should fully understand the long-term, complexity and urgency of COVID-19 prevention and control. They should take epidemic prevention and control as the most important political task, and adhere to the principle of being meticulous and strict, earnestly implementing various epidemic prevention and control measures.