Copyright infringement prevalent in Chinese social media
By: Zhu Zijin Cora 朱子槿

Edited by: CHEN Bingyi

2021-04-26
Melody Yin is typing the title of her work in the search box, but the first post that popped up was not hers.
"I'm actually not upset at all," said Ms Yin in one of the videos she posted talking about copyright. "Copying is so prevalent in we-media. I've found my post being copied twice."
"In fact, that's much less than  other bloggers who have more followers," she said.
The 27-year-old part-time blogger has been publishing articles online since 2020, mainly focusing on self-development and daily life sharing. She has 14,000 followers on RED, or Xiaohongshu, meaning "Little Red Book". She filed a complaint to the platform and the copycat post was removed.
"That's it. The platform did nothing else to protect the content makers' copyright," she said.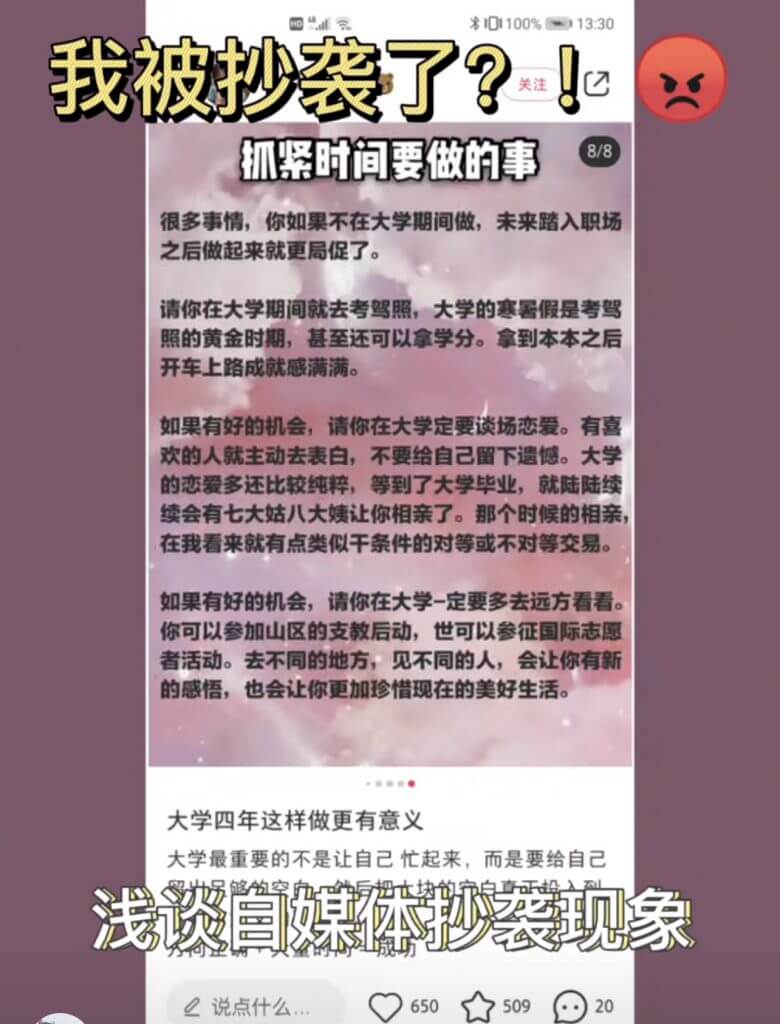 Founded in 2013, Xiaohongshu has since gained popularity in the mainland and Hong Kong. The platform mainly features beauty and lifestyle content, as well as e-commerce. Today there are more than 12 million monthly active users, according to data platform iiMedia.
It is not uncommon to see content makers like Ms Yin facing copyright infringement issues in China. But many are unhappy with the limited measures to punish and prevent future copyright tort. With COVID-19 lingering and people spending more time online, the competition among text or short video content makers to stand out is intensifying and copyright infringement.
"When I'm watching Douyin, I often feel like I might have watched that piece before, or at least watched a similar one," said university student,  Henry Wang Yun. Douyin is a popular short video platform, the Chinese version of TikTok.
"There are so many posts with similar content. You can find copied versions even across different social media platforms," Mr Wang said.
Copyright refers to the owner's "exclusive right to use the work", including written, audio, video and software work, according to Google's legal help. Copyright infringement behaviour includes copying, renting, showing to the public or making adaptations of the copyrighted work, the Hong Kong-based law firm ONC Lawyers said.
The Chinese copyright watchdog,12426 Copyright Monitoring Center said in a  report last year that 92.9% of the more than 10 million posts detected copyright breaches of short video content between January 2019 and  October 2020. One piece of short video may contain more than one category of copyright tort such as misuse of background music, raw materials and captions.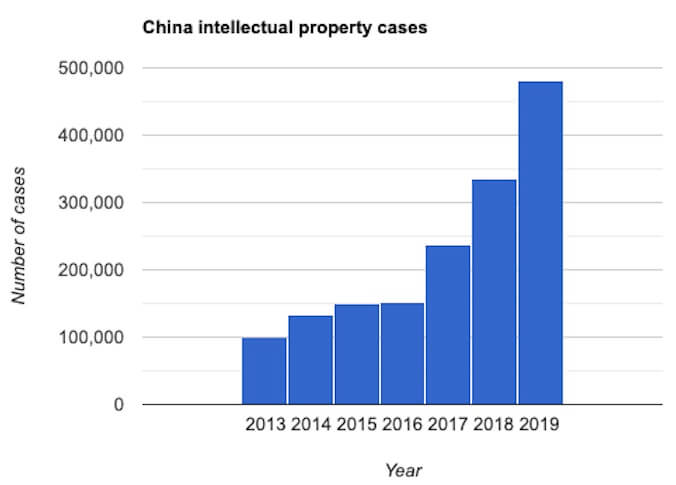 According to the report, one of the most common and hard to define situations is making adaption of the original content but the underlying idea is essentially the same, which is also literally known as  "Xi Gao" in Chinese.
Apart from copying and publishing copyrighted works, infringers often choose different platforms other than the one originally used, which make further detecting the copycats difficult.
Ms Yin once saw her article, which she originally published on the platform Jianshu, being duplicated to a Wechat official account without her permission.
"Some people are better. They would give my credit when re-publishing my article," Ms Yin said. "What's funny is once I saw my article re-posted, without citing the writer, by a Wechat official account I actually followed."  
On RED, users, both original content makers and viewers, can make complaints if they find the content has been stolen by others. The platform, after confirming, will then remove the post. The official announcement says individual breaching copyright may face account block and legal liabilities. The measures are similar to international social media platforms such as Instagram.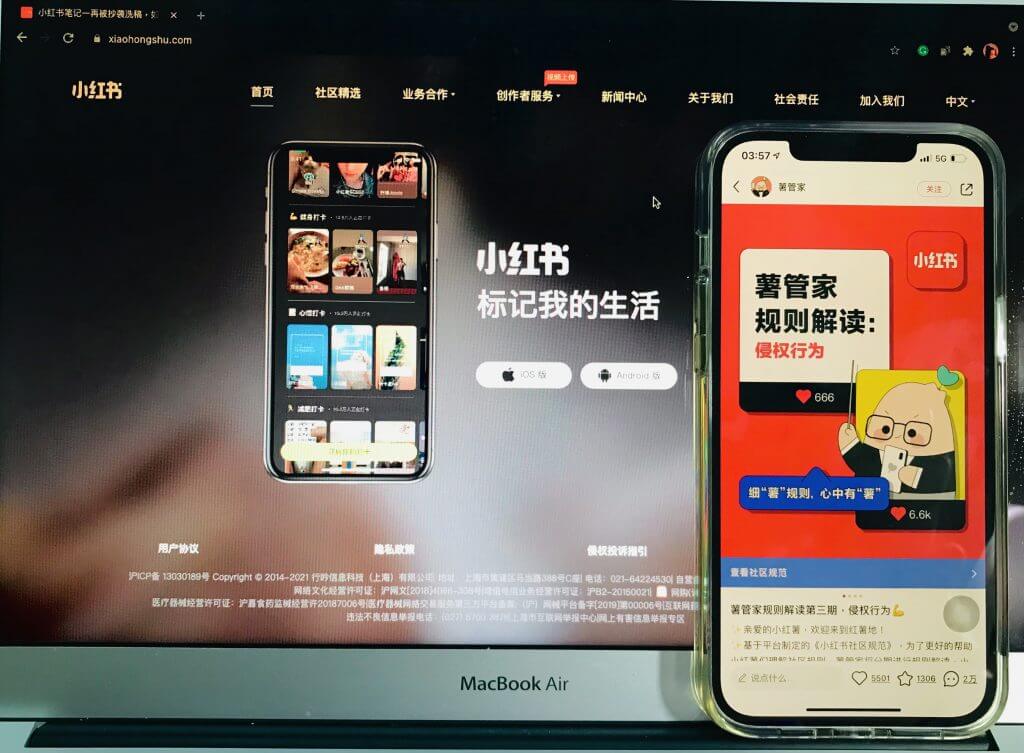 "The cost of copying is very low," said Ms Yin. Several content makers, who once shared their experiences of having their content stolen or duplicated, also said the platform only removed the post, which is not enough to prevent future tort.
RED did not reply to the message request for the platform's policies on copyright infringement.
"The most effective measure is to directly file a lawsuit against  the infringer," said Wang Jing, an attorney specialising in copyright lawsuits at the law firm, Co-effort. "The copyright holders, or affected  content makers can give the attorney full instructions and then there's basically nothing left needed for them to do," Mr Wong said. 
According to China's copyright law, any offender may face a maximum fine of  500 million yuan (HK$5.95 million).
"Since I'm only a part-time blogger, I don't want to put much time and money into a lawsuit," said Ms Yin. The fee is about 30% of the final penalty according to the industry standard. "Besides, again, it's so common among content makers."
Ms Yin still posts online, but she wants to know, "What exactly is the fine line between inspiration and imitation?"