Water World to open on Mid-Autumn Festival
By: YANG Zhenfei

Edited by: Editor

2021-08-09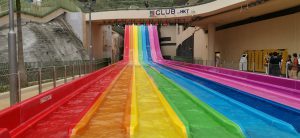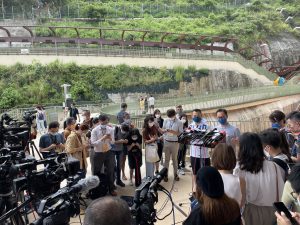 Water World, Ocean Park's new attraction, will open on September 21, the day of the Mid-Autumn Festival.
The initial signs are that people are looking forward to trying out the new water rides as "early bird discount" tickets for the first week were sold out in the first 17 minutes after sales opened online at 5 pm today (August 9).
Originally scheduled to open in 2017, Water Park is expected to boost the fortunes of Ocean Park, which has suffered financial losses in recent years because of falling numbers of local and overseas visitors due to the social unrest in 2019 and the COVID-19 pandemic since early 2020. 
The amusement facility was saved from financial collapse by a $5.4 billion bailout by the government last year. A subsequent $6.4 billion rebirth plan was approved by the Legislative Council in March.
Built near the sea, Water World is the first facility of its kind in Asia that opens all year round. It has five theme zones and 27 indoor and outdoor attractions, including the city's first-ever surf rider, nine dynamic water slides and several water play zones.
A visitor to the park, who would only be identified as Ms. Wong, said that she would definitely take her two children to Water World as they both like playing in the water very much.
"(However) I won't do it for the time being because I'm still worried about the spread of the (Covid-19) virus," she said. 
"We know that many people are looking forward to it and many people will go there, but epidemic prevention in the water is difficult to guarantee. You can't swim with a mask." 
Ocean Park officials say tourists will be required to wear masks on leaving the pools and moving to other zones, but will not be required to be vaccinated against COVID-19. 
To reduce the risk of infection, Water World will only open at half capacity, welcoming 4,500 visitors a day at first.
Mr Paulo Pong Kin-yee, Deputy Chairman of the Board of Ocean Park Corporation, said "early bird discounts" would be provided to visitors for the first 60 days after the opening, with the adult fare set at $320 and the fare for children aged between three and 11 at HK$225.
Afterwards, prices will fluctuate according to seasonal factors and tickets on weekends will cost more than on weekdays. Visitors will need separate tickets to enter other parts of Ocean Park. 
The new Water World sits on a 55,740-square metre site that is almost two times bigger than the first generation "Water World" built and opened in the 1980s. Due to low admission, the old Water World, which was opened only between May and September, was closed in 1999.