Online learning worsen the education inequality as grassroots children's self-esteem lowered
By: Hamish CHAN

Edited by: Lokman Yuen

2022-03-19
Hazel Chung, a university freshman who has to study at home due to the pandemic, is forced to study at the same table with her sister, who just got into secondary school.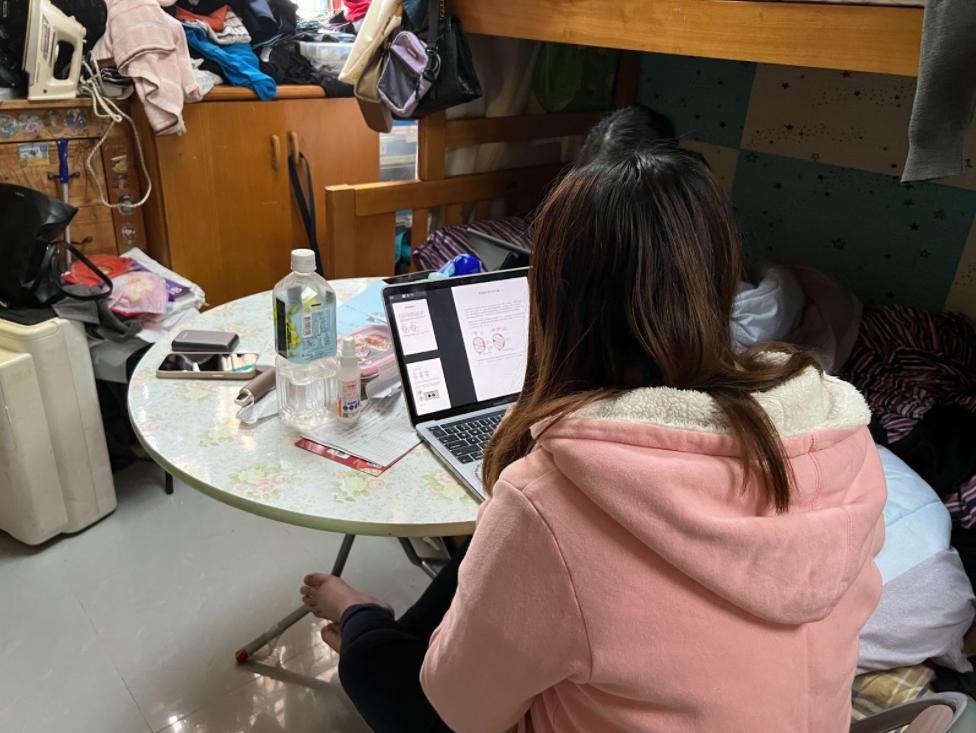 They live in a public housing flat with their mother, who works six days a week at a supermarket. 
In a 15-square-metre apartment, the family uses a foldable table for dining, working, and studying. As the flat is not spacious, they will need to sit on the bunk bed for the lesson.
Besides the physical environment, poor internet interrupts online learning as well. If one of the two sisters is answering questions from teachers, the other will easily be affected due to internet traffic jams, according to Chung.
The intermittent internet connection often lasts for a minute and reconnects itself, repeatedly repeating every time Chung and her sister have online lessons together.
"When both of us turn our cameras on, the video quality will drop significantly, making it very hard to concentrate," said Chung.
It is not just students who feel that students are not concentrating.
Liz Li Tsing-wen, the head of Citizenship and Social Development in Pui Kiu College, said she noticed that students are not concentrated on online lessons.
"It is very easy to see that some students are looking at the monitor but their mind has been distracted by other things at home," said Li. "The only benefit is that I do not have to repeat 'keep quiet' a thousand times because they only turn on their microphones when I call their names."
Chung agrees with Li's comment and says, "even myself, as an adult and a tertiary education student, feels difficult to concentrate on online learning."
"If I have my own room and better internet, I can be more concentrated, and so does my sister as we will not disturb each other," said Chung.
According to Harris Cooper, the director of Duke University's program in education, low-income students' learning progress is negatively influenced by online learning. His studies suggest that the longer the online learning lasts, the wider the gap of academic performance for students with different financial statuses.
Chung's sister received a sim card of 500GB capacity for online learning from her school back in 2020. The card has expired now, but no further internet support was provided. 
The Education Bureau said they are providing a subsidy for students receiving government grants to cover the full cost of the device up to HK$4500. Also, the EDB said the government is providing support for students from grassroots  families to subscribe to "basic internet plans".
Chung said they received a free tablet with accessories from the government, but only the minimum need for online learning during the pandemic. She added that subscribing to basic internet plans is not enough for families with more than one student.
Besides educational inequality, online learning is also a blow to children's self-esteem from financially challenged backgrounds. 
Devin (alias) is a primary three student who lives in a one-bedroom public housing flat with his parents. His school requires students to turn on their cameras when having lessons.
"My classmates have big rooms with many decorations that he is jealous of. Some boys even have superheroes painted on the wall," he said. "Some of their rooms seemed to be bigger than my house."
Devin told The Young Reporter over the phone that he also wants to have a room just like his classmates'. "It feels bad to let my friends know that I live in a much smaller flat than them," he said.
During Physical Education lessons, he needs to move the dining table to have classes to the front to have more room for physical movements, but many of his classmates can simply move their chairs to the back and jump around.
According to the Annenberg Institution at Brown University, online learning may further lower self-esteem for underprivileged students as the discrepancy of the learning environment between the wealthy and disadvantaged students are much more noticeable. 
According to the research by Sarah Moore of the Faculty of Child, Family, and Community Studies, Douglas College, children are having less physical activities, especially the lack of team sports when having online lessons, it is more likely that children will have lower self-esteem than before.
Low self-esteem may cause depression and anxiety, according to the American Psychology Association.
Ching Ka-ngai, a social worker, had received enquiries from parents about online learning. 
"When the pandemic is not so serious, we can take care of children at our centre. However, as the pandemic spreads to the community, we have to close down all our facilities," said Ching. "That makes it hard to help parents, especially for those who are not familiar with digital devices and who need to go to work."
Ching said the actual implementation of the education policies has to be well-planned. For example, the authority should provide training for teachers to cater to the learning needs of students of different ages, concentration levels and socio-economic backgrounds. 
He added that the school could provide additional support for students with special needs, such as home visits and psychological counselling for both students and parents.
"I do understand that it could be hard as the pandemic came so suddenly. It has  been over two years now, improvements should have been made," said Ching.
Clara Ng In-ting, a primary school teacher, said the government passes the buck to teachers. 
"We can only take care of the mainstream students, and it is tough to monitor the students with special education needs," said Ng.
The teacher finds it infeasible to monitor whether students are concentrating on lessons as she cannot walk around the classroom and check whether students are reading or writing things as they should be.
EDB had sent teachers some "recommendations" for online learning, like adopting learning modes in which both teachers and students are confident. Also, the content should be "easy to master" and not exert undue pressure on students and parents.
"It is extremely hard for teachers to figure out how to apply them," said Ng.
"It is more challenging and time-consuming to prepare materials," she added. Online lessons hinder interactions between teachers and students because activities are not as engaging and interesting compared to face-to-face lessons.
Also, the teaching schedule would fall behind if they follow the recommendations and teach easier content.
She concludes that for students whose parents have the ability and time to teach their children, the academic performance will be a lot better, especially during a pandemic.
"Everybody knows it is hard to learn via online lessons, especially for kids," said Ng. "But sadly, not every parent can teach their kids at home."
She said before the pandemic, teachers can organise home visits for children in need, it is not allowed during the pandemic. As a result, it is a hindrance for them to help children and their parents cope with the online learning environment.
She added that there has always been a considerable margin between different students and getting even wider. She said that the kids who perform better are generally whose parents keep track of their studies.
According to research by The Boys' and Girls' Clubs Association of Hong Kong (BGCA HK) in 2020, more than 80% of grassroots families will face difficulties disciplining their children. 
Also, grassroots families are more concerned about childrens' learning because of the lack of technological knowledge in supporting online education, according to BGCA HK.
"Unlike face-to-face learning, we cannot walk around and see how students are doing or are they focusing in class," said Ng. "That is why we have to rely on their parents more, but some of them are just not capable of doing so."
Students' grades can drop quickly as it is extremely difficult for children, especially primary students, to concentrate for a long time in front of the computer without assistance from parents.
Chung said her grades dropped significantly, and so did her sister.
"My sister used to attain 80 plus, but now with online learning, she can only get around 70," said Chung. "Now I just hope that the school will reopen and hopefully our academic performance will get back on track."
Chung said it was pretty frustrating for her as she spent more time revising, but the result was unsatisfactory.
 Despite the students, parents are also concerned about the problem, as some of Devin's classmates have received slipping grades since the online teaching started.  
Devin's mother quoted the group chat of parents and said those students whose parents cannot teach their children are facing a drop in academic performance. One of the students who attained 80 plus at half-day offline school could only score 60 plus recently. 
"The main reason could be that primary kids cannot concentrate at online classes," she said. "But some parents are just too busy or simply not knowledgeable enough to teach, especially in subjects like English."