Public education is key to rooting out workplace sexual harassment
 A lot of cases of sexual harassment in the workplace have gone unreported mainly due to inadequate public awareness, say experts.
Working as a customer service officer at a small travel agency, Ms. Chan, then 21 years old, was repeatedly groped and requested by one of her senior colleagues to wear mini-skirts to work and to reveal her beautiful legs.
Feeling disturbed, Chan chose to remain silent out of fear of reprisal from her senior, not least because there was no sexual harassment policy in her company.
She eventually quit her job.
Academics and industry experts have pointed to a lack of public awareness of sexual harassment in the workplace, coupled with an absence of an indecency policy in many local small and medium-sized companies.
"There is a strong need to raise employers' awareness of workplace sexual harassment and the importance to set relevant policies." said Dr. Leung Lai-ching, associate professor in the Department of Applied Social Studies at City University of Hong Kong and a member of the Equal Opportunities Commission (EOC).
Sex Discrimination Ordinance, an anti-discrimination law passed in 1995, prohibits any forms of sexual harassment in the workplace and states clearly what constitutes it, though it doesn't make it mandatory for all local companies to have an internal sexual harassment policy in place.
A recent survey conducted by the EOC has shown that many local companies have overlooked the importance of setting policy statements on sexual harassment in the workplace, as they have never felt the urgency or need to do so.
"Some people don't report their cases simply out of ignorance," said Dr. Anita Lee Chi-kwan, an associate professor specialised in gender and sexuality research at Tung Wah College.
The findings went hand-in-hand with a reported 54 per cent increase in the number of workplace sexual harassment-related complaints received by the EOC since 2011.
Additionally, the South China Morning Post reported in early September that more than one-third of the complaints lodged with the EOC under the Sex Discrimination Ordinance in 2012 were related to workplace sexual harassment.
The commission's findings came on the heels of a court case heard in the District Court in 2011, in which a female assistant officer at the Department of Food and Environment Hygiene accused her fellow male officer of having repeatedly made sexual taunts and attempts to touch her.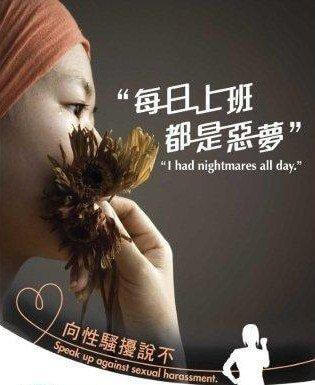 The defendant was later found guilty under the Sex Discrimination Ordinance.
Some experts, however, are concerned that many victims of workplace sexual harassment in Hong Kong have yet to come forward and thus the magnitude of the issue remains unclear.
"The number of complaints received by the EOC may not fully reflect reality as there are people who are afraid of speaking up," said Dr. Ip King-tak, assistant professor in the Department of Religion and Philosophy at Hong Kong Baptist University.
Although the EOC has been providing training and consultancy services to business enterprises and government departments since 2001, industry experts such as Ms. Virginia Choi, former chairman of the Hong Kong Institute of Human Resource Management, have pointed out that most small and medium-sized companies cannot afford to have their staff away in training due to insufficient human resources.
That said, it is often too late when the company finds out that one of its employees has been sexually harassed, and the trauma inflicted upon the victim can sometimes be irrevocable.
"To prevent sexual harassment in the workplace, the government needs to strengthen public education and have the determination to implement relevant policies," said Dr. Lee.
Reported by Karen Leung 
Edited by Brian Yap