The Fight to Save Street Art

Street performers campaign for the right to chase their dreams, legally.
In the pedestrian precinct on Sai Yueng Choi Street South, henna artist Mr Andrew Cheung Chek-wan, 21, sets up a makeshift stall regularly to draw motifs on the bodies of those who appreciate his art with a special Indian herb extract
But in his two years of plying his trade in the streets, Mr Cheung has received plenty of warning tickets from the Hawker Control Team and was even charged once.
Mr Cheung's experience is not unique. While Hong Kong is known as an international city, which treasures the freedom of expression, street performers still face hurdles in finding a public venue to ply their trade.
"The law authorises the Hawker Control Team to define what is hawking but the crew cannot differentiate between street art and hawking," he said.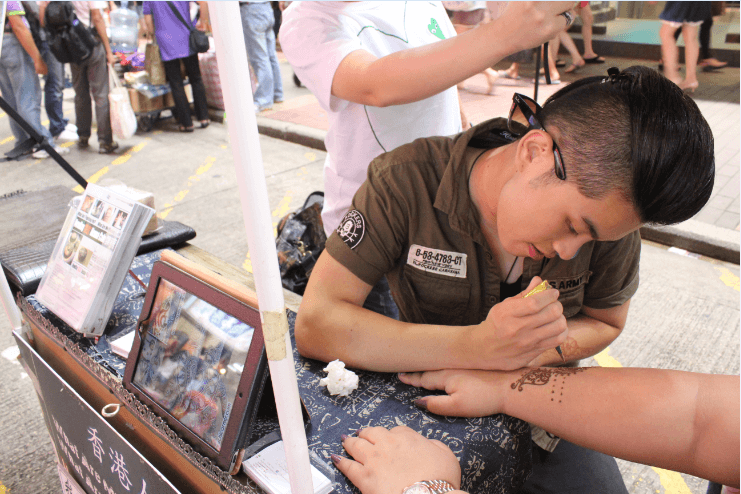 At the moment, what's more eye-catching than Mr Cheung's motifs drawn on the arms of his customers, is a large banner with the Chinese words saying "I am an artist, not a hawker".
Over the years, many buskers in Mongkok, Tsim Sha Tsui and Causeway Bay have been charged for breaching various ordinances, including hawking, disturbing public order and loitering.
To protect their rights, street artists have been lobbying for the introduction of a licensing system, with the support of Legislative Councillor Dr Chan Ka-lok.
"Licensing is the only way to promote busking and eliminate people's misunderstanding about us," said Mr Cheung, who participated in the event.
On August 25, the Street Arts and Cultural Performance Showcase organised by Dr Chan brought together seven street art performance groups, representing buskers from various districts.
It was the first time that street performers had spoken publicly about their obstacles.
Dr Chan compares local buskers to seedlings looking for sunlight and nutrients for growth, referring to the significant lack of space for street performers in a concrete jungle like Hong Kong.
"Different law enforcement departments use their own methods to eliminate street performers because there is a lack of understanding and protection for street art," he said.
"If there is a licensing system, the identities of buskers would be ascertained so that they could perform legally."
That said, the potential threat that the street art licensing system may pose on freedom of expression is a concern to some buskers.
"I did not support having a licensing system at first as I wondered what standards would be used to define street art," Mr Cheung said.
"There should not be a threshold for art, but the dilemma is that we need a way to protect buskers in Hong Kong," he said.
As the licensing proposal is still being discussed, the qualifications required for street performers are still uncertain. Yet Dr Chan stressed that there should not be entry barriers for street artists, nor attempts to promote only the so-called high-end art.
"I hope it will be an initial step to promote the street art culture," he said.
Photographer Mr Hing Liu, from busker group Instant Cross, shares Dr Chan's view.
"I believe a licensing system would encourage more people to engage in street art as they would not have to worry about being sued," Mr Liu said.
Asked if there were any alternatives to licensing, Dr Chan said a "win-win policy" would be to have private organisations such as the MTR Corporation, Ocean Park and Disneyland open up their spaces for street art.
Opportunities to perform in these areas would provide ambitious artists with the platforms to display their works to the public, he added.
Edited by Tiffany Ng
Edited by Katheleen Wong