Life Under the Pandemic: How Do the Domestic Helpers Spend Their Holidays
By: LAM Tsz Yau

Edited by: Janice Lo

2021-04-12
Every Sunday, in areas such as Mong Kok and Central, footbridges and parks are packed with clusters of foreign domestic helpers. Under covid regulations, large groups  are broken up.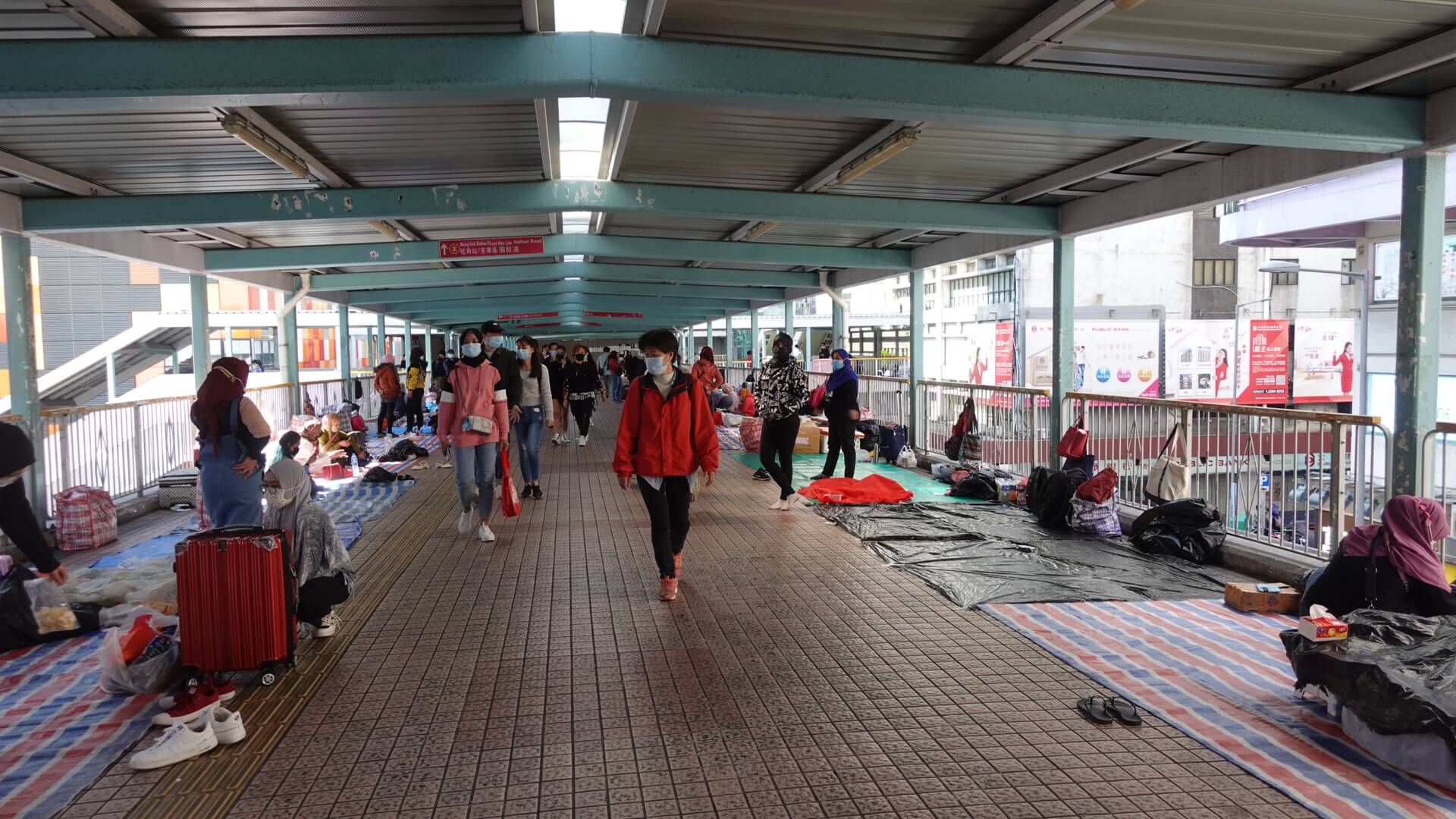 A domestic helper, Bege, said this was her first time to gather with friends at the Mong Kok footbridge. They used to spend their  day-offs in her neighbourhoods. Another domestic helper, Vina, said, apart from resting at the footbridge, she would go shopping with her friends. But under the pandemic, she had nothing to do after spending time with her friends, so she would get home earlier. Unlike Bege and Vina, another domestic helper, Magttelena enjoyed "me-time" on the footbridge by doing live streaming on Facebook.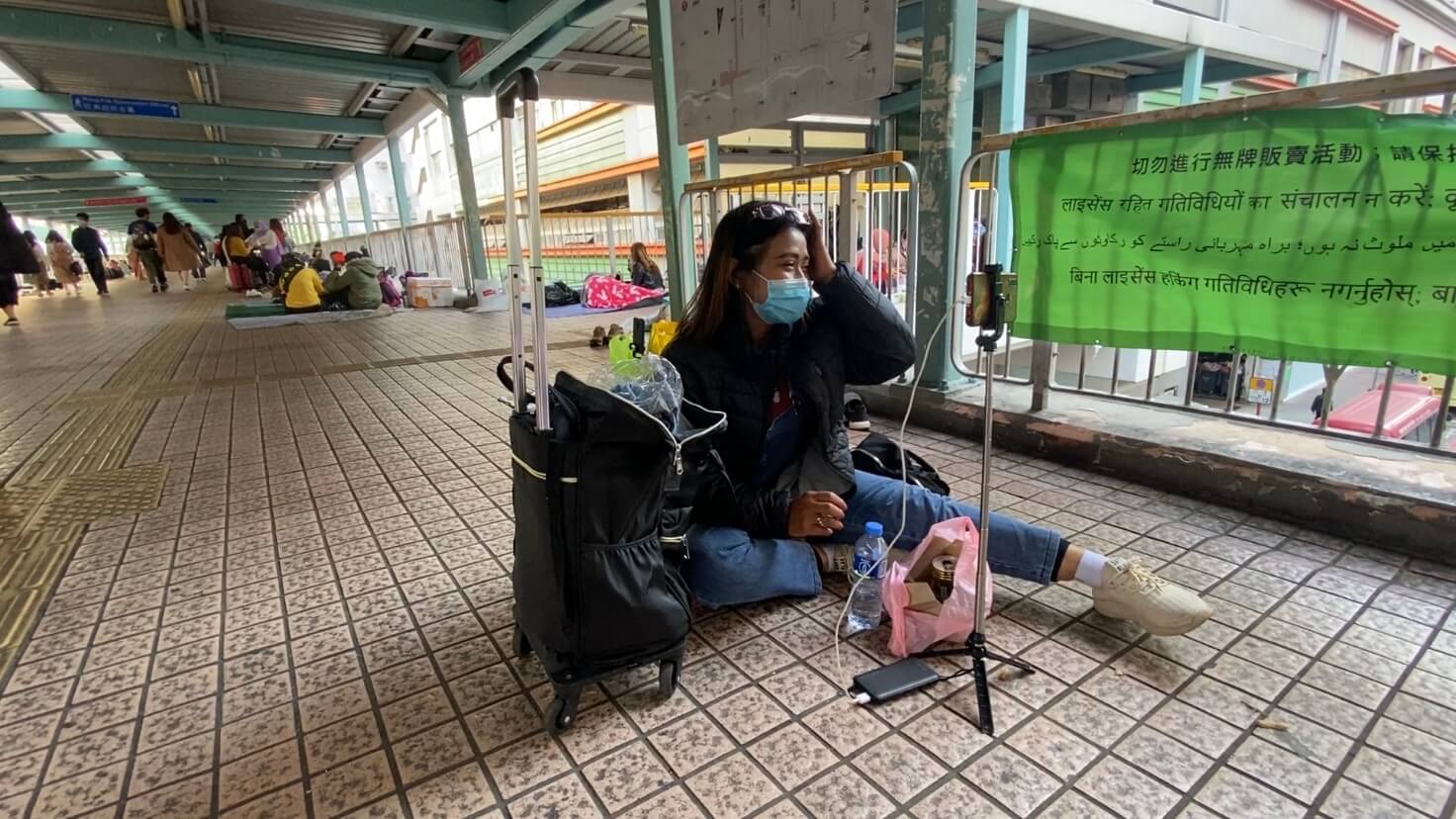 For domestic helpers in Hong Kong, finding a place to spend their days off is tough during COVID. The parks in which they used to gather are now off limits.
"Under the gathering ban, domestic helpers are facing more discrimination from locals when spending time together," said Peggy Shek, committee member from the Hong Kong Federation of Asian Domestic Workers Unions, which has over 750 foreign domestic helper members.
According to the FADWU's figures in June 2020, among the 427 domestic helpers who were interviewed, over 80% of them felt they faced more discrimination amid the pandemic.
"Before the pandemic, the domestic helpers would sometimes be driven out by security guards  or dissuaded from taking photos when resting in parks," said Ms Shek
But since last year, the domestic helpers interviewed felt that they had become the focus. Ms Shek added that reporters come to them more often and more people give them the dirty look.
"Once when the domestic helpers were resting in the park, there were announcements reminding them to follow the social distancing rules every hour, which they found disturbing," said Ms Shek.
"Some of the domestic helpers would book a hotel room for gathering, but it's quite a burden for them as they only have  a daily wage of HK$100 to HK$200."
Along with fewer possible places to go, activities for domestic helpers were also suspended due to the pandemic.
The Peace Evangelical Mission is a church-based organisation which has been serving people including Indonesian domestic helpers for more than ten years. Deputy Chief Executive Officer, Reverend Chan Tai-yuen, admitted that the mission tends to serve the domestic helpers through the ministries nowadays.
"We had been planning some interest classes for the domestic helpers, but the plan was shelved due to the fourth wave of epidemic since last November," said Reverend Chan.
Ministries from the mission would also keep in touch with the domestic helpers by organising online worships and providing up-to-date information through WhatsApp.
Meanwhile, Ms Shek added that the union organises fewer face-to-face workshops and avoids organising leisure activities because of the social distancing measures.
"We would organize some online meetings or offline workshops for groups of three to four people on weekends to share up-to-date information with the domestic helpers because their information is often delayed,"Ms Shek explained.
Moreover, the rights of some domestic helpers having days off are also exploited as a result of  the pandemic. Ms Shek said that some helpers have not taken any days off for over a year.  
"It's both unreasonable and illegal not to let domestic helpers take their days off because they did not expect the pandemic would last so long when they agreed not to go out a year ago," said Ms Shek.
Despite losing their holidays, Ms Shek mentioned that some domestic helpers have a bitter pill to swallow, as they still have to go grocery shopping and pick the children up from schools.
"We keep advising employers to be more considerate and put themselves into each others' shoes," she added.
Under most circumstances, employers can pay domestic helpers for extra working hours after getting their consensus, but Ms Shek said there are helpers who do not get the extra wages.
"It's the employers' responsibility to understand the law when they sign the contract," said Ms Shek. She added that some employers neglect labour holidays which are guaranteed by the Employment Ordinance and they do not allow their helpers to take the time off owed to them.