Facial acupuncture is in. 
Scores of needles are already sticking out of the woman's face, from forehead to chin, but the doctor still tries to insert more.
While it looks as if the woman is being victimised, the truth is she pays good money to have her face punctured - all for the sake of beauty.
Facial acupuncture, a cosmetic procedure rooted in traditional Chinese medicine, is the latest fad in Hong Kong.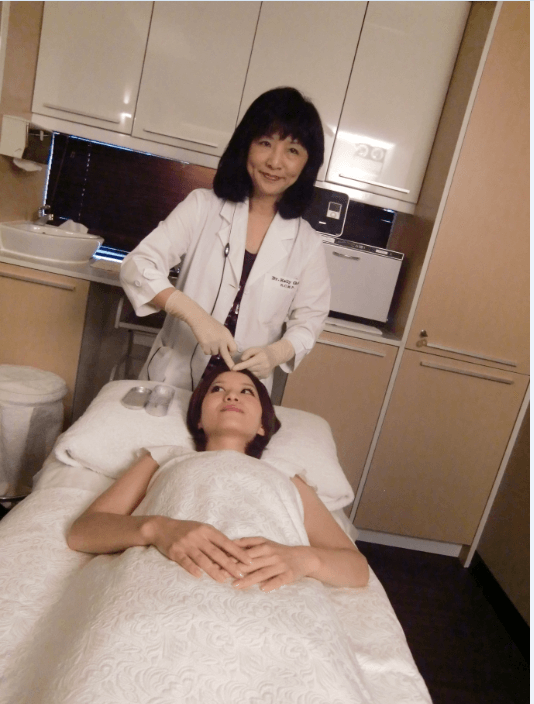 At the Chain's Medicare Centre, Dr Kelly Chain Yeung Pui-kuen, a registered Chinese medicine practitioner, said about ten patients, from young women in their twenties to elderly in their seventies, asked for the procedure everyday.
Facial acupuncture became popular in the West over the past two decades, during which time Hollywood stars such as Madonna and Angelina Jolie became its fervent followers.
"They come for beauty enhancements such as tackling acnes and blemishes, firming and slimming the face to a 'V' shape, and anti-aging. We also have male patients," said Dr Chain, who describes facial acupuncture as "green Botox" and believes the procedure can relieve a wide range of skin problems.
Now the procedure is charming its way back to Hong Kong, one of the cities where the treatment was first developed.
The growing popularity of facial acupuncture comes at a time when an increasing number of medical malpractice cases in the beauty industry have surfaced in recent years.
Ms Janice Lam, a makeup artist and instructor who has amassed more than 5,000 followers on social media websites, is a fan of facial acupuncture.
"Chinese medicine has a long history and I heard a lot of positive feedback about facial acupuncture. My friends told me that the procedure could relieve the problem of edema and make the skin firmer, more radiant and hydrant," she said.
"Even if the effects are not obvious, at least it won't hurt my body! That's why I was willing to give it a try," she added.
Ms Cheryl Lam Hiu-ching, a 22-year-old fresh graduate, receives facial puncture on a regular basis to make her face slimmer.
"All girls are trying every means to become prettier. Now, a V-shaped face equates beauty," said Ms Lam, who prefers the procedure to plastic surgery or Botox injection as she does not expect to achieve visible differences overnight.
Dr Chain noted that facial puncture did have side effects such as bleeding and bruising, as the needles might prick capillaries beneath the skin.
Other risks included inflammation triggered by needles that were not properly sterilised and allergy to the metal used to make the acupuncture needles, said Dr Chain. One could also suffer from facial palsy as a result of malpractice on the part of acupuncturists, she warned.
"We have our strengths and also our limitations," she said.
The Western view is that acupuncture works by stimulating skin receptors, which then send signals to the nervous system that coordinates the release of neurotransmitters and alters various biological processes.
Acupuncture originated in China about 3,500 years ago. Traditional Chinese medicine believes that there are as many as 2,000 acupuncture points connected by 20 pathways called meridians throughout the human body.
Such meridians are channels through which qi, energy as understood in Chinese medicine, flows between internal organs and the skin surface. Acupuncture is believed to be able to improve health by facilitating the smoother circulation of qi.
Edited by Tiffany Ng
Edited by Julie Henches
Photo Credit to Chain's Medicare Centre