The 6th Pulitzer Prize Winners Workshop
The Workshop was launched in 2006 by the university's Department of Journalism. It aims to advance journalistic education in Hong Kong and the Greater China Region. The workshop offers a week-long series of intellectual activities, including open lectures, forum and seminars.
This year, the theme of the forum is "The Public's Right to Know Versus National Security."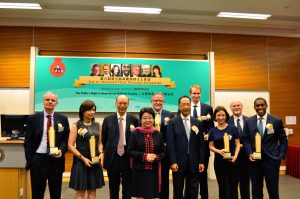 Prize winners from left to right:
Mr Ewen MacAskill           Member of the 2014 winning team, Public Service category
Ms Inga Saffron                 2014 winner, Criticism category
Prof David Boardman      Member of the 2012 winning team, Investigative Reporting category
Mr Chris Hamby               2014 winner, Investigative Reporting category
Ms Anne E. Kornblut       Member of the 2014 winning team, Public Service category
Mr Steve Sack                    2013 winner, Editorial Cartooning category
Mr Kurtis Lee                    Member of the 2013 winning team, Breaking News Reporting category
Pulitzer specials column:
Pulitzer winners worried about high-tech surveillance
A journalist who draws a lot, writes a little