Pulitzer winners worried about high-tech surveillance
A man in a suit is checking the stock lines on his phone; a group of school boys are huddling around a tablet playing an online game; a Filipino domestic helper is sharing interesting stories of her day with friends thousands of miles away at home through Bluetooth earphones.
This is a typical scene on the MTR these days, with everyone keeping their electronic devices within reach.
But for Mr Ewen MacAskill, a Pulitzer Prize winner of The Guardian, a British newspapaer, getting rid of his smartphone is the first thing he would do when he wants to talk to his editors or interviewees about sensitive issues.
"The iPhone in my pocket is like a microphone, no matter I switch it on or off. The government can track my location and who I talk to," Mr MacAskill said. He pointed out that the location services of the smart devices could also tell where one was even if it was switched off.
Mr Ewen MacAskill, Pulitzer Prize winner of The Guardian.

"The iPhone in my pocket is like a microphone, no matter I switch it on or off. The government can track my location and who I talk to."  Said Mr Ewen MacAskill, Pulitzer Prize winner of The Guardian.
He said he would pick up his notebook and interview people face to face rather than using online platforms like Skype.
Mr MacAskill is a member of the winning team for the 2014 Pulitzer Prize's Public Service category. The team reported on the mass surveillance programme conducted by the National Security Agency, the US government's intelligence agency, after receiving evidence from the famous whistleblower Mr Edward Snowden.
Mr Snowden once worked as a contractor for the National Security Agency. In June last year, he disclosed thousands of the agency's classified documents to several media outlets after he came to Hong Kong. Now he is living in Russia under a temporary residency permit.
Silicon Valley giants, including Apple, Google, and Microsoft, had reportedly provided the US government with direct access to their systems. The US intelligence agency had also hacked into information systems in other countries and spied on phones of political leaders all over the world, according to documents leaked by Mr Snowden.
Protecting Sources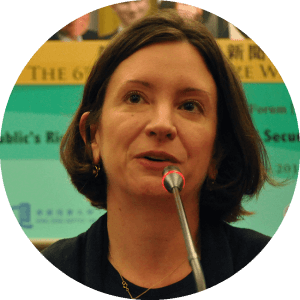 Ms Anne Kornblut, a senior editor at the Washington Post, also won this year's Pulitzer Prize with her team for reporting the Snowden incident.
She said the large-scale government surveillance had made it more difficult for reporters to communicate safely with their sources, as some insiders were too afraid to reveal anything for fear that the authorities might try to nail reporters and their contact records.
Ms Kornblut said protecting the sources had since become a top priority for the Washington Post. The Post now uses an encrypted Dropbox called the SecureDrop on their webpage to let whistle-blowers upload materials or reach their staff with an anonymous login.
SecureDrop is a free system managed by the Freedom of the Press Foundation, a non-profit organisation headed by journalists and activists in other fields to promote investigative reporting.
As an editor, Ms Kornblut said she tried to remind reporters to stick to the old-fashioned, but also the most secure way of reporting—meeting sources in person and taking down notes with paper and pen.
"Whistle-blowers take a massive risk when using mobile devices and email accounts," the Guardian journalist Mr MacAskill said. "We should think of better measures such that the risk of being spied on can be reduced."
Data About Data
Mr MacAskill also pointed out that metadata, or the properties of specific data, was the major target of intelligence agencies.
By looking into who you are calling, how frequently you contact with each other, and how long each conversation lasts, metadata analysts can know what kind of a person you are without listening to the content of your phone calls.
Mr MacAskill added that spying activities had been unceasingly increasing. It was no surprise to him that the US had been spying on China and Russia, but he was dismayed when the NSA allegedly had the phone conversations of 35 world leaders, including German Chancellor Angela Merkel, under surveillance, he said.
In the face of intense surveillance through new technologies, both Pulitzer Prize winners concluded that it was a journalists' responsibility to "keep reporting the truth."
By Nathaniel Suen, Tsui See Au Yeung
Edited by Karen Leung, Steven Wang