TYR was to win Human Rights Press Awards; FCC cancels awards
By: Nick Yang

Edited by: Editor

2022-04-28
The Young Reporter is proud to announce that it was scheduled to win two Human Rights Press Awards this year before the Foreign Correspondents' Club cancelled the awards on Monday, just days before the winners were to be announced. 
Former TYR reporters and editors Sara Cheng, Simran Vaswani and Kylan Goh were to win both first and second place in the university student category, according to the award list leaked to Hong Kong Free Press.
The TYR story Running District Councils in absence of colleagues arrested under NSL: work and a doubtful fate, reported by Cheng and edited by Goh, was to be the winner in the student category.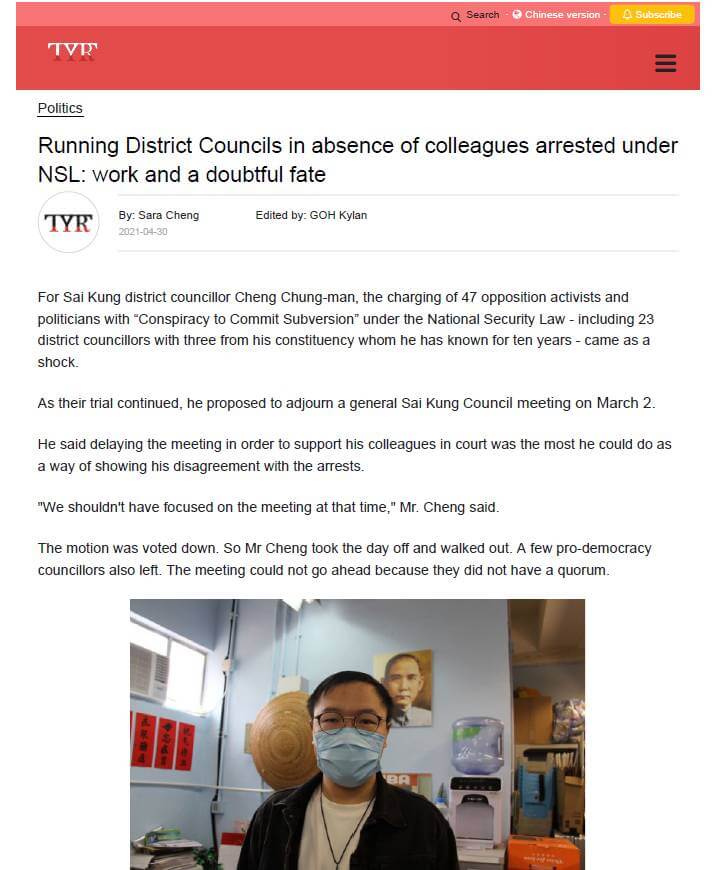 The TYR article reported the difficulties faced by district councillors after colleagues were arrested under the National Security Law.
"The reporter's rigour and resolve in tackling a sensitive topic in a city with diminishing press freedoms, where so few people are actually willing to speak on these issues in the wake of the National Security Law (NSL)," said the judges' comments.
The other winner in this category was scheduled to be a report by U-Beat Magazine, published by journalism students at The Chinese University of Hong Kong.
Another TYR story, 'It's either them or us': desperate protestors take to Myanmar streets as junta uses arrests, violence to keep power, reported by Cheng and edited by Vaswani, was scheduled to win a merit prize.
The judges' comments said the report "stood out for quality and comprehensive reporting".
The documentary Pledging Allegiance reported by San Po Yan Magazine, TYR's sister publication, the Chinese-language newspaper run by journalism students at Hong Kong Baptist University, was also scheduled to win a merit in the same category, along with reports by U-Beat Magazine and Varsity, also published by journalism students at The Chinese University of Hong Kong. 
The FCC, the organiser of the awards for the last 25 years, cited legal concerns in its announcement.
"There remain significant areas of uncertainty and we do not wish unintentionally to violate the law," Keith Richburg, President of the FCC, said in the announcement to the public on Monday. "This is the context in which we decided to suspend the Awards."
Stand News, one of Hong Kong's most recognisable pro-democracy news outlets and which ceased operations last December, was reportedly slated to receive nine recognitions – four awards and five merits – at this year's event.
This is the first year since the founding of the awards in 1996 that it has not taken place.