Running District Councils in absence of colleagues arrested under NSL: work and a doubtful fate
By: Sara Cheng

Edited by: GOH Kylan

2021-04-30
For Sai Kung district councillor Cheng Chung-man, the charging of 47 opposition activists and politicians with "Conspiracy to Commit Subversion" under the National Security Law - including 23 district councillors with three from his constituency whom he has known for ten years - came as a shock.
As their trial continued, he proposed to adjourn a general Sai Kung Council meeting on March 2.
He said delaying the meeting in order to support his colleagues in court was the most he could do as a way of showing his disagreement with the arrests.
"We shouldn't have focused on the meeting at that time," Mr. Cheng said.
The motion was voted down. So Mr Cheng took the day off and walked out. A few pro-democracy councillors also left. The meeting could not go ahead because they did not have a quorum.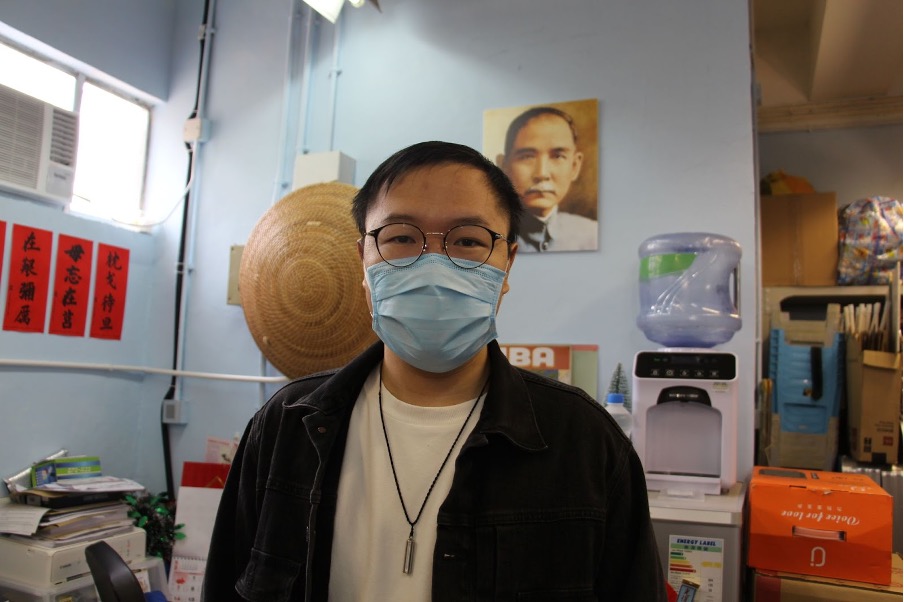 Those charged were involved in an unofficial primary election last June to select pro-democracy candidates for the Legislative Council election, which was postponed by the government for Covid-19 concerns. Only 11 of the 47 defendants were granted bail.
Mr Cheng is among a hundred or so pro-democracy councillors who are taking over the work of those in custody, with fear that they might meet the same fate amid Beijing tightening its grip over dissent in Hong Kong's languishing democracy.
With over a dozen of district councillors not able to attend meetings, some pro-democracy councillors, such as Mr Cheng, say there is a gap in representation at meetings.
"Missing one colleague is missing one colleague when we put up our hand to vote," said Fleco Mo Kai-hong, 30, a Yuen Long district councillor.
"That means we might lose a person to channel the views of the constituents," he added.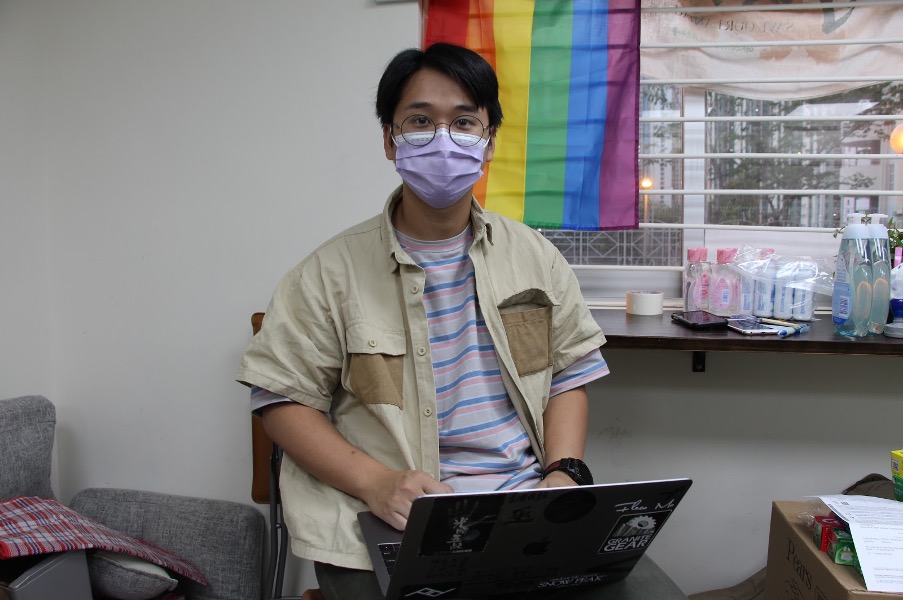 His colleagues Wong Pak-yu and Ng Kin-wai, both district councillors based in Tin Shui Wai, have been in custody since Feb. 28. Mr Wong and Mr Ng represent Tin Heng and Kingswood North constituencies respectively. Their staff can continue to run their offices, but they cannot attend meetings for them.
"For example, last time we had a Traffic and Transport Committee meeting and they talked about bus routes, which is relevant to his [Mr Wong's] constituency. His voice is gone, and many of his demands are gone all of a sudden," he said.
But Mr Mo, who works alongside Mr Wong because their constituencies are next to each other, at least has a sense of what issues may concern Mr Wong and can briefly update him during visits.
"Uncle Wong and the North Tin Shui Wai district councillors will try our best to fight for better bus services for the residents!" Mr Wong wrote in a public letter from the Lai Chi Kok Reception Centre, which was posted by Mr Mo and other councillors on Facebook.
Hermine Chan Sze-nga, 29, another Yuen Long councillor, said she had only seen Mr Wong once in a "social visit," which is mainly for family and relatives or friends, claiming her two attempts to apply for "official visits" failed.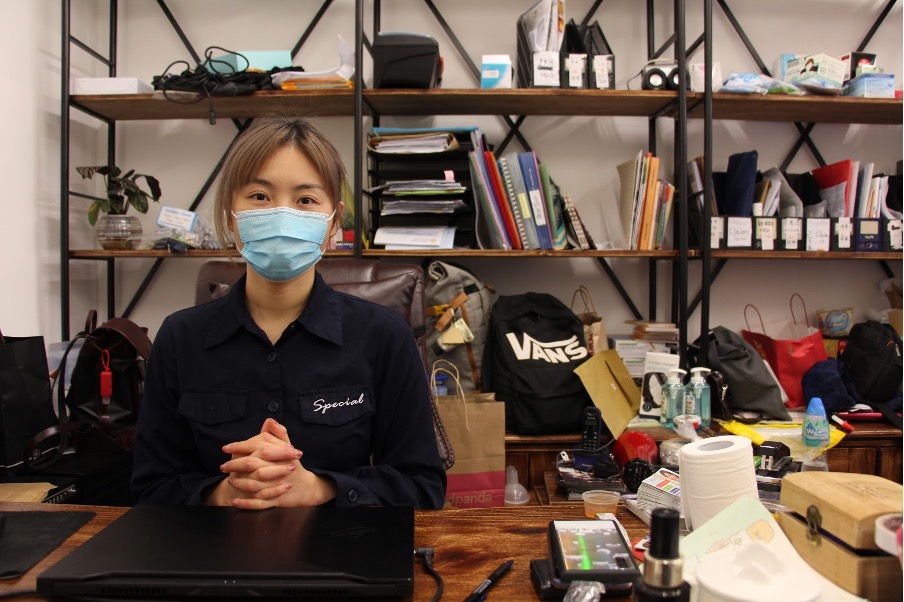 The Correctional Service Department allows one 15-minute visit per day for each detainee. Ms Chan and other councillors said they prefer to give the time to Mr Wong's family members.
But during the one visit, she asked about Mr Wong's health and mental condition. Work was less of a priority, she said.
Mr Mo said that the CSD rejected his requests for "official visits."
In reply to The Young Reporter via email, the CSD said there is "no provision in the existing legislation governing the official visits to persons in custody by District Council members".
When applying for official visits, the CSD said, District Council members are required to "provide information and justification to prove that it is essential for them to carry out their official duties relevant to the function of a District Council." Otherwise, the application will not be approved.
The CSD said they have not been keeping track of the number of applications and denials of official visits since Feb. 28.
In the worst-case scenario, Ms Chan said, if Mr Wong could not be released on bail anytime soon, she and Mr Mo might as well divide up the work and help serve Mr Wong's Tin Heng constituency.
"At the moment, we are unable to represent Tin Heng nor give any opinion on the agenda [on behalf of Mr Wong]. We can only speak generally as we represent North Tin Shui Wai," she said.
In 2019, Mr Mo won by a wide margin in an election held amid waves of anti-government protests and turfed out a prominent pro-establishment politician. To get rid of the stereotype that councillors only monitor neighbourhood matters and "take pictures at nice spots" or "sweep the streets," they need to "respond to the need of the time," Mr Mo said.
Since Mr Wong is being detained, Mr Mo has taken on additional work such as arranging visits and consulting with lawyers on evidence and arguments.
He and other councillors have been collecting snacks and toiletries for those in prison, among them protesters from the 2019 movement. But the CSD has strict rules on supplies for prisoners, such as the volume, size and weight of any product. Mr Mo finds that frustrating.
"These don't comply," Mr Mo said, picking out the pink-wrapped soap and a couple of tubes of Darlie toothpaste from the giant pile of supplies on the floor. There are tissues, hand cream, candies and dried shredded squid.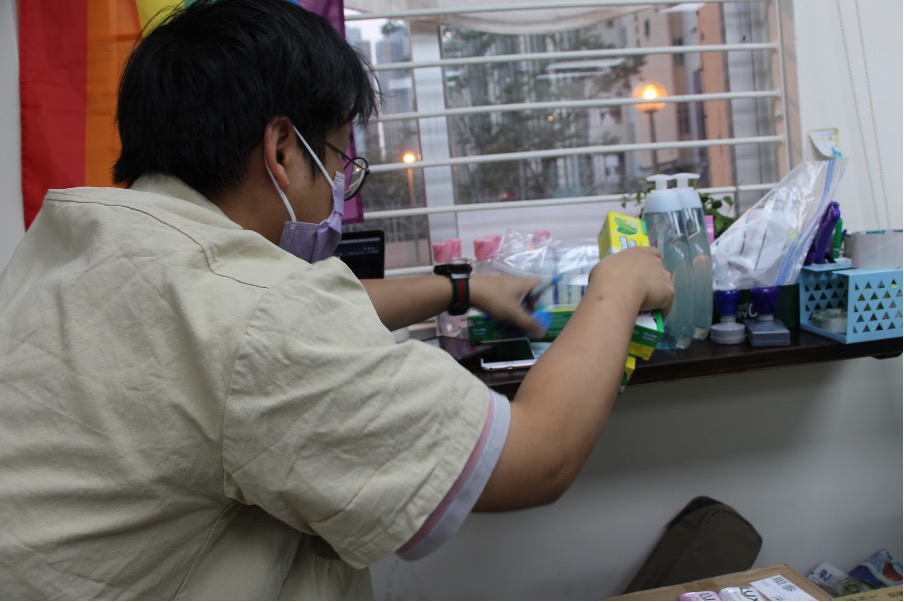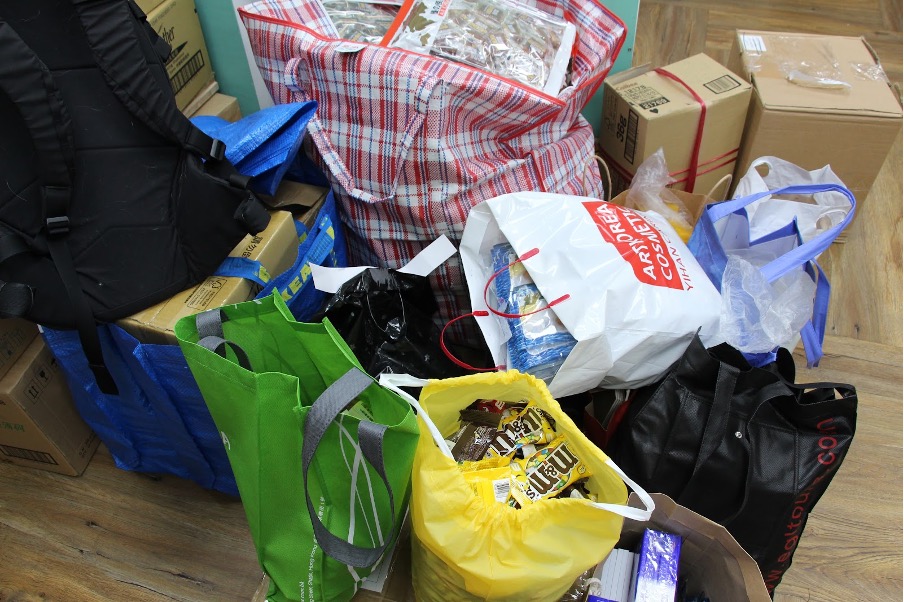 He admits he dedicates more time to supporting those behind bars than on community matters. He said he hopes his constituents can understand.
Since the bail hearing on March 1, Mr Cheng and his staff have been taking shifts to queue up outside West Kowloon Magistrates' Court in order to attend the trials of his colleagues - Gary Fan Kwok-wai, Ricky Or Yiu-lam and Chung Kam-lun.
During each hearing, Mr Cheng watched the live stream of the proceedings on a television screen on the wall of a room next to the courtroom. Mr Cheng can vaguely spot the three district councillors - sometimes behind the dock - among a bunch of defendants in a packed courtroom. He said he came anyway because he was worried and wanted to get first-hand updates.
On March 17, Mr Fan announced his resignation from Sai Kung district council, citing "he cannot perform his duties while in custody". His seat in the Council is now vacant.
Ricky Or was released on bail on March 13 and is still working in the council.
Lam Cheuk-ting, a Democratic Party member, and Kinda Li - who are both on remand - resigned from the North district council and Kwun Tong district council respectively. Mr Lam explained he "cannot carry out his duties as a councillor in person."
In February, the government announced district councillors will be required to take an oath to pledge allegiance to the SAR government and uphold the Basic Law. Those who violate it will be barred from running elections for five years.
Three district councillors have resigned so far for refusing the loyalty vow.
Mr Cheng said he might take the oath but is still observing the situation.
Ms Chan said she has not made up her mind.
Almost three weeks after the mass arrests, Ms Chan and other Yuen Long district councillors finally took their first group photo during a recess in a meeting. They then photoshopped the faces of the missing councillors.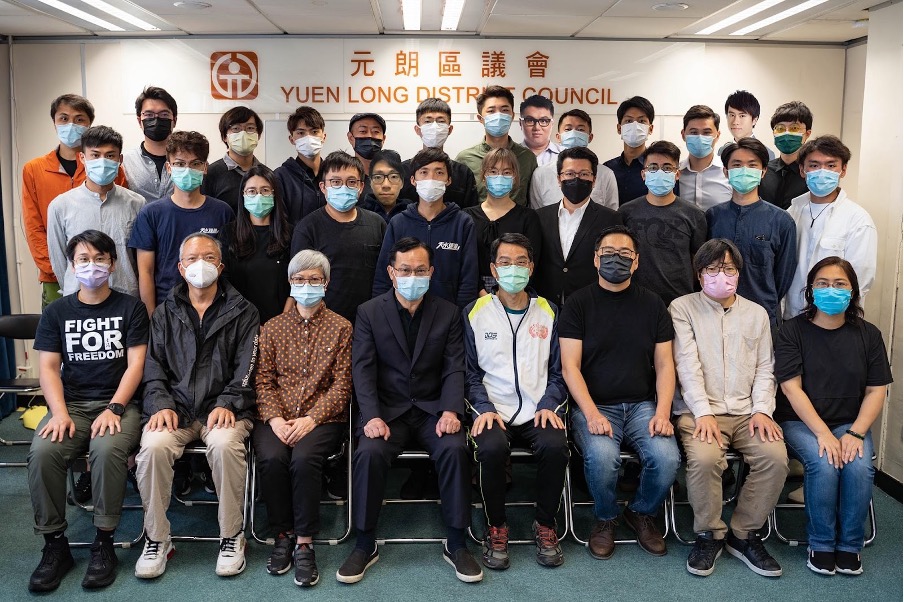 "Though it's a bit late, it's better than nothing because we don't know if we will still have everybody together the next time," Ms Chan said on Facebook.
Mr Mo said the prosecution of current elected political figures adds uncertainty to his post to the extent that he dares not make plans beyond a week. "We all joke and say if we can finish the 4-year term, we are winners," Mr Mo said.
"We [might] all go to jail, and reunite inside like a family because many of our companions back in the day are inside," he said, when asked if he imagines that he too might be arrested in future.
"What we can do is to stay hydrated, carry on and do our best to take a deep breath," he said. "Overcome it."