US-listed Chinese firms rush to HK despite lukewarm welcome
By: Zhu Zijin Cora 朱子槿、Zhou Yichen Gloria 周奕辰

Edited by: Zhu Zijin Cora 朱子槿

2021-04-30
Erica Lam, a 30-year-old broker eager to buy new shares of technology companies for profit, saw the Hong Kong secondary listing of online entertainment company Bilibili Inc. (9626) a great opportunity and bought 3,000 of its new shares. 
However, the stock price of Bilibili fell as much as 6.8% on the first day of trading, translating into a loss of HK$165,000 for Ms Lam.
Before Bilibili, search giant Baidu also briefly fell 0.2% below its Hong Kong IPO price and ended the first day of trading unchanged.
"The listings of Baidu and Bilibili came amid a cooling market when Asian investors showed less enthusiasm for IPOs and worried about the increasingly high valuation of technology stocks in recent years," said Wang Hui, a portfolio manager at Haitong Securities.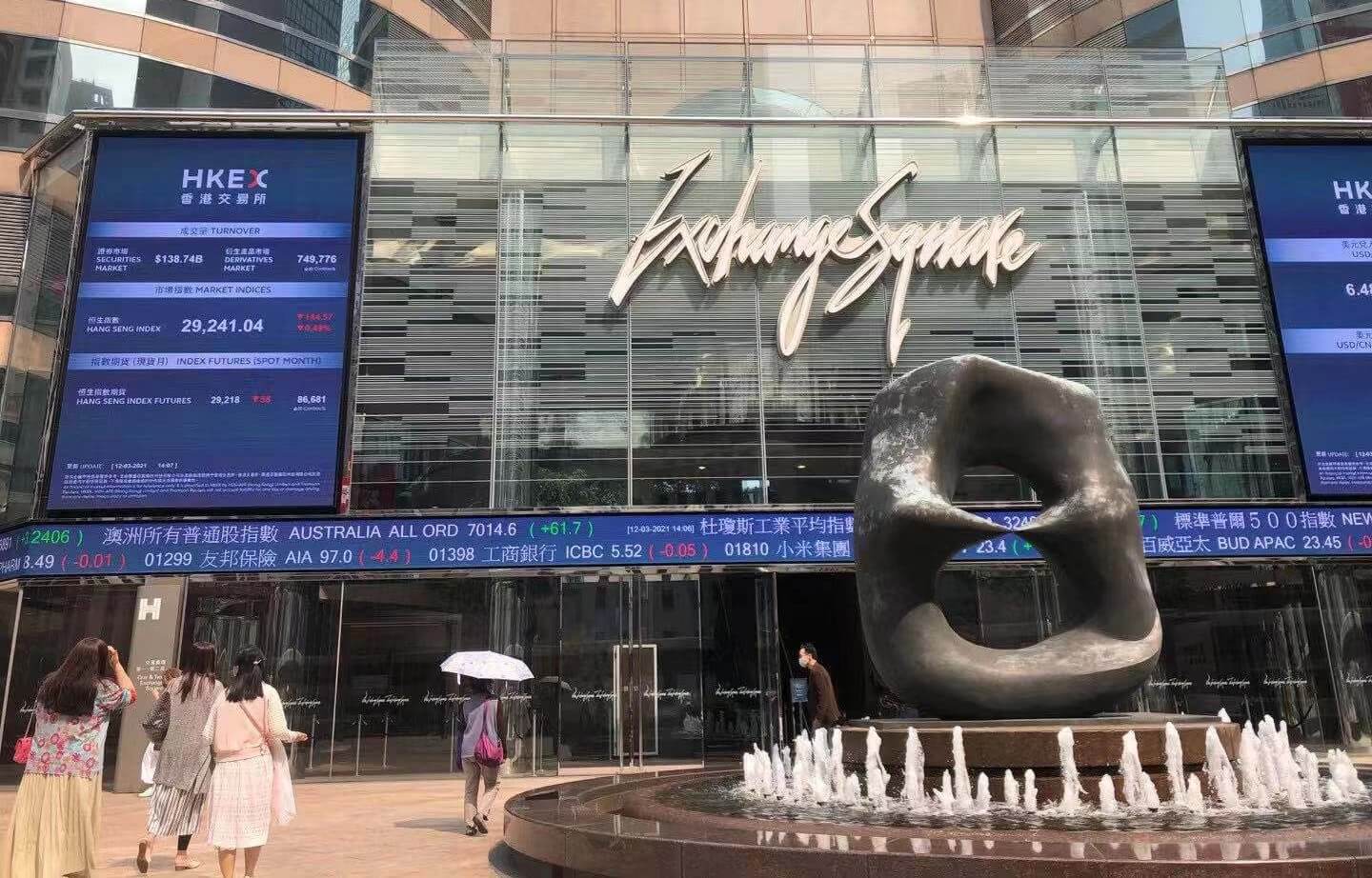 "On top of that, the rise in U.S. bond yields has also caused many investors to sell tech stocks." Higher interest rates are particularly damaging to high-growth tech companies as investors value them based on expected earnings over the next few years, she said.
The Hang Seng Tech Index of top technology companies has dropped 22.3% from its Feb.17 high to 8500.13. 
Also, China set its 2021 GDP growth target at above 6%, lower than the market's expectation of  8% growth, which made investors worry about a tightening in monetary and fiscal policies. "Such a conservative GDP forecast would undermine investor confidence," said Ms Wang.  
Booming home-coming trend under increasing Sino-US tensions
Bilibili, like many Nasdaq-traded Chinese companies, jumped on the homecoming bandwagon by listing their stocks in Hong Kong with tech heavyweight Alibaba taking the lead in late 2019 due to growing Sino-US tensions. The two countries have played tit-for-tat with increased tariffs, imposed sanctions and targeted regulations.
To hedge against rising risks, more mainland tech companies chose to seek secondary listings back home. In the first quarter, the total fundraising via 32 new share listings in Hong Kong surged more than 800% to a high of HK$132.8 billion, making the city's mainboard the world's second-largest IPO market for the quarter after Nasdaq in terms of fund raised. Among them, the IPOs of Kuaishou, Baidu, and Bilibili contributed nearly 70% of the total amount, the latter two of which were secondary listings.
Since 2019, there have been 14 US-listed Chinese companies coming to Hong Kong for secondary listings, including this year's Autohome (2518), Baidu (9888), Bilibili (9626) and Trip.com (9961).
The Asian financial hub is bustling, but more dual-listing performances are getting muted as investors shift their appetite to post-pandemic potential stocks.
"As the pandemic eases, investors are changing preferences, from hottest tech and health-care to cyclical stocks such as financial stocks, which they believe will gain momentum in the post-COVID era," said Jacky Luo, partner and director of several companies. "Many investors are selling stocks that they are not optimistic about and redistributing their investment portfolios."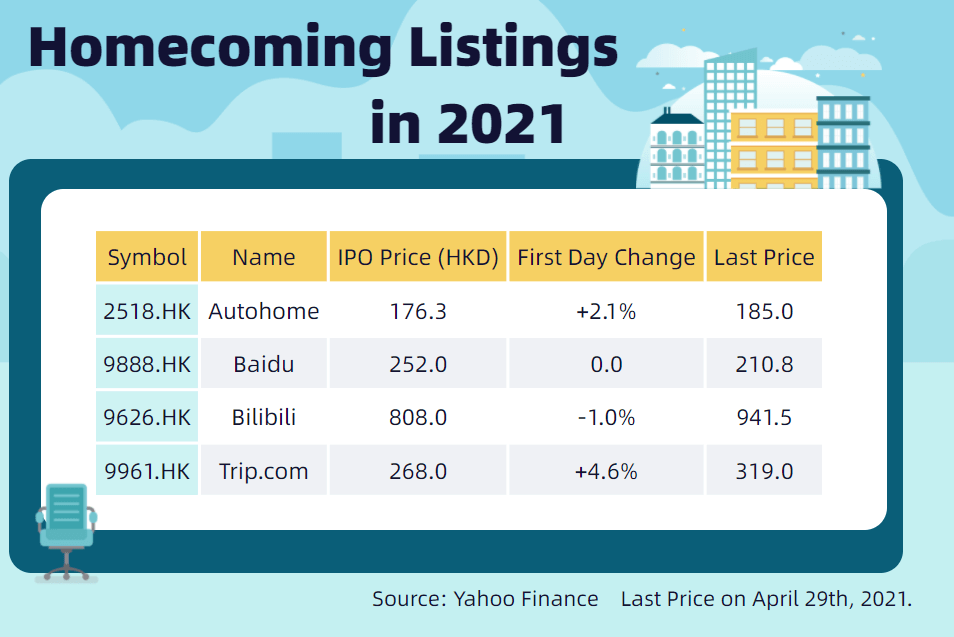 "Generally speaking, the performance of these Chinese stocks after the secondary listing in Hong Kong is in line with the performance of their U.S. stocks, and the returns to investors will not be very different," said Mr Luo. "Investors still value the company's future development model, and high-quality Chinese stocks will still be welcomed after their return to Hong Kong."
Mr Luo believed that Bilibili's poor IPO debut was inseparable from the company's continuous losses. While on the other hand, the high opening of Autohome's debut represented investors' affirmation of its business model and stable income.
In fact, of the 14 Chinese companies that have done the homecoming listings so far, only three have recorded first-day declines or flat gains, while the rest, such as Alibaba (9988), ZTO Express (2057) and Autohome, have all recorded gains on their first day of trading.
Backflow will likely be maintained
"In the current situation of tighter regulation of the U.S. stock market and looser regulation in Hong Kong, the number of Chinese companies seeking secondary listings in Hong Kong is unlikely to drop in the near future," said Zhang Xiao, an analyst from Great Wall Securities.
The U.S. Congress passed a law last year, asking Chinese companies listed in America to provide their audit records by 2023. Companies that failed to submit the records might be kicked out from American exchanges. However, Beijing forbids such reviews citing national security. 
According to the US-China Economic and Security Review Commission, as of October 2020, there were 217 US-listed Chinese companies with a total market capitalization of $2.2 trillion (HK$17.1 trillion). 
Apart from that, HKEX proposed to ease listing rules to further attract offshore traded companies selling shares in the city, according to its consultation paper released on March 31. It mulls allowing traditional companies to launch secondary offerings, instead of only the "innovative" ones. The minimum required market capitalization will also be lowered to HK$3 billion from HK$40 billion for companies listed after five years.
"The reform introduced by the Hong Kong Exchanges and Clearing will make Hong Kong an even more attractive place for fundraising," said Mr Luo. "In addition, the American Depositary Receipts (ADRs) and Hong Kong shares are fungible, which can greatly reduce international investors' concerns about potential risks." 
Since the beginning of this year, Tencent Music, Weibo, Vipshop, XPeng and other U.S.-listed Chinese companies have released their plans for secondary listings in Hong Kong. CITIC Securities predicts that in the next three years, the Hong Kong market will see the homecoming listings of about 40 U.S.-listed Chinese companies, and will enter the stage of rapid development.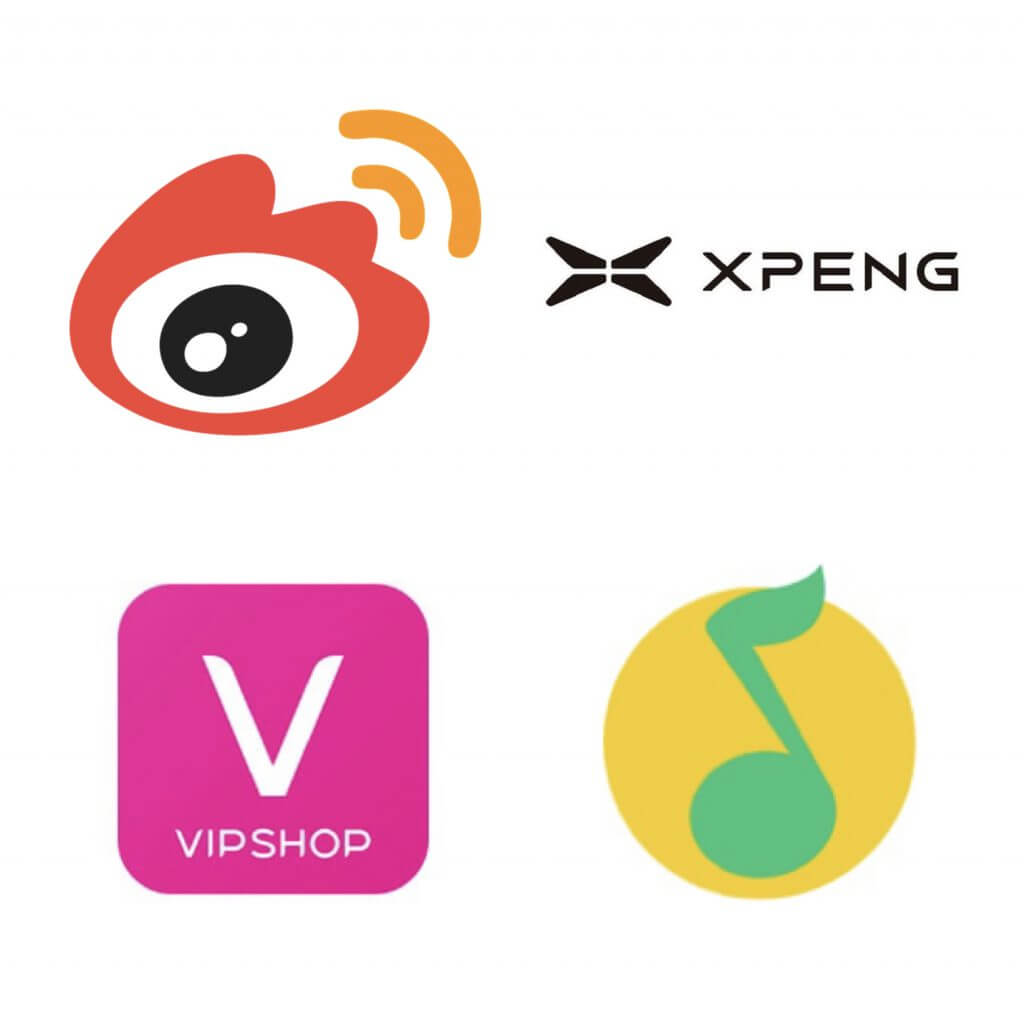 "The Hong Kong stock market has abundant liquidity to mop up these upcoming listings," said Ms Zhang. "As a result, the Hong Kong stock market will gradually shift from being dominated by stocks from traditional economic sectors to being dominated by new economic sectors such as Internet technology."