Migration and misinformation amid uncertainty in Hong Kong
By: Jasmine Tse

Edited by: Simran Vaswani

2021-04-29
Jean Francois Harvey from Harvey Law Group, along with over 60 immigration companies, were at the International Immigration and Property Expo on March 27. However, what Mr Harvey witnessed there left him dumbfounded.
"I saw consultants openly telling people to buy start-up visas. I also saw others squarely selling jobs — it may not be a real job, but it'll get them the visa," Mr Harvey recounted.
Paying money for a job offer is illegal in Canada, but such blatant advertising at the expo shows how many people are not aware of Canadian immigration policies, making them susceptible to misinformation and fraud.
Immigration fraud has long been an issue in Hong Kong, as Mr Harvey observed throughout his 29 years as an immigration lawyer.
"But now, there's a big increase in interest in immigration, so there's more misinformation than ever," said Mr Harvey.
The number of Hong Kong passport holders applying for temporary or permanent residency in Canada reached 8,121 in 2020, hitting its highest point in at least five years despite border closures because of Covid-19, according to Reuters.
And with misinformation comes fraud.
Canadian Minister of Immigration, Refugees and Citizenship Marco Mendicino released a statement on March 5 to commemorate the government's Fraud Prevention campaign, saying, "Immigration fraud targets people who want to come to Canada in good faith. Sadly, the pandemic has exacerbated these troubling activities, with new ways for dishonest individuals to defraud clients."
A 2019 investigation by the Canadian Broadcasting Corporation exposed how an immigration consultancy targeted Chinese nationals and charged them up to $170,000 Canadian dollars (HK$1,052,754) for a fake job.
CBC also found that Hong Kong had reported "high rates of fraud or suspected fraud, and only 15-22% of arranged employment offers were found to be genuine."
Nancy Caron, a spokesperson for Immigration, Refugees and Citizenship Canada — the governmental department responsible for immigration matters — wrote in an email interview, "IRCC advises clients to not trust or believe anyone who asks for payment to bring them to, or allow them to remain in, Canada."
According to Mr Harvey, some "unscrupulous consultants" will do anything to close a sale. They will reassure their clients that the whole process is easy, there's nothing to worry about, and that they will fix everything for them — so long as they are paid to do so.
Mr Harvey said the most unfortunate thing is that people do fall victim to these scams. 
"The problem is that too often, the client will believe these consultants and end up being forbidden to go to Canada for five years," Mr Harvey said.
According to IRCC, those who have committed fraud can have their immigration status taken away, be removed from Canada, be charged with a crime, have a permanent record of fraud with IRCC and be forbidden to enter Canada for at least five years.
There have also been many misleading advertisements, most of which quote unrealistic timelines.
For instance, one immigration law firm based in Quebec claims they can obtain permanent residency for their clients within 12 to 16 months for CA$300,000 (HK$1,856,584).
Besides the egregious price, immigration consultant Mary Chan said the investor program, from application to visa issuance, typically takes 5 years. "These advertisements say you can get it within a year, but they're only referring to the certificate of selection. After that, there's another four years that they have to wait to get the actual visa," said Ms Chan.
"They target clients who just want to leave as soon as possible, and those clients aren't doing their own research from the official government websites," Mr Harvey said. 
YouTube has also been a breeding ground for immigration misinformation.
Between January 2020 and March 2021, there has been a steady increase in YouTube searches on Canadian immigration.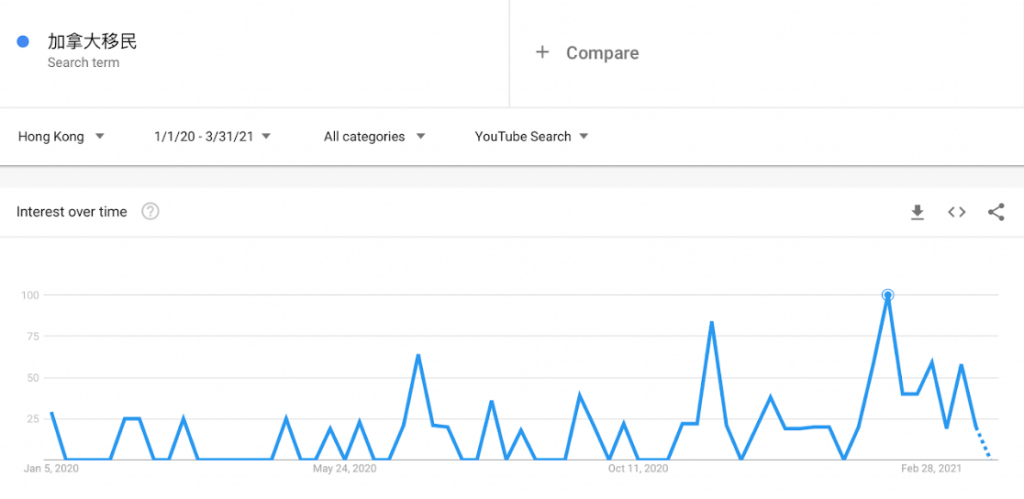 The graph above shows three peaks, all of which correspond to three significant events related to Canadian immigration.
The first peak, between June 28 and July 4, coincided with the implementation of the national security law in Hong Kong on June 30 last year. Since then, more Hong Kongers have been seeking to immigrate to Canada, according to Ms Chan and immigration consultants Andrew Lo of Anlex and John Hu of John Hu Migration Consulting. 
The second peak, between Nov. 15 and 21, came after Mr Mendicino announced a new immigration initiative on Nov. 12, which allows Hong Kongers to apply for an open work permit as a pathway to permanent residence status. In that month, immigration consultancies reported receiving floods of phone calls and email enquiries.
The third peak, between Feb. 7 and 13, was when open work permit applications were made available on Feb. 8. But unlike in November, not many sought immigration consultants for help.
"The open work permit application is very easy," said Ms Chan. "You don't need professional help."
Prospective immigrants turned to platforms such as YouTube as sources of information.
One popular channel is CanMen, hosted by Sam Lung and Wingo Chan, two Hong Kongers who immigrated to Canada. With 57,000 subscribers, their videos include vlogs of their life in Canada and tours of real estate property. 
Some of their most recent videos are related to the new Canadian immigration policy for Hong Kongers.
In one video with more than 120,000 views, Mr Lung went on the Canadian government website to explain Mr Mendicino's November announcement, and he did a general walk-through of the open work permit application process.
"I want my videos to be a source of reference for those who are interested in immigration but don't know where to go for information," Mr Lung said.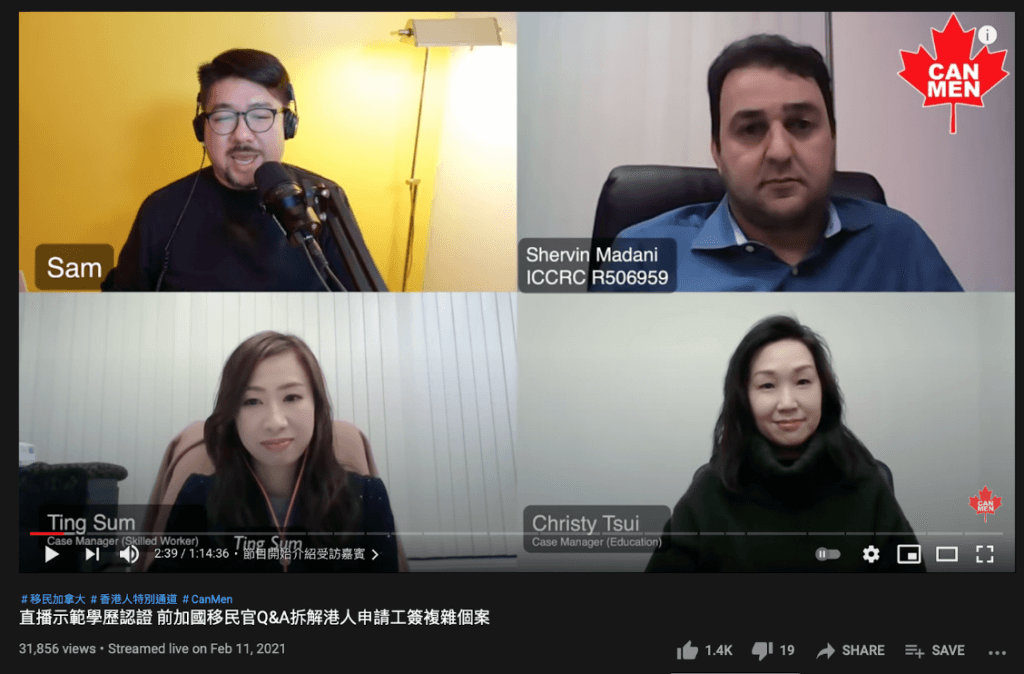 But at the end of the video, Mr Lung pointed out how immigration is contingent on many factors. "The immigration process is like conducting a personal background check. If you don't ask with specificity, we're afraid our answer may end up harming you," Mr Lung said.
While he acknowledged that immigration is complex and differs for each person, Mr Lung was not concerned about his videos oversimplifying the process.
"I think my videos are just a reference for my viewers. In every video, I encourage them to look at the government documents themselves to find out how they might apply to them," Mr Lung said. "I can be a gateway for them and show them the way, but ultimately they still need to rely on their own research."
Unfortunately, Ms Chan has observed otherwise. 
"It's okay to watch these videos for reference, but everyone's situation is different, and now people are one hundred percent relying on those videos to apply to their own situation," Ms Chan said.
Many of her consultations begin with her clients showing her a YouTube video they had watched — in some cases CanMen's — and asking if what the Youtuber said applies to them.
"Instead of looking at the law, I'm looking at these videos," Ms Chan recalled while laughing.
"I have to say to my client, 'Okay I understand why the Youtuber said this, but they did not mention that, so as a result it would not apply to you,'" Ms Chan said.
Mr Harvey pointed out that there are many YouTubers out there. "We're always setting their stories straight to prevent our clients from being misinformed."
When Ms Chan first started working at Rothe International in 1988, she said Hong Kongers seeking advice on how to emigrate to Canada would have to go to the Canadian Consulate to get  a physical application form. 
"You would then have to go home and study the applications. Then you would ask your friends and professionals, such as lawyers and consultants, if you got the information right," said Ms Chan.
Now, with most recent government statistics revealing more than 90% of the city's population uses the Internet, finding immigration information online has become very accessible.
However, to avoid becoming a victim of misinformation and fraud, Ms Chan urged potential migrants to go to the official government website for accurate information.
The Canadian government website also provides information on the types of frauds to look out for and how to report them.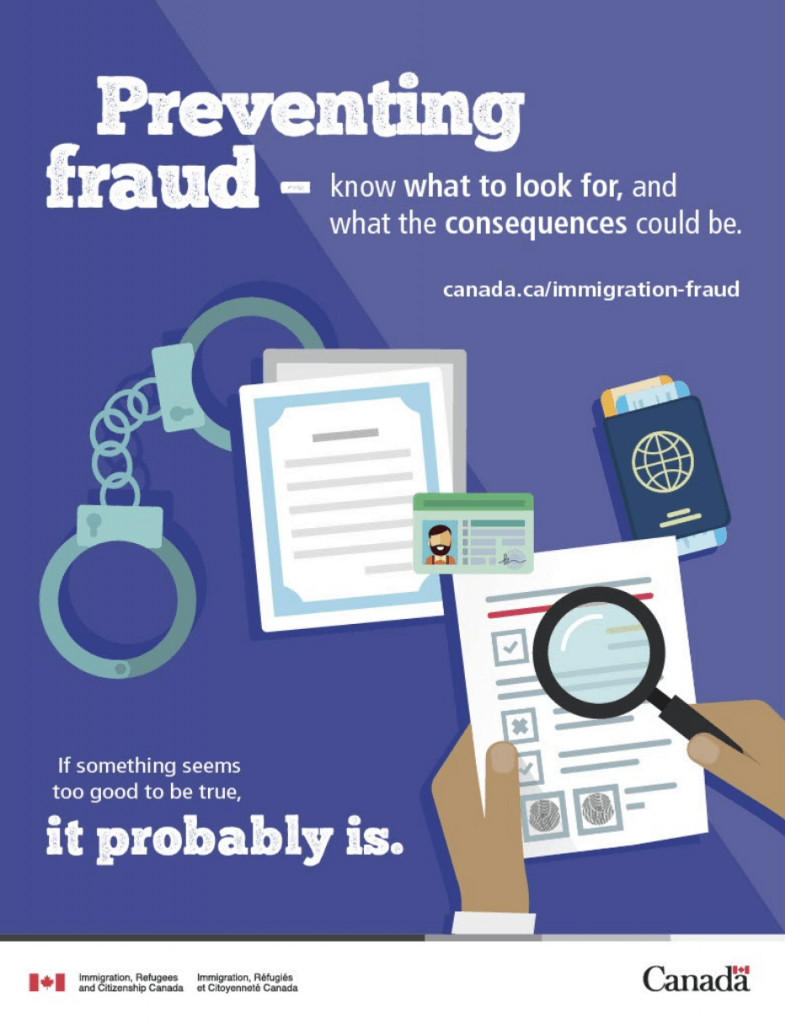 "Fighting fraud requires all of us to be vigilant, informed and prepared," Mr Mendicino said. "We will continue our work to protect Canadians and those wishing to come here, and will always uphold the security and integrity of Canada's immigration system."
"The remedy to fraud is to inform people as much as we can, and that's what we do," Mr Harvey added.