'It's either them or us': desperate protestors take to Myanmar streets as junta uses arrests, violence to keep power
By: Sara Cheng

Edited by: Simran Vaswani

2021-02-16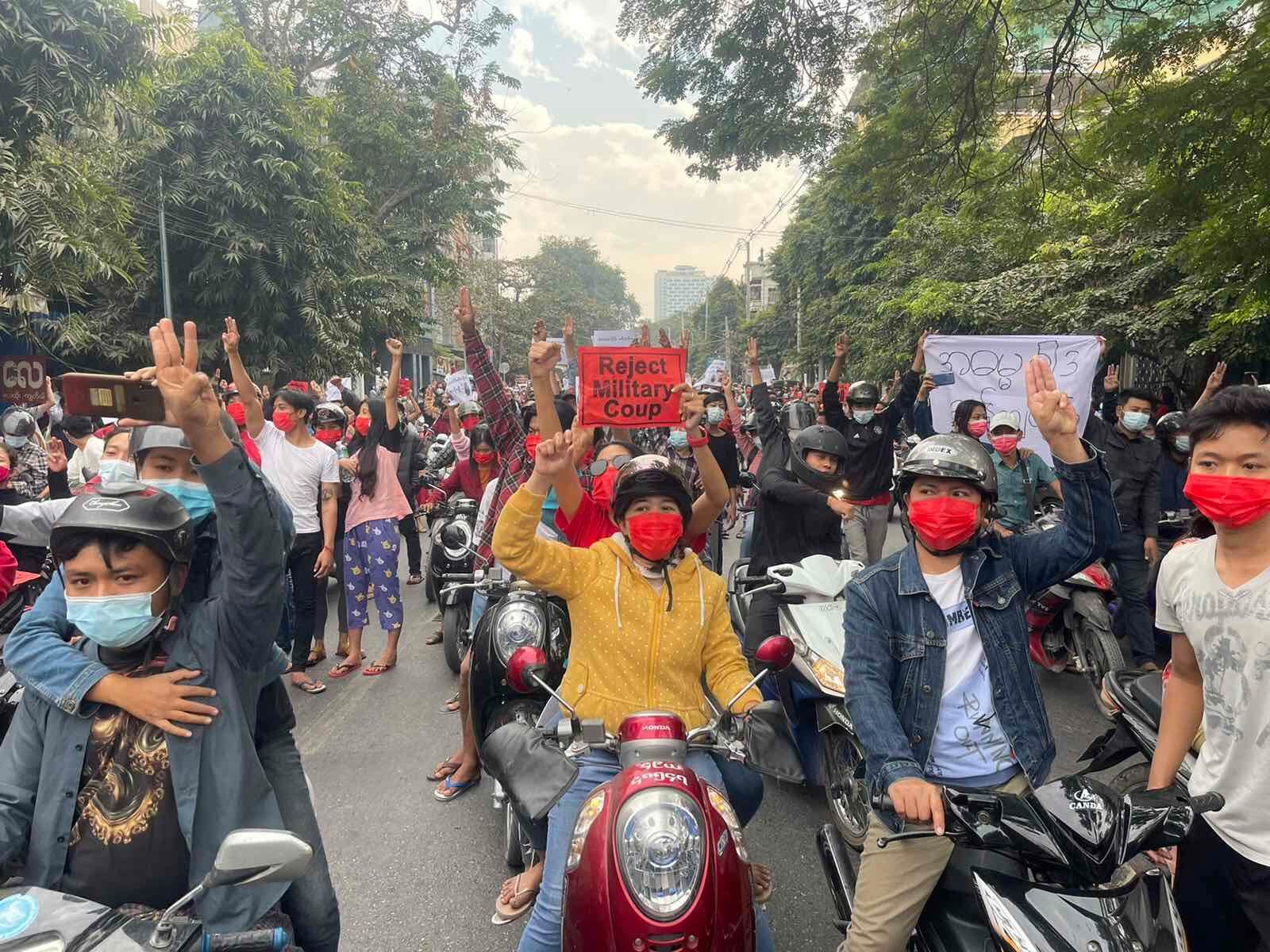 It was April 2007, right in the middle of a school day, when 8-year-old Aung San Thein's mother came to take him home. His luggage was packed and ready. His mother rushed out again to pick up his older sister and told him to wait. 
Escape was imminent. Mr Thein's father and uncle had already left the country. His uncle, a member of the pro-democracy National League for Democracy party and an elected representative in the 1990 multiparty election, had fled to Thailand after the military junta annulled the election results. He helped establish the National Coalition Government of the Union of Burma, which declared itself Myanmar's government in exile. 
Mr Thein eventually ended up in a place he called "hell" – Mae La, a refugee camp of around 35,000 mostly ethnic Karens on the Thai-Myanmar border. He lived there for almost ten years until the NLD won the 2015 elections and he was able to return to Myanmar. 
Now, Mr Thein, 22, is living in Maymyo, a hill town east of Mandalay and is one of hundreds of thousands in Myanmar protesting the military coup on Feb. 1 that seized power and detained elected leader Aung San Suu Kyi along with other NLD officials.
The civil disobedience movement is in full swing in Myanmar, a Southeast Asian nation of 54 million. Demonstrators have filled streets across the country, among them medical staff, bank workers and civil servants on strike, as well as students and monks. They dress in red, the colour of the NLD's flag and flash the three-finger salute, a symbol of resistance. 100,000 people joined the demonstration in its largest city Yangon on Wednesday, the Guardian reported. 
Protestors, like Mr Thein, are peacefully and creatively trying to topple a military dictatorship that has haunted the nation for almost 50 years. The struggle is life-or-death, Mr Thein said. 
"We're trying to disable Myanmar," Mr Thein said in a phone interview, "so they will run out first before we do." 
Aria, a 20-year-old university student in Yangon who does not want to reveal her full name, said protesters sometimes share meals of hotpot in the roads or dance and dress in costumes. "They are not doing it for fun," she said in a phone interview. "It was for media attention." 
In hopes the international community will sanction the junta, Mr Thein posts on social media to spread news from Myanmar to the outside world. During the day, he sits in a tea shop and helps people install VPNs as part of what he calls the "third group," people who spread information and fact-check. Frontline protesters belong to the "first group," and the "second group" are medical aid and allies, he added. 
People are using VPNs to access sites the junta temporarily blocked, such as Facebook, Twitter and Instagram. The military shut down internet and 4G services entirely from Feb 6 to Feb 8, Amnesty International reported. 
The junta's first legislative proposal is a draconian cybersecurity bill that empowers it to access personal information of internet users, shut down the internet and block websites. People who browse banned sites via VPNs may face arrest. The bill is expected to come into effect on Feb 15. 
At other times, Mr Thein works behind his computer to battle misinformation via social media. For example, he flagged false news circulating that said Ms Suu Kyi was released and military leaders were detained. "There are a lot of people who celebrated," he said. "We were like 'oh no, please wait, we really have to process the information.'" 
Ms Suu Kyi, accused of illegally possessing walkie talkies, remains an icon of democracy and civil disobedience in Myanmar in the face of the heavy-handed military rule, though her denial of allegations of the Rohingya genocide in 2019 came as a disappointment to the international community. The Muslim minority group in northern Rakhine State have been killed and raped by the military. In 2017, more than 700,000 Rohingya fled to neighbouring Bangladesh, the United Nations estimated. 
Ms Suu Kyi was under house arrest for 15 years between 1989 and 2010 and came to power as the state counsellor after a landslide victory for the NLD in 2015, a sign of the nation's gradual transition towards political freedoms. 
In November last year, the NLD once again won overwhelmingly in the parliamentary election. The military-backed Union Solidarity and Development Party alleged electoral fraud without evidence and later used it as grounds to overthrow the government. Now, the country has declared a one-year state of emergency, and the power has gone to military chief Min Aung Hlaing. 
Protesters are calling for the military to release all detained leaders and step down.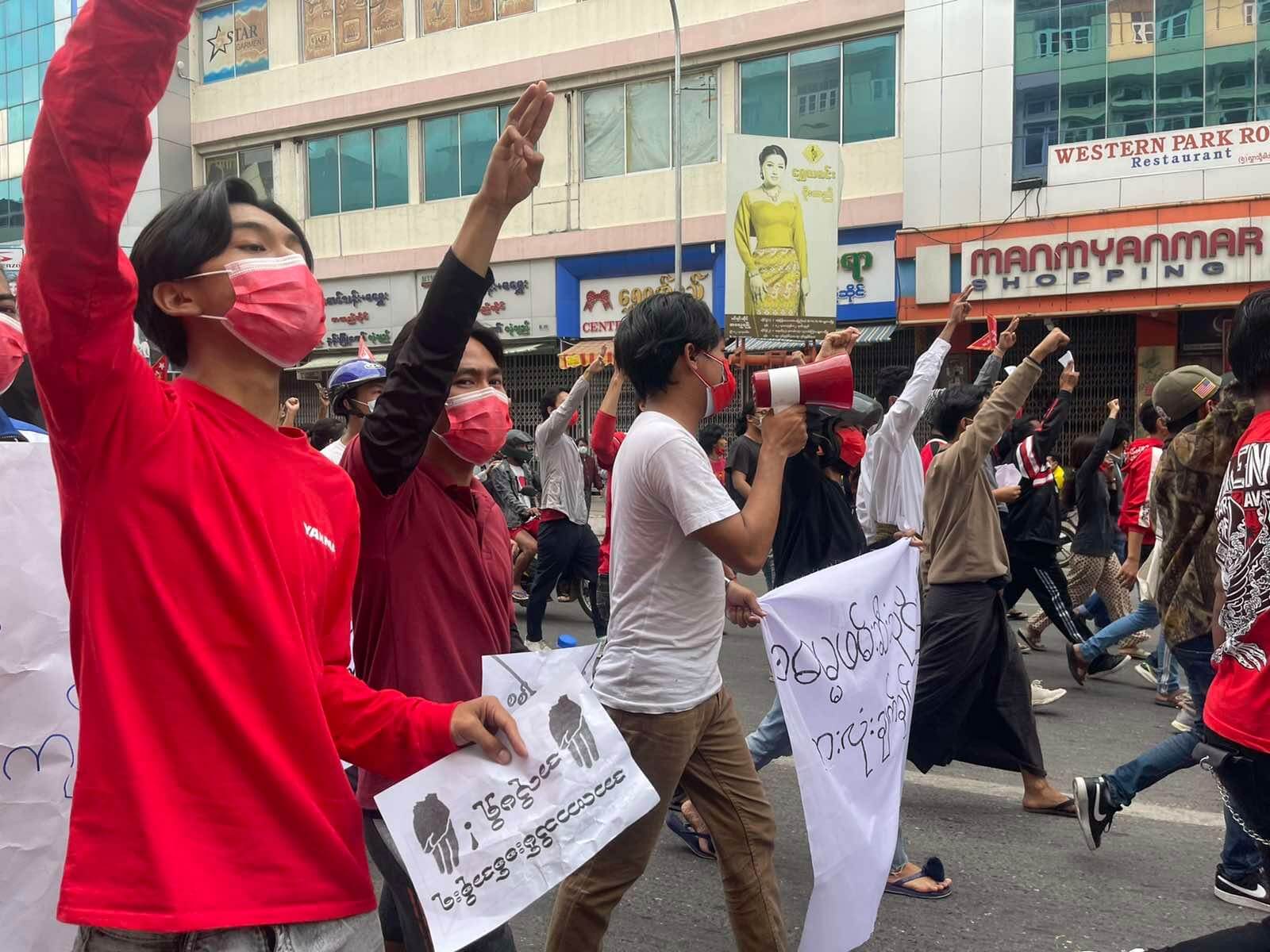 Su Myat Noe, 24, an international student in the US, said her father – Tin Ko Ko, the Secretary for Mandalay Division of NLD and a member of the party's Central Committee – was taken away in the early morning on Feb 1. She does not know where he is. 
All she has are messages he sent three days before the coup, telling her to "mentally prepare," "not to come home for now" and "make sure her sister gets a good education if things go wrong."
The military has a history of imprisoning and suppressing political dissents with force. In 1998, thousands were killed in the 8888 Uprising, one of the bloodiest pro-democracy protests in Myanmar. 
Ms Su Myat Noe's father was arrested in 2007 and released in 2010; her mother then became a political activist. 
"I actually thought of myself being in jail when I grew up because people whom I looked up to were in jail and what I believed in would lead me to jail," she said in a text interview, describing the climate of uneasiness she grew up with. 
"People wouldn't even dare to say words such as 'politics' or 'democracy' or 'Aung San Suu Kyi' out loud," she said. "The public was clouded with the military's propaganda, and fear was very omnipresent." 
Though she finds it frustrating to be miles away from her friends and families protesting on the ground, Ms Su Myat Noe said she does her best to give them moral support, share news from home to foreigners and collaborate with other Myanmar students to spread awareness. 
Returning to the military regime means Myanmar will again be a "sunken place" where injustices are unseen and voices are unheard, she said. 
"The anger and anxiety are just raging inside me at all times," she said. 
Aye, who does not want to reveal her full name, 25, joined an anti-coup parade on her motorcycle in the country's second-largest city Mandalay, chanting, "No military coup. Get out, dictator." 
"We voted with a lot of hope," she said in a phone interview, "but the military coup destroys our hope."
When she goes to protests, all she brings are a mask, a helmet and placards. "We don't carry any weapons – not even a sewing needle – we don't carry it," she said. "It's because of our leader. Aung San Suu Kyi always mentions that we can't get real democracy with weapons. We have to fight peacefully. "
Now an English teacher, Aye fears education would go back to how it was before which discouraged students to think critically and solely emphasised memorisation. 
"In high school, we learnt what the military government was doing for us. They built bridges, and we had to remember the names of those bridges," Aye said. "We weren't allowed to ask anything at all." 
Police have used water cannons, tear gas, rubber bullets and even live ammunition against protesters. Mya Thwe Thwe Khaing, who turned 20 last Thursday, was shot with a live round in the back of her head last Tuesday in capital Nay Pyi Taw. 
She remains in critical condition.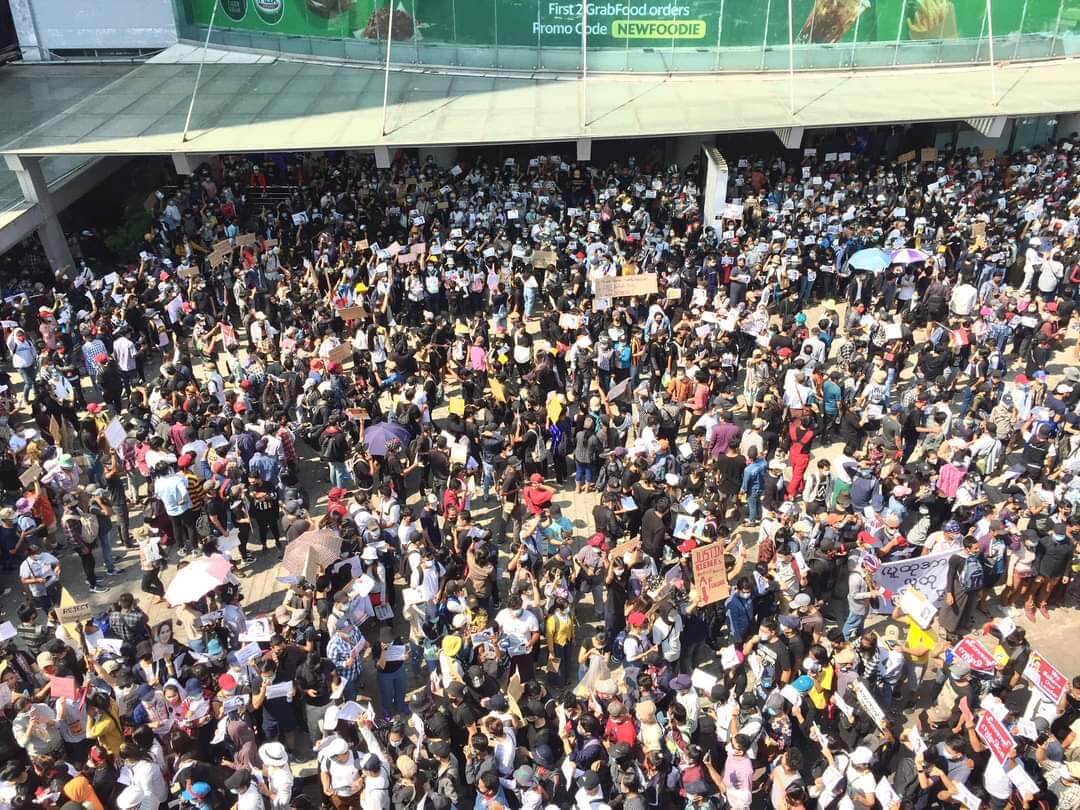 On Saturday, the military junta changed the law to allow security forces to conduct private property searches without a warrant and to detain people without charge for longer than 24 hours. Armoured vehicles were seen in Yangon for the first time on Sunday since the seizure of power, the latest warning of potential military repression.  
Police make arrests as night falls, and people in the neighbourhood come out to block them, Mr Thein said. 
"This is like an endgame for everybody. We better live freely than live under the military...we're gonna get this freedom, or we're gonna die trying," Mr Thein said. "People already have a taste of freedom, so people are like we will not go back to the dark anymore. It's either them or us."