Hong Kong's health care system under stress during the fifth wave of Covid-19
By: Tracy Leung、Kelly Pang

Edited by: Clarice Wu

2022-04-26
Wong Sze-kai, 30, is a frontline doctor at the Accident and Emergency Department. He feels that some of his patients are "waiting to die".
"They were lying on the ground. No meals, no medicine, and no one can help them change their diapers. It's a living hell," he said.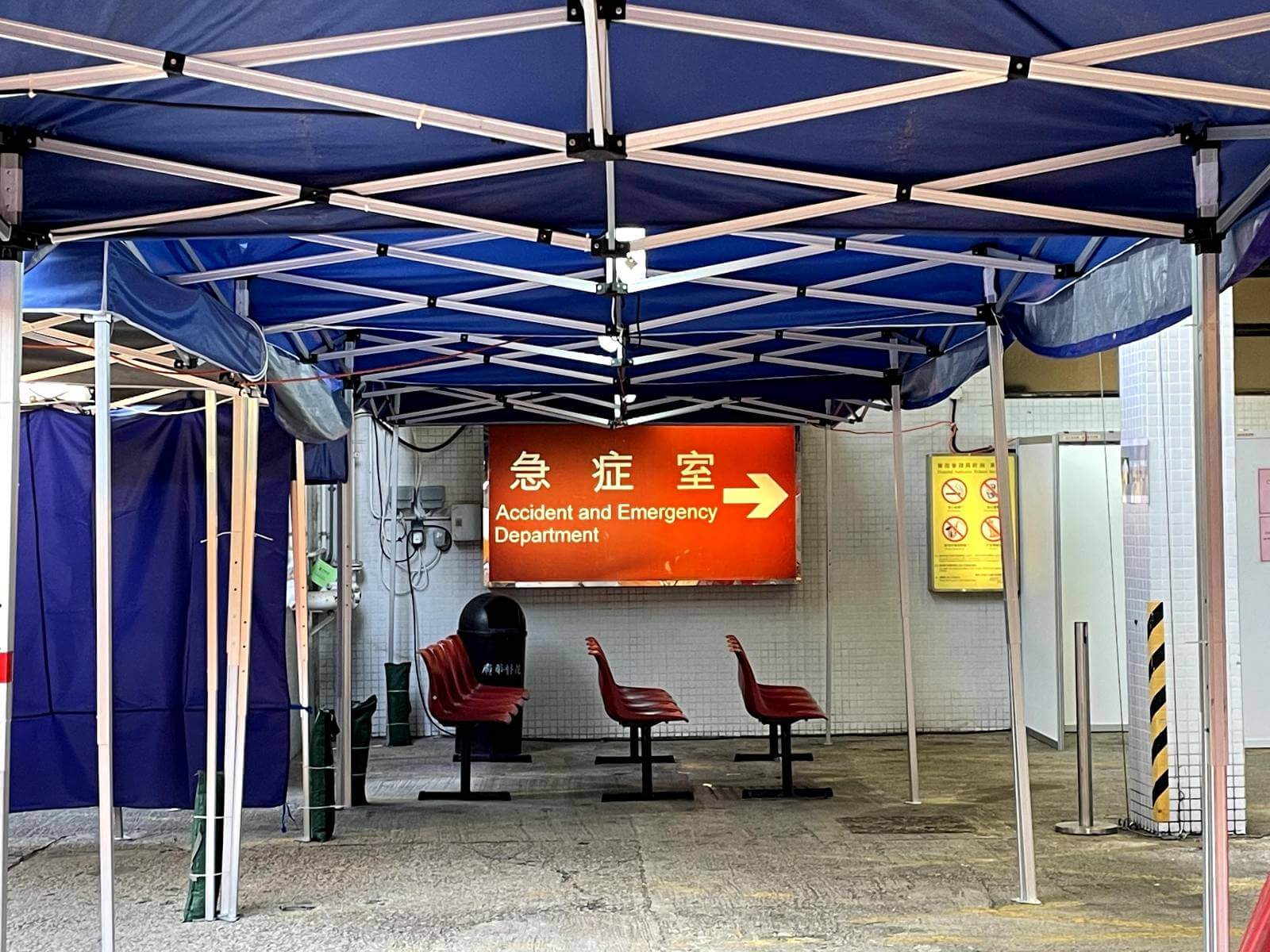 As the number of older and critically ill Covid-19 patients continues to mount, Hong Kong's public hospitals, especially their Accidents and Emergency Departments, are under intense pressure. 
Hundreds of  infected elderly people in need of treatment and oxygen had no alternative but to stay in the A&E wards, in corridors, or in lobbies because there was no space in the general wards.
"I've heard a few junior nurses cry, not for themselves, but because of the pitiful sight of the patients," Wong said.
As of March 27, nine of the city's 16 public hospitals reached full occupancy, according to the Hospital Authority's figures.
Wong said the very purpose of creating the Hospital Authority 30 years ago was to tackle the same problems of overloading capacity in hospitals with long waiting times that have been faced year after year. But the problem still exists even before Covid hit the city.
Sunny Ho, 22, is a nurse from the Specialist Outpatient Department at Queen Mary Hospital, one of the 10 public hospitals that have been stretched to the limits during the outbreak of the fifth wave of Covid.
"The guidelines are constantly changing. The government imposed too many unnecessary preventive measures, adding to the burden on the medical staff. For example, as soon as there was a case, they immediately closed the lift and the overpass and did a lot of contact tracing," Ho said.
"But now the outbreak is a mess. There is not enough manpower and resources to follow the previous procedures when there are thousands of cases. They didn't anticipate how to deal with this large-scale outbreak," he added.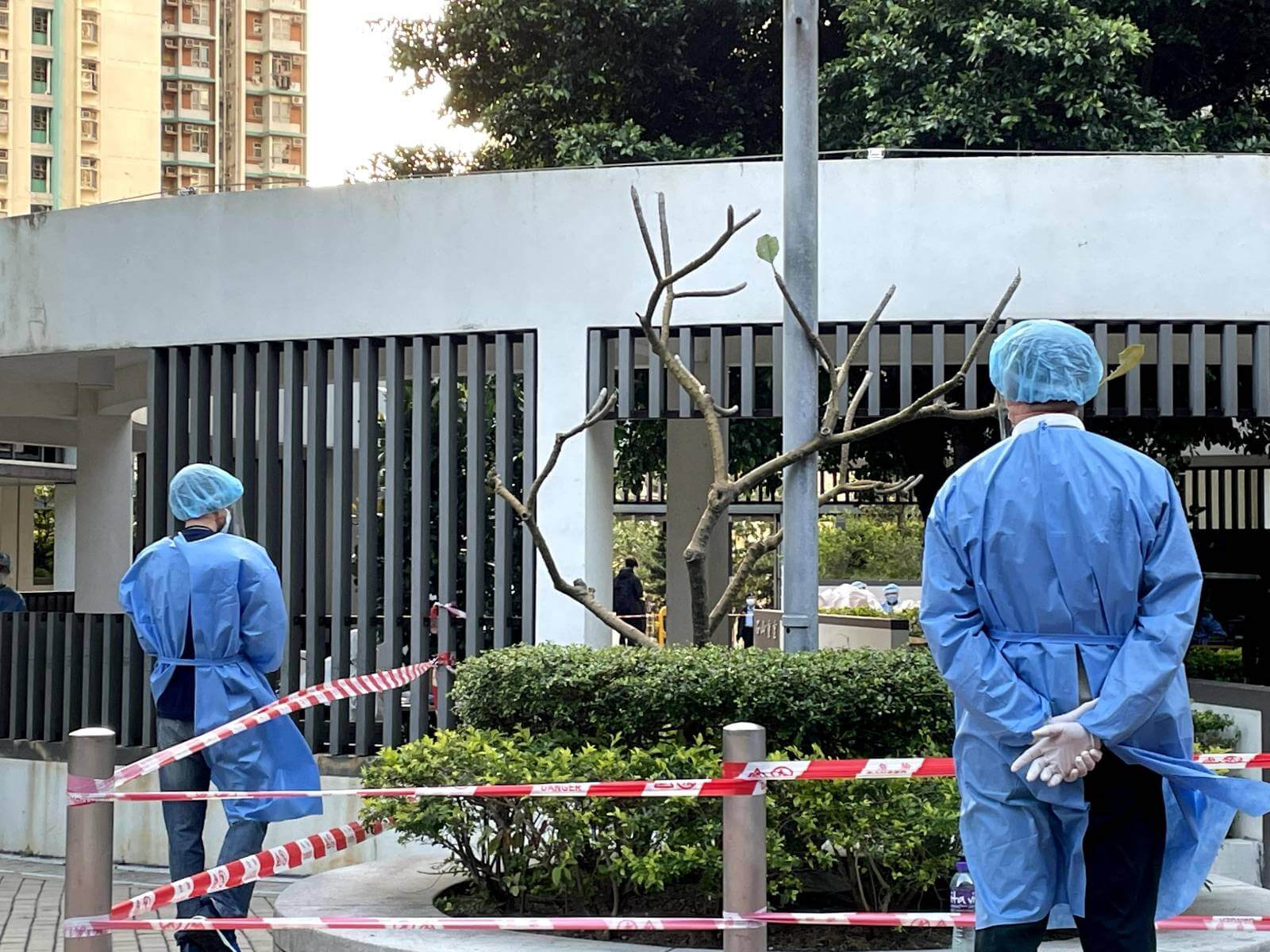 Misuse of resources adds pressure to frontline workers
"We are working to death, but our salaries are less than the nurses employed at the vaccination stations, for which the government has granted funding. They have sufficient allowance, but the workload is relatively low," Ho said.
According to a government press release, the Hospital Authority offers a special allowance of HK$500 per day or 20% of the daily basic salary, whichever is higher, for staff deployed to areas currently caring for COVID-19 patients. These included the North Lantau Hospital Hong Kong Infection Control Centre and the community treatment and community isolation facilities at AsiaWorld-Expo and Penny's Bay.
"In fact, the workload is always intense under the HA system. All nurses come into contact with Covid patients anyway, even if they are not assigned to take care of them, and in such cases, they can't get any allowance," Ho added.
"The healthcare system in Hong Kong is highly compartmentalised," Wong Sze-kai said.
He explained that 90% of patients go to the public medical system, while the ratio of public to private doctors is roughly 50:50.
Chief Executive, Carrie Lam Cheng Yuet-ngor said that hundreds of medical personnel from the mainland would arrive in Hong Kong on March 14 to help treat Covid-19 patients. They are exempted from the relevant licences required to practice in Hong Kong under an emergency measure introduced at the end of February.
A total of 375 mainland doctors, nurses, and assistants have come to Hong Kong.
"Mainland nurses are not very helpful. It is difficult to maintain the quality of care under the division of labour because they weren't taught the procedures under our medical system. Hong Kong nursing students actually know the medical setting better, and the government should consider recruiting them," Ho said.
As of 2020, there were a total of 61,295 registered and enrolled nurses in Hong Kong.
"In fact, there are enough medical workers in Hong Kong, but because of the problematic medical system, not many medical professionals are willing to stay," Ho said.
The Association of Hong Kong Nursing Staff conducted a survey in November 2020 on the intention of nurses to migrate overseas. Nearly half of the respondents said they were considering or were in the process of emigrating, and more than 90% of them were doing so for political reasons.
"I am still willing to serve the patients in public hospitals, but if the situation turns worse, I would consider leaving Hong Kong," Ho said.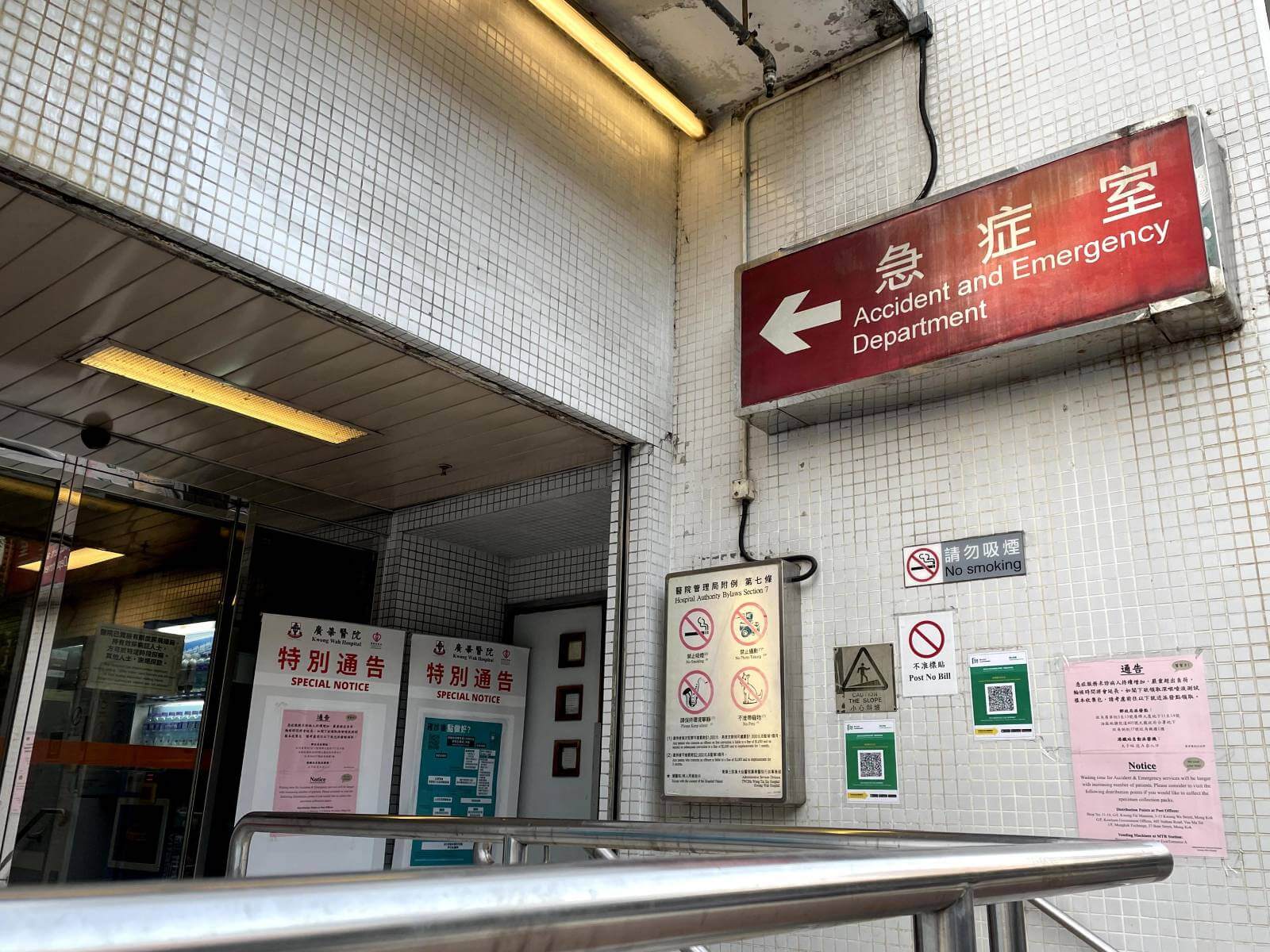 Low vaccination rate among young people: the line between public interest and personal freedom
Cecilia Chan Lai-wan, Si Yuan Chairperson in Health and Social Work and Chair Professor of The University of Hong Kong's Department of Social Work and Social Administration, said that the public is partly responsible for overburdening the public healthcare system.
Young Hongkongers, she pointed out, are uncooperative, particularly after the social movement and protests in 2019.
"There's political polarisation. In this crisis, especially young people, think that getting vaccinated means supporting the government. They should instead think critically that receiving vaccination protects their health as well as the healthcare system," Chan said.
As a result, many young people refuse or delay in getting a vaccine, thus increasing the danger of contracting the virus and the likelihood of hospitalisation, causing more people to rely on the healthcare system, according to Chan.
A study in July 2021 by the Hong Kong Institute of Asia-Pacific Studies of the Chinese University of Hong Kong found that 36.9% of 703 respondents who were not from the pro-China camp said that they would not take the vaccine, while 21.8% of those from the pro-China camp said that they would. 
The HKIAPS also found that those with secondary school education or below were more likely to not get vaccinated than those with higher education.
Chan said the healthcare system is therefore worsening and overcrowding in hospitals increases since those who refuse to take vaccines cannot be protected. 
However, Chan opposes mandatory vaccination because the government might be perceived as breaching human rights or is dictatorial.
"One of the main difficulties for the government is to strike a balance between public interest and freedom as well as human rights," she said.
What should have been done earlier: crucial risk management 
In view of the overburden on the healthcare system and healthcare workers during the Omicron wave of the pandemic, both the President and the Chairperson of External Affairs of Hong Kong College of Health Service Executives, Liu Shao-haei and Stephen Leung Kwok-keung said that risk management is crucial and should be taken place before a public health crisis emerges.
"There's a limited number of beds. We cannot continuously admit patients during an outbreak," Leung said. "Risk management is crucial and should be done early, to prepare for emergencies, just like this time."
The concept of risk management in medical care includes 4Cs – communication, coordination, commanding, and control.  
Communication is the access to and exchange of information, advice, and opinions in real-time so that everyone at risk can make informed decisions and take action to prevent, mitigate, and respond to potential emergencies, according to the Health Emergency and Disaster Risk Management Framework done by the World Health Organisation.
"The most important aspect of communication is listening to different points of view from people in different positions," Leung said.
A Health Emergency and Disaster Management coordination mechanism, according to the WHO, should be established to ensure appropriate coordination across the health sector and with other sectors at each level, including issuing requests for, receiving, and coordinating international health partners in case of large-scale emergencies that exceed national capacities. 
Leung said that government departments such as the HA and the Department of Health can work together to address various aspects of the pandemic. For example, by allocating two designated outreach teams to deal with infected elderly and young patients with mild symptoms respectively. He said that this will relieve the workload of healthcare workers.
Strong leadership is necessary to implement outbreak-related measures. They play the primary role of advocating for centrality with authorities from other sectors. "To command properly, there must be a leader who knows exactly what he is doing," Leung said.
Control is the last "C" in the risk management concept. Control means implementing measures that are possible to manage the infected residents or staff, and the spread of infection, according to the Ministry of Health in Singapore. As the elderly people are the most infectious ones among all the age ranges, Leung said imposing different arrangements and quarantine measures for infected elderly people and the younger ones with mild symptoms would cut the infection chain off in the community.
Leung said that the government underestimated the Omicron variant. There is insufficient risk management, and manpower is not well allocated beforehand.
"The number of health administrators in charge of risk management is deficient," he added.
Liu said that the healthcare system has flaws in every aspect of risk management, resulting in a severe situation during the fifth wave of the epidemic, overburdening the healthcare system and healthcare workers.
Liu compared pandemic prevention to managing a football game. If different aspects of risk management are not done adequately and efficiently, the virus would quickly spread throughout the community.
Liu said that if everyone in the medical industry was aware of the crisis, it would have been less likely to occur. 
"The leader should hope for the best and prepare for the worst," he said.