Animal cafes in Hong Kong: welfare experts call for licensing
By: Maisy Mok

Edited by: Tomiris Urstembayeva

2019-05-10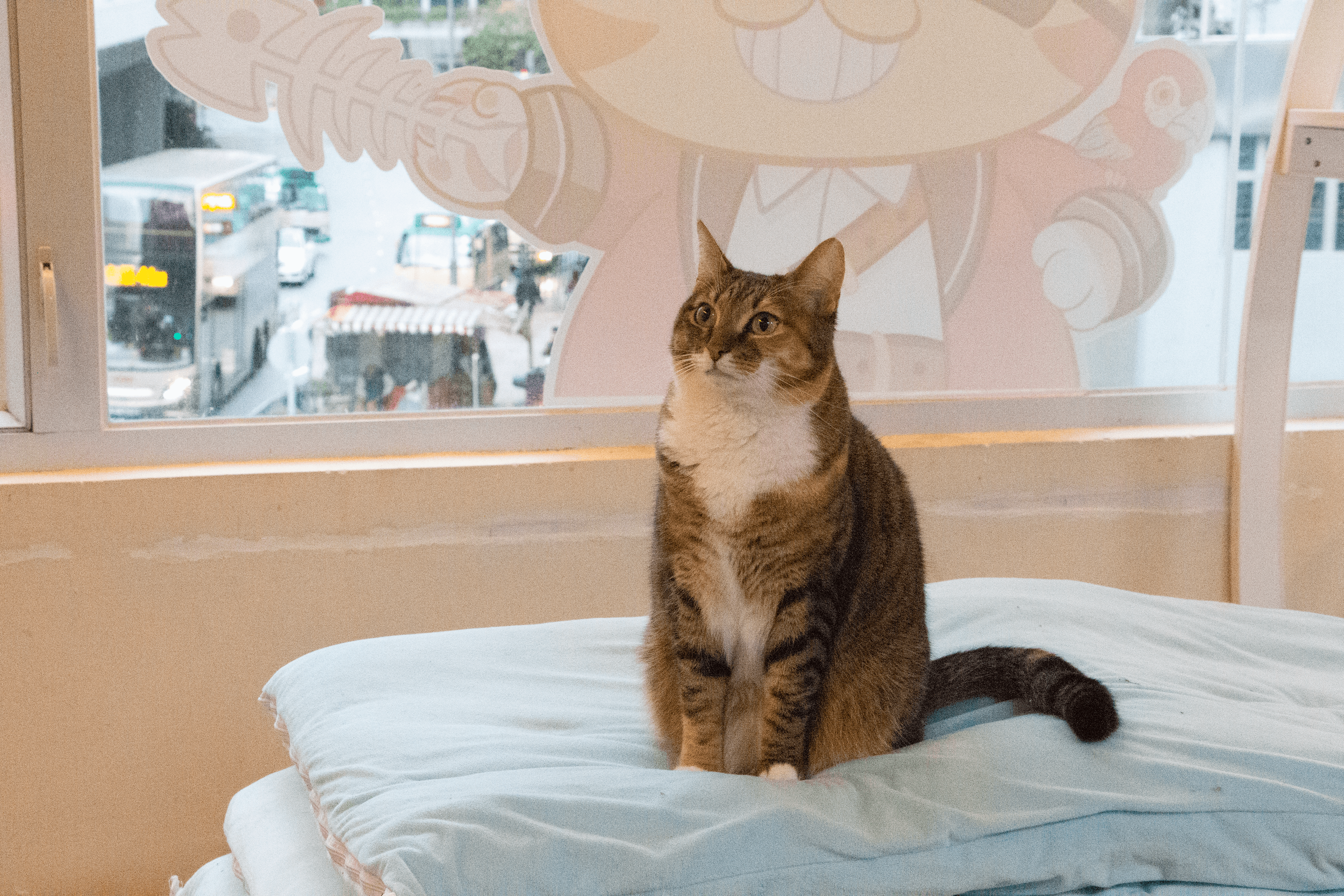 At The Cat Tea room in Tsuen Wan, cats jump from table to table, sometimes lying beside a cup of tea while being petted by customers.
The owner of the shop, Albert Lee, said he was inspired by a trip to Japan and Korea. Mr. Lee observed a lack of animal cafes in Hong Kong and seized the opportunity to open one.
Most of the cats were once strays. Wanting to create a safe haven for cats, Mr. Lee took them under his wing to provide healthcare, food and shelter.
"Before my business partners and I opened up this place four and a half years ago, there was only one cat cafe in Hong Kong," said Mr. Lee. "Now there are around 10 or more cat cafes and a wide variety of animal cafes."
Animal cafes have sprung up in Hong Kong in recent years. Although it may seem like a dream come true for animal lovers, for one animal welfare expert, it is a nightmare.
In Hong Kong, the government does not require a licence to run animal cafes. In fact, the Labour and Welfare Bureau released a statement that they have no plans to regulate pet restaurants.
So instead, an animal cafe that serves food follows the health guidelines for restaurants, which only prohibit dogs or they are regulated as a licensed club. If the cafe only serves drinks, then they do not have to follow any rules at all. Owners have used these loopholes to introduce all kinds of animals to cafes.
The Cats Tea room is only licensed by the Business Registration Office. There is no kitchen in the cafe and only beverages are prepared. Food that is served is not made by staff but instead ordered from nearby restaurants.
"If they (animal cafes) are allowed to exist, then they should be regulated and licensed," Fiona Woodhouse, the Deputy Director of Society for the Prevention of Cruelty to Animals in Hong Kong, said.
"The Administration does not have plans to advocate the development of, or regulate by way of legislation, pet restaurants," said the Secretary for Labour and Welfare, Mr Matthew Cheung Kin-chung in a 2012 statement. 
The SPCA is concerned that the economic needs of the animal cafes might be put above animal welfare.
People might not recognize the subtle stress signals expressed when there's a conflict between animals; and conflicts with people.
She said that most animal cafes in Hong Kong are cat cafes, but there is a new cafe that displays exotic animals. She said this could be problematic as exotic animals are not human companion animals like cats and dogs are.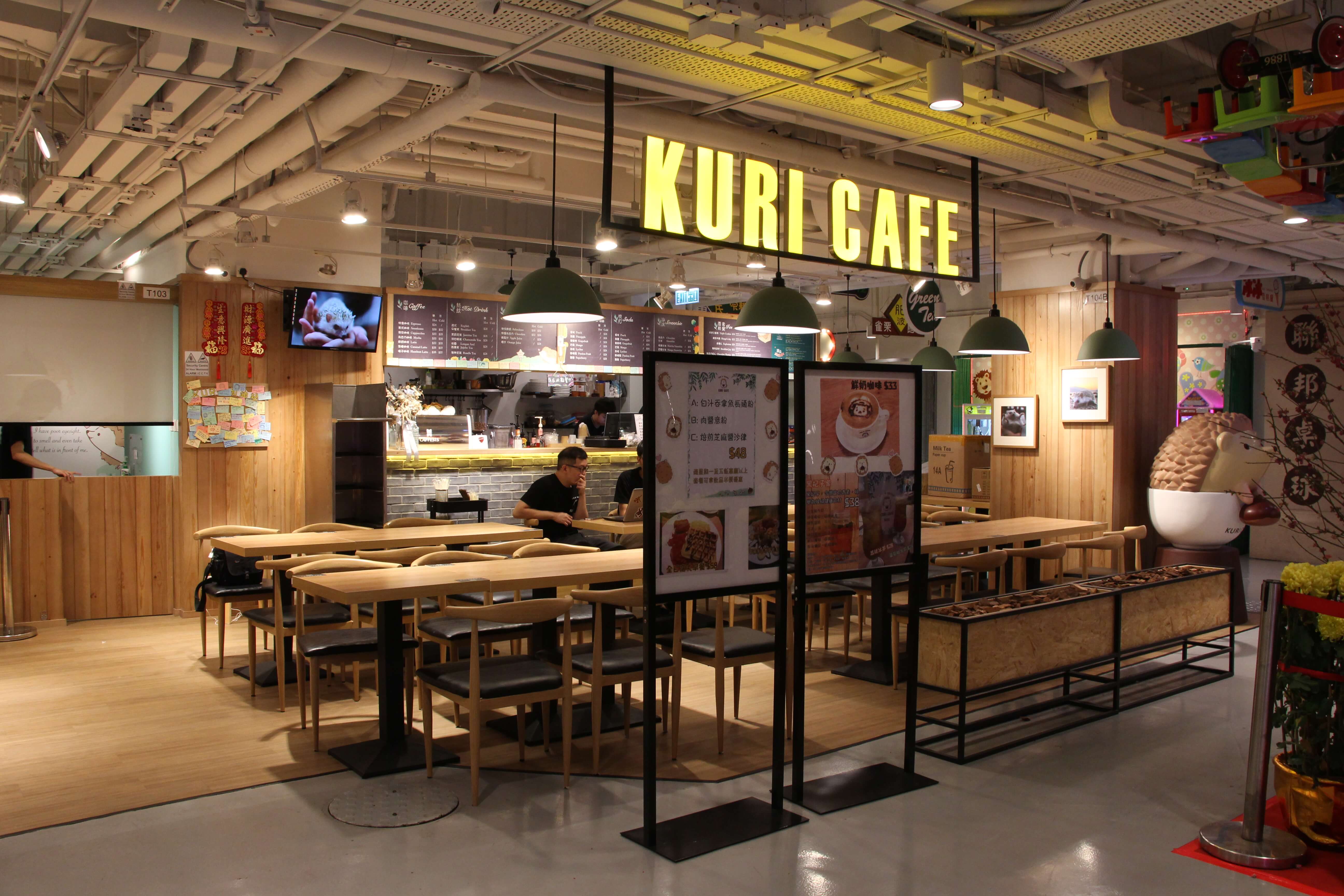 The Kuri Cafe is the first hedgehog cafe in Hong Kong and home to 10 hedgehogs. The cafe is divided to two distinct areas: one for the hedgehog "tour", and another for food and beverages only.
Hedgehogs in the cafe take turns to interact with customers. Customers can only see the animals upon booking a tour, which lasts around 45 minutes, with only one hedgehog interacting with a maximum of 10 participants.
Under the current Food Business regulations in Hong Kong, no animals should be in the presence of any rooms where food is prepared and dogs are not permitted to enter any food premises. However, it does not state if other animals are allowed to enter.
"It would be a lot better if it is quite clear of what was and wasn't allowed," said
Dr. Woodhouse. She agrees that having animals in food preparation areas, such as kitchens and storages, has to be regulated.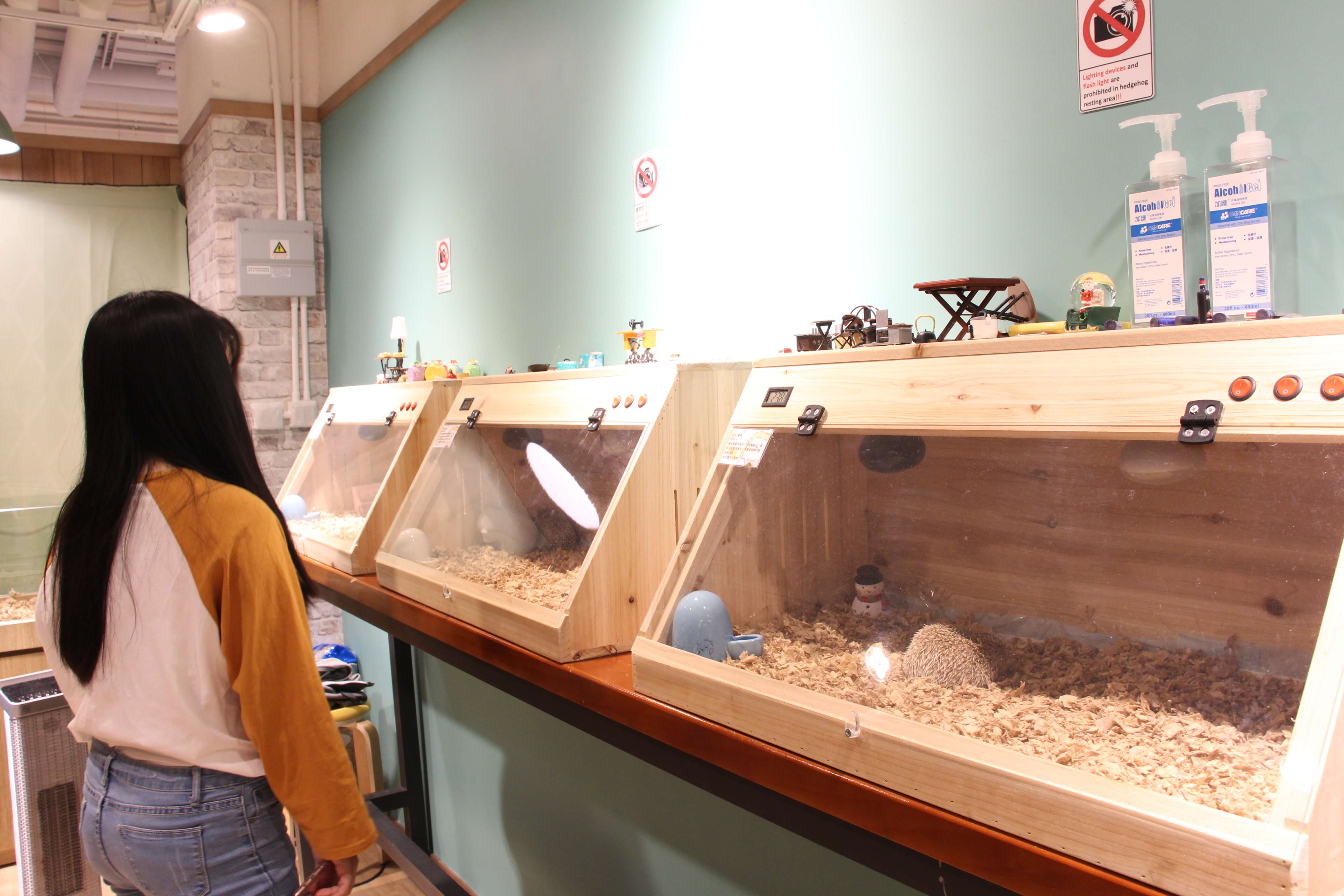 But in the Cat Island Cafe at the Catstore, cats have full access to the open kitchen and storage room.
Tiger Or, the spokesperson for the Cat Island Cafe in Causeway Bay, said cats are trained to behave in their kitchen and that some of them enjoy taking a break in the storage room.
Cats are allowed to roam freely here because the cafe is licensed as a club rather than a restaurant. Customers have to be registered as a member of the cafe in order to be served.
The Clubs Ordinance regulated by the Home Affairs Department has no specific rules for animals or foods. The club, with six cats, has implemented its own set of rules for club members to follow, such as not disturbing eating cats and not feeding them with outside food. When staff leave the restaurant, they have to make sure all kitchen appliances are turned off and all sharp objects are stored.
The Agriculture, Fisheries and Conservation Department also does not impose licensing requirements on pet cafes. A written email response from the Assistant Information Officer of AFCD stated that "cafe owners must pay attention to the welfare of the animals." According to the Prevention to Animal Cruelty Ordinance, anyone who fails to provide sufficient space, food and water or permits unnecessary suffering to animals can face prosecution.
Dr. Woodhouse said currently the most basic regulations for animal cruelty is not enough to protect pets in animal cafes.
"When you have a licence, there is a right to let people inspect you, but at the moment there's no license. There's no right to check if things are okay, unless there is a strong suspicion that animal cruelty took place," said Dr. Woodhouse.
The Cat Island Cafe has operated as a club for 19 years. Each year, government departments, including the Fire Service Department, Office of the Licensing Authority and Food and Health Bureau, conduct annual inspections. Because it is a restaurant, Kuri Cafe was inspected by teams from AFCD and Food and Health Bureau after the restaurant opened in December 2018. Mr. Lau, who has received complaints over having hedgehogs, said some online critics have never been to the shop.
Kuri Cafe has faced much criticism on Facebook. Some commenters have expressed their worries about the nocturnal hedgehogs being overly exposed to broad daylight. Others are concerned they might be at risk of exploitation.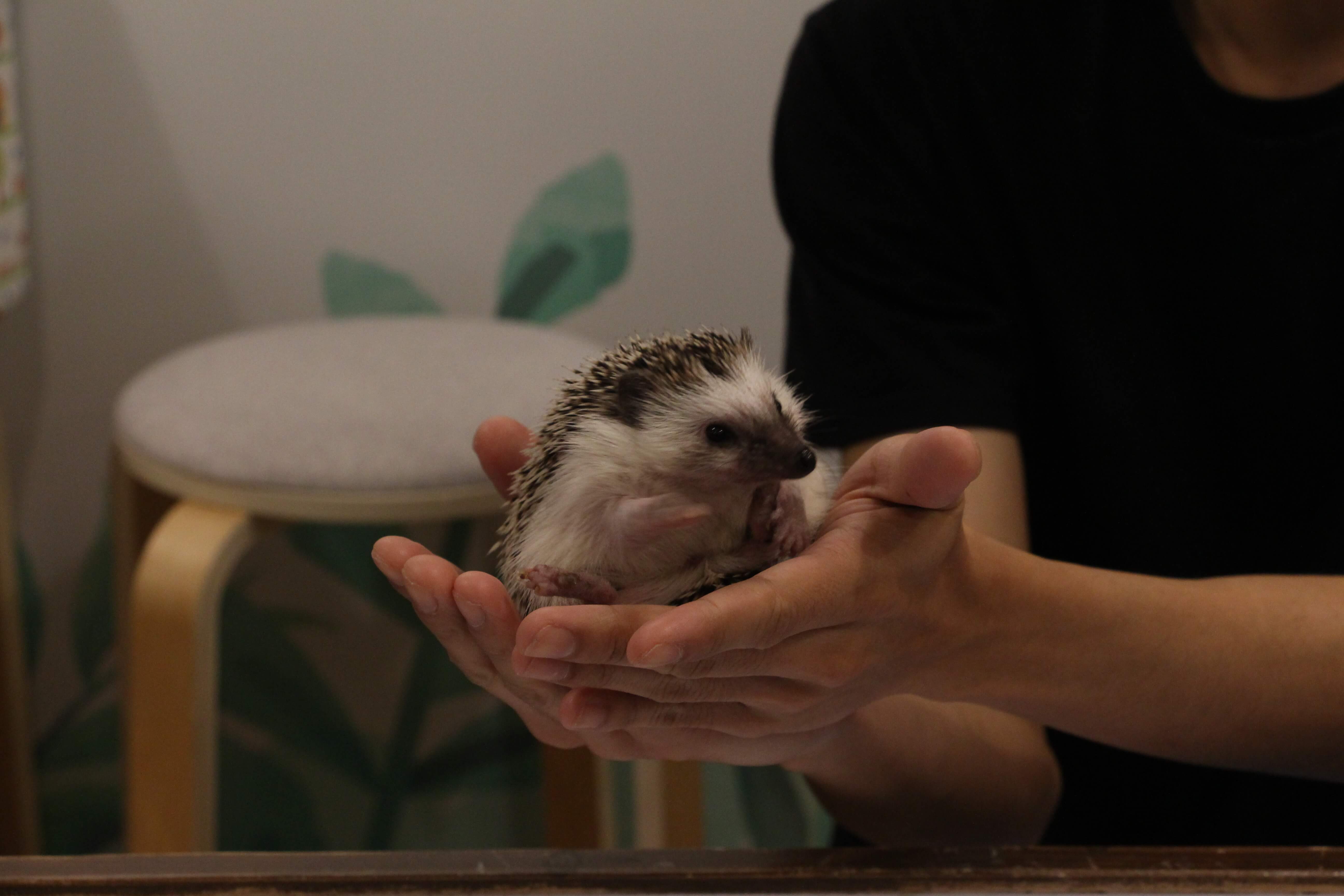 The SPCA gets calls of concerns about the treatment of animals in cafes from time to time, they said. They then conduct their own inspections. Since SPCA is not a licensing authority with no legal power, they can only advise and ask questions, such as the animals' medical records.
Mr. Lee said his cat cafe has rules, such as not using a flashlight when taking photos and children must be accompanied by parents when visiting the shop. Also, he said his customers take care of the cats.
Dr. Woodhouse worries visitors might think their pleasure overrides the cats' wants and needs.