Fishermen hit by trawling ban need career help, not just money
Two years after ban is introduced, only four appeals over compensation have been processed
Sixty-five-year-old fisherman Mr Wong Kin-kwong has finally decided to leave the industry and sell his trawler, which has been his companion for more than 30 years.
Born in a fisherman's family, Mr Wong started fishing after finishing primaryschool."IfIdon'tworkin the industry, what else can I do?" said Mr Wong, who has practiced trawling for 41 years.
In 2012, the Legislative Council passed legislative amendments to ban trawling in Hong Kong waters with a view to saving the damaged seabed and depleted sea resources.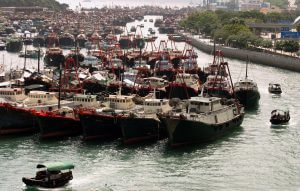 Since then, Mr Wong has tried many means to make a living. He sailed further to fish; he took part- time jobs; he even rented his trawler to fishing enthusiasts and drove them to the fishing waters. Yet his income has failed to cover costs, including fuel.
"Fishermen have to leave Hong Kong waters and sail to the outer sea. They need to face new waters, tougher waves and challenges of new sailing routes," said Mr Cheung Siu-keung, chairman of the Hong Kong Fishermen Consortium. Compared to younger fishermen, elder fishermen found it harder to adapt to the new environment, he said.
According to the Agriculture, Fisheries and Conservation Department, 710 eligible larger trawler owners and 269 inshore trawler owners are affected by the ban.
The Government pledged to give one-off assistance to the affected trawler owners and deckhands employed by them. Their applications for assistance are assessed according to a vessel's engine capacity, number of deckhands employed and fuel type.
Mr Wong's trawler is regarded as an eligible larger trawler which "generally does not operate in Hong Kong waters". He was given an ex- gratia allowance of $150,000.
"Financial compensation doesn't make much sense," said Mr Pang Siu-kei, community director from the Southern Branch of the Democratic Alliance for the Betterment and Progress of Hong Kong who specialises in fishing issues.
"Government 'kills' the rights of trawlers to work in Hong Kong waters. Even if government gives out millions of dollars to compensate, it cannot make up for the fishermen's actual loss."
Mr Pang said a fisherman could make millions of dollars in a few years.
The Food and Health Bureauhas set up an inter-departmental working group to deal with appeals by dissatisfied fishermen. By the end of November 2013, 854 appeals were received, but the first stage of hearing only involved 32 cases, of which only four have been completed by now.
"It took two years for the government to deal with four cases. Will it take 200 years for the government to deal with the other 800 cases?" Mr Wong asked.
Mr Pang said some fishermen could not wait any more and chose to sell their trawlers, but the assessment procedure depends largely on the trawlers. "Fishermen who sold their ship would lose the evidence to show their sufferings. They are in a worse situation during the appeal period."
Mr Vincent Chan, executive manager of the Fishermen Claims Appeal Board, said the hearings were conducted in stages so that the appeals were processed in a "just, smooth, economical and expeditious manner".
He said in the first stage, the hearing of 32 cases could develop parameters and formulas for apportioning the ex-gratia payment. In the next stage, the board has pledged to hear all the remaining appeal cases.
Mr Pang suggests the government should provide assistances for fishermen to make career shifts in addition to financial subsidies.
"Fishermen are attached to the sea," said Mr Pang. "They would never sell their boats if they have other choices."
By Catherine Chen
Edited by Rainbow Li