Sugar blow your own figures
While the local craftmanship slowly dies out, a lady still refuses to let go of sugar-blowing, which is a part of many's childhood.
Chung Choi Wan, 60, is one of the remaining three craftsmen in Hong Kong who knows how to blow sugar-coated figurine, also known as sugar- blown figure, classified as one of the Hong Kong's intangible cultural heritage according to the Hong Kong In- tangible Cultural Heritage Database.
Making such figurine requires a high degree of patience and it is easy to fail during the making process. Until now, there isn't any license issued by the government to ensure the right of sugar-blowing hawkers, which becomes one of the potential obstacles for such craftsmanship to exists throughout the century, said Chung.
Sugar-coated figurine have over 300 years of history and made of maltose that has been treated with secret formulas. Chung said that she could not reveal the special treatment for maltose as it can only pass on to her apprentice according to traditional rules. Craftsman can change maltose into different shapes by bare hands and using simple tools like toothpicks to carve out the pattern of animal fur. Chung can made maltose into animal shapes such as dolphin and swan.
The technique of blowing a large ball shape from a droplet-like maltose is to blow it instantly when the maltose is still hot enough to change its shape.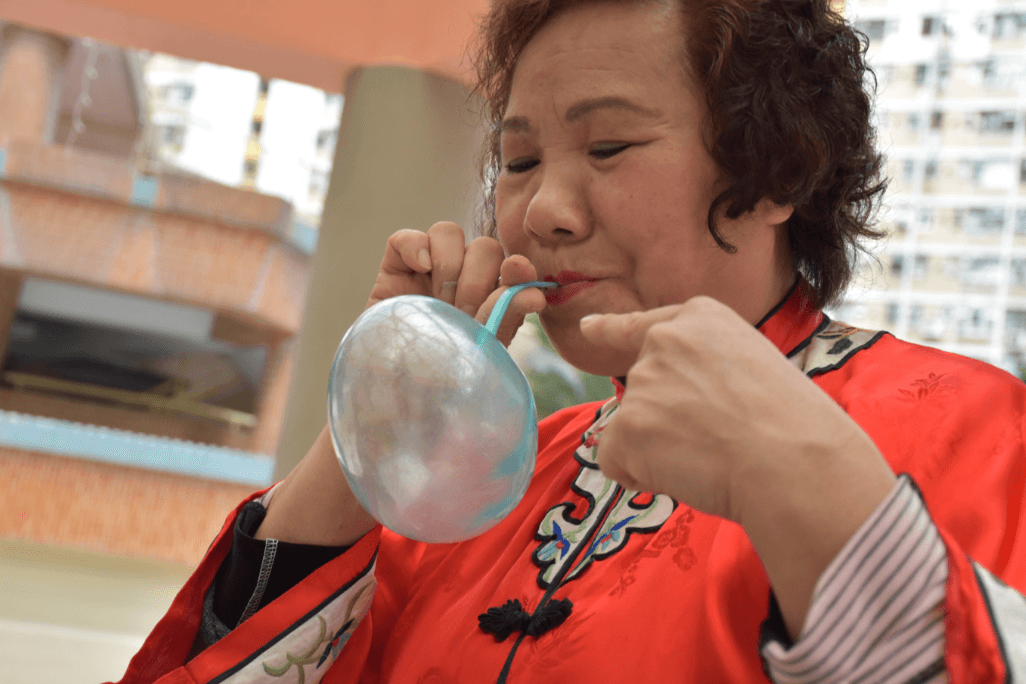 "When the maltose ball is in dumpling size, blow it slowly until it change to the size of an egg", said Chung.
"Blowing ball, laughing more" is Chung's slogan, which also written in front of her movable cart. Spread- ing the joy around is why Chung starts to learn this traditional art. The colorful coatings of the figures can easily attract eyeballs. She recalled that once a four-person family visited her, one of their child play with the sugar-coated figure, the whole family share the equal happiness as much as the baby boy.
"There is much more happiness in giving than in receiving." said Chung.
Chung has been doing this for 17 years which she learnt it from her uncle. In Chung's family, no one was willing to inherit this craftsmanship. That makes Chung the first female to learn the skills in her family.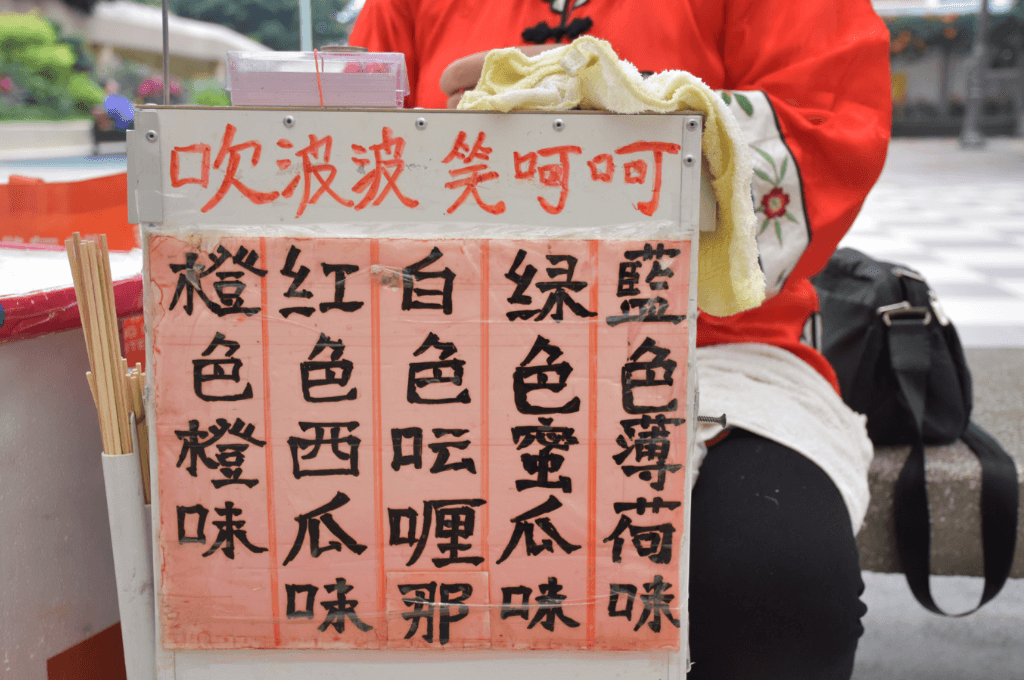 Most of the sugar figures that Chung makes are free of charge. She hopes that people can enjoy the happiness in her works. Chung normally stations her cart in fun fairs and festive events, such as the Tsing Yi Bamboo Theatre and Flower Market during Lunar New Year.
While Chung was practicing and packing those candies, fragments of sweets dropped on floor. Those candies are sticky that if they are not removed or cleaned immediately, ants can be found at home. Chung said that her husband often mumbles as she made her flat in dirt.
After a long period of time, Chung's husband found that it was very tiring for Chung to stay up whole day during event and operate the cart. Now, Chung's husband not only support her, but also help in equipment set up during events, thus, hopes to minimize Chung's burden.
"Craftsmanship like making the sugar-coated figurine, government does not show us much support and license problem is one of the major obstacles that I am facing", said Chung.
Sugar-coated figurines are not a daily necessity. Instead it is a form of art or entertainment, so there should not be fixed locations when talking about promoting art, Chung added. The larger the coverage and publicity, the easier to promote traditional craftsmanship.
Chung recalls the first time she sets up her cart in Cheung Chau once she knows how to make those figures. "The humid weather turned those prepared maltose into watery texture and I was not able to make any fixed shape figures," said Chung. "Kids around just kept on urging me to give them animal figures and I was totally lost at that time since Uncle So, the one who taught me such skills, was not next to me."
Chung calmed herself down, through away all those unused maltose and made everything all over again at last.
Chung gains her inspiration in daily observation. Animal figures, such as peacock and swan, taught by Uncle So, are popular among kids. Rose-like candies are also one of Chung's favorites among her creations as she invented by herself.
Having a good mastery in handling maltose is not an easy job, according to Chung. It is easy to get burn, especially on hand as her skin of- ten closely connects with high temperature during work. High-risk of getting injuries when perform this craftsmanship might hinder people's passion to learn this tradition skill.
"The technique of blowing a large ball shape from a droplet-like maltose is to blow it instantly when the maltose is still hot enough to change its shape." said
Worried and upset by the current development of traditional Chinese craftsmanship, Chung complained that the government is not showing enough support to the sector and she suggest the government could recognized craftsmen's hard work in legal bases by issuing licenses.
Officers from the Food and Environmental Hygiene Department have once confiscated Chung's working tools, when she displays her work in the the Mong Kok Pedestrian Zone. According to Chung. " I didn't even sell my work to pedestrian on the street and just put a box in front of the cart for free donation to support my work." said Chung. She has been fined for HK$2000 as penalty due to public space obstruction.
Chung hopes to find a successor who is willing to learn and not afraid of hardship so that sugar-coated figure can pass across generations.
Leung Hoi Kwok,Chung's husband, said that he is happy to see the success of Chung's craftsmanship as her hard work has been acknowledged by others. " My wife can't carry a lot so I help her carry those heavy utensils to the event venue," said Leung.
Eric Yeung, 21, was a resident living near Chung and has tried to blow a maltose ball from Chung's. He thinks that there are lots of entertainment that are much more interesting than blowing the maltose ball nowadays.
Reported by Candice Wong
Edited by Sean Tsu