Different Faces, Same Values
Edited by: Jianne Soriano

2017-05-24
Located in Tsim Sha Tsui, Chungking Mansions is not only a landmark but also a hub of different cultures with many ethnic minorities.
Walking out from Tsim Sha Tsui station, Muhammed Hussain is used to the hustle and bustle of the crowd. Many have East Asian faces, speaking Mandarin or Korean loudly with a draw- bar box in hand. Many of these tourists with money to burn love the emporiums where they can easily find popular designer brands such as Louis Vuitton or Gucci.
It's 12:03pm. Hussain looks down at his watch as he waits for the traffic light to cross busy Nathan Road. In a few hours, white-collar workers and tourists will head to the nearby historic Peninsula Hotel for afternoon tea.
But neither the Peninsula nor the emporium is Hussain's destination. Instead, he steps through an inconspicuous building entrance and heads upstairs to his mobile phone shop.
Everyday Hussain, a 20 year-old Pakistani man, follows the same routine. He meets 20 to 30 customers a day until he closes his shop at 9 pm. He may go for a late lunch, usually curry and rice, not because he likes it but because it is a common menu in the building.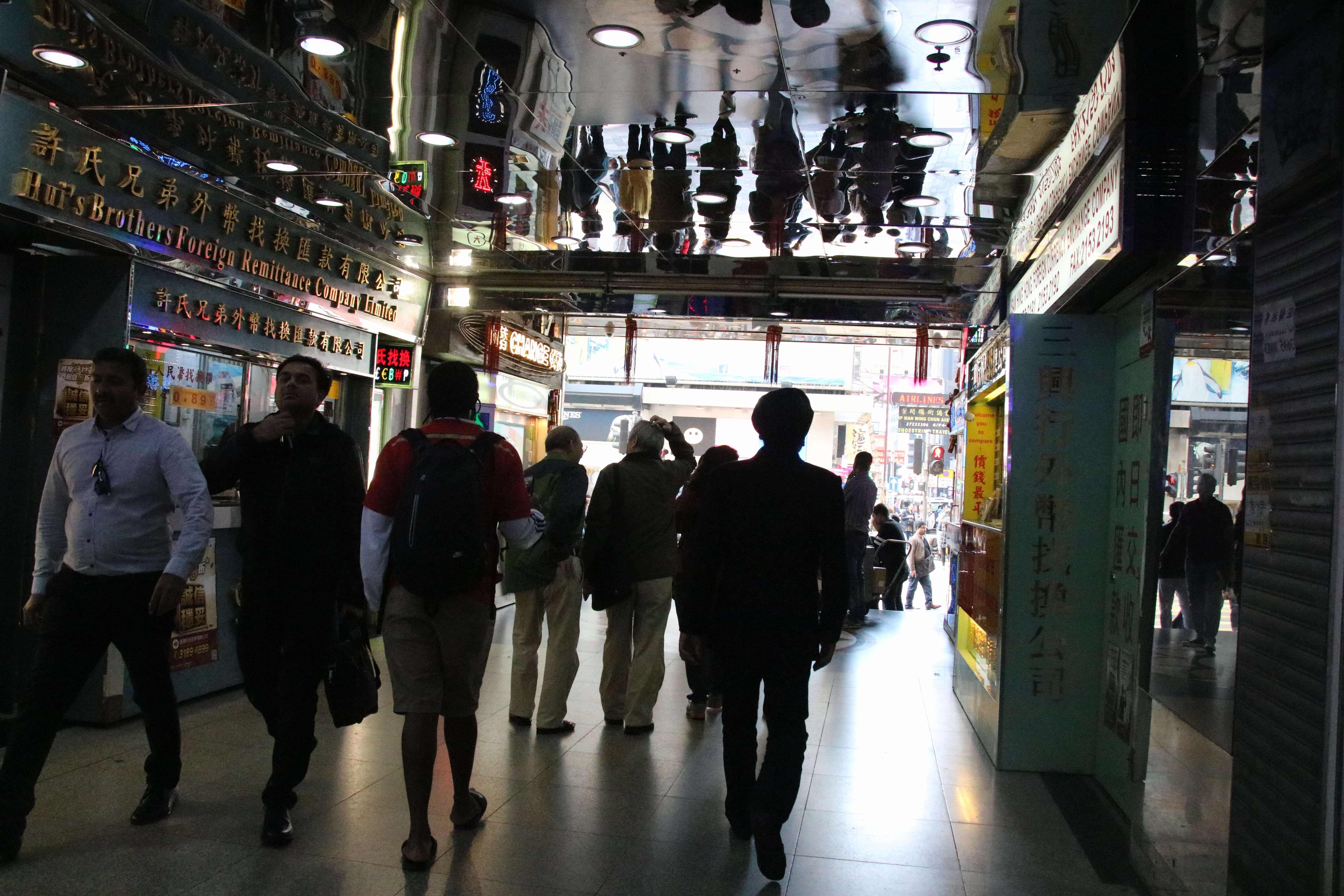 Just like other commercial buildings in the neighborhood, there are many mobile phone shops, money changers and restaurants. But unlike other buildings, restaurants here mainly sell Indian food and most shopkeepers are South Asian and African men.
The building's name is Chungking Mansions, and it's history is full of mystery and lore to even locals and the tourists who know it for its cheap accommodation.
Located in Tsim Sha Tsui, one of the most prosperous districts in Hong Kong, Chungking Mansions has never been seen as a part of Hong Kong, even after being chosen as a landmark for foreign travellers by Lonely Planet and ranking ninth in the Top 10 Things to Do in Hong Kong by TIME magazine.
Much of its fame comes from Hong Kong director Wong Kar-wai's film Chungking Express that depicted a romance between a policeman and a criminal.
Hussain was born in the conflict area Kashmir on the Indian subcontinent. His family are all in business and they brought him here as a child. After high school, he attended a local business school with a two-year programme. After he graduated, he opened his own shop.
"I came to Chungking Mansions three years ago. The rent here is lower compared with other commercial buildings in Tsim Sha Tsui. And also Chungking Mansions gives me a feeling of intimacy as there are many ethnic minorities like me," said Hussain.
A 2013 survey by the Hong Kong Baptist University found that more than 70 percent of the 4,000-plus occupants of Chungking Mansions are from outside Hong Kong.Besides Africans, there are numerous Indians, Pakistanis, Nepalese and Bangladeshis.
Travelers from more than 130 countries and territories check into the 17-story building each year and on any given day, its mobile population tops 10,000, shown the survey.
Gordon Mathews, an anthropologist working at the Chinese University of Hong Kong who once studied Chungking Mansions for four years, said that due to visa issues, Africans stay for less time than South Asians, who regard Chungking Mansions as home.
"To most residents, Chungking Mansions is just a working place. I don't think they think Chungking Mansions has a special meaning to them," said Gordon Mathews.
But for Hussain, this is the start of his dream. He hopes that through his business, he will earn enough to expand it to other prime locations like Causeway Bay, Mongkok and even overseas.
Hussain sees himself as a Hong Konger. He studied Cantonese in primary school and has many local friends. He likes Joshua Wong and pays close attention to Hong Kong's current political situations. He also keeps a watchful eye on the policy reform concerning ethnic minorities.
Hussain does not think he has ever been discriminated against, because he can speak Cantonese.
"But many friends that I met in Chungking Mansions face discrimination due to language problem. It's the government's job to popularize Cantonese among ethnic minority," said Hussain.
But Matthews said many ethnic minorities do not feel integrated.
"If somebody were South-Asian, even if they are successful in Hong Kong society, they still feel like an outsider," he said.
Hong Kong Unison, a non- governmental organization which provides services and support for ethnic minorities, conducted a survey about the degree of acceptance of ethnic minorities by Chinese Hongkongers.
A "considerable" number of respondents relate ethnic minorities with "crime", "poverty" and "low level of culture", according to the survey results. Chungking Mansions as well as Osama bin Laden are also mentioned when respondents were asked their impressions on ethnic minorities.
According to the latest population census, the number of Pakistanis has increased by 38.4% from to 18,042 people in 2011. However, according to the survey done by Hong Kong Unison, Pakistanis are the least accepted ethnic minority group in the city.
"For Africans it's understandable because most Africans are not in Hong Kong permanently. For South-Asians though, many of them have been in Hong Kong longer than most Hong Kong Chinese have been.
Mathews said the lack of acceptance is because of skin colour, not language.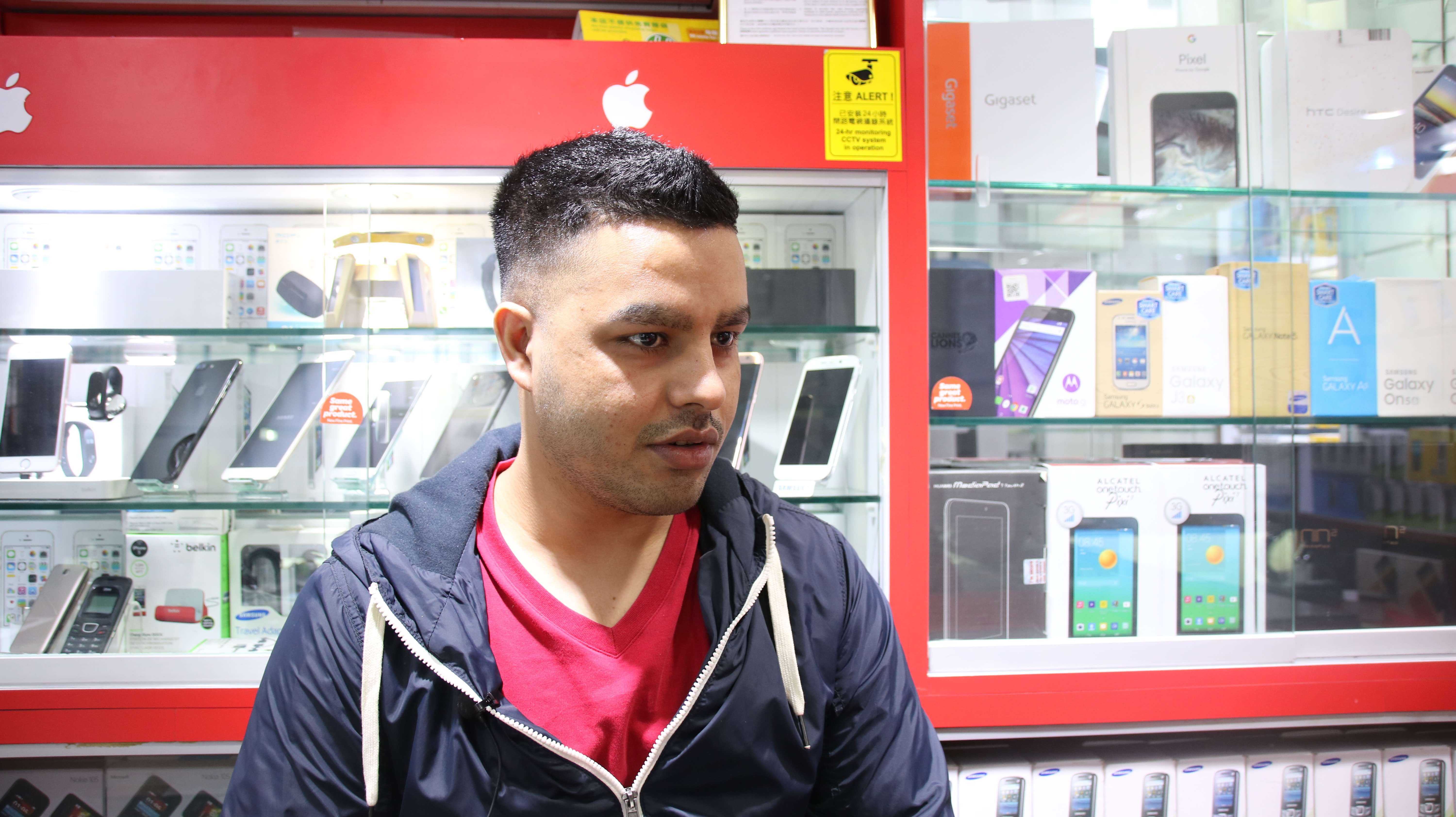 "I don't speak much Cantonese and it doesn't cause problems for me," he said.
"Chinese are often racists, assuming that black and brown people come from poor countries and don't need attention. Many South-Asians in Chungking Mansions come recently but some have families and they've grown up in Hong Kong. So it's odd they wouldn't be considered as Hongkongers but that's the way most people think.
By Jade Li and Sammi Chan
Edited by Jianne Soriano and Henry Wong