The Online Hotbed for Illegal Drugs
Blue pills - the story ends, you wake up in your bed, believing whatever you want to believe. Red pills - you stay in Wonderland, knowing how deep the rabbit hole goes. Sixteen-year-old Amy chose a set of pills from Yanhee Hospital which promised "a safe and effective hallucination". Convinced by the photos and videos posted by an online shop on Instagram, she paid $300 to buy this medication.
"On the first day, I felt dizzy after taking the medicine. My heart was pounding very fast and I was always thirsty. I couldn't fall asleep no matter how sleepy I was. The next day, I felt so weak as if I was floating. Eventually, I couldn't take it anymore. I felt like dying," Amy said.
"I asked the shop owner why I was suffering through WhatsApp. The medicine had no disclaimer on its possible effects. The owner said everyone might react differently, and that I should quit if I was sick," she added.
Social media has become a hotbed for illegal drug trade. By law, substances used for medical purposes must  be registered with the Pharmacy and Poisons Board of Hong Kong before sale. But this is often not the case for medicine sold online. Between 2014 and 2016, there were  23 convictions linked to illegal drug sales on social media, according to the Drug Office.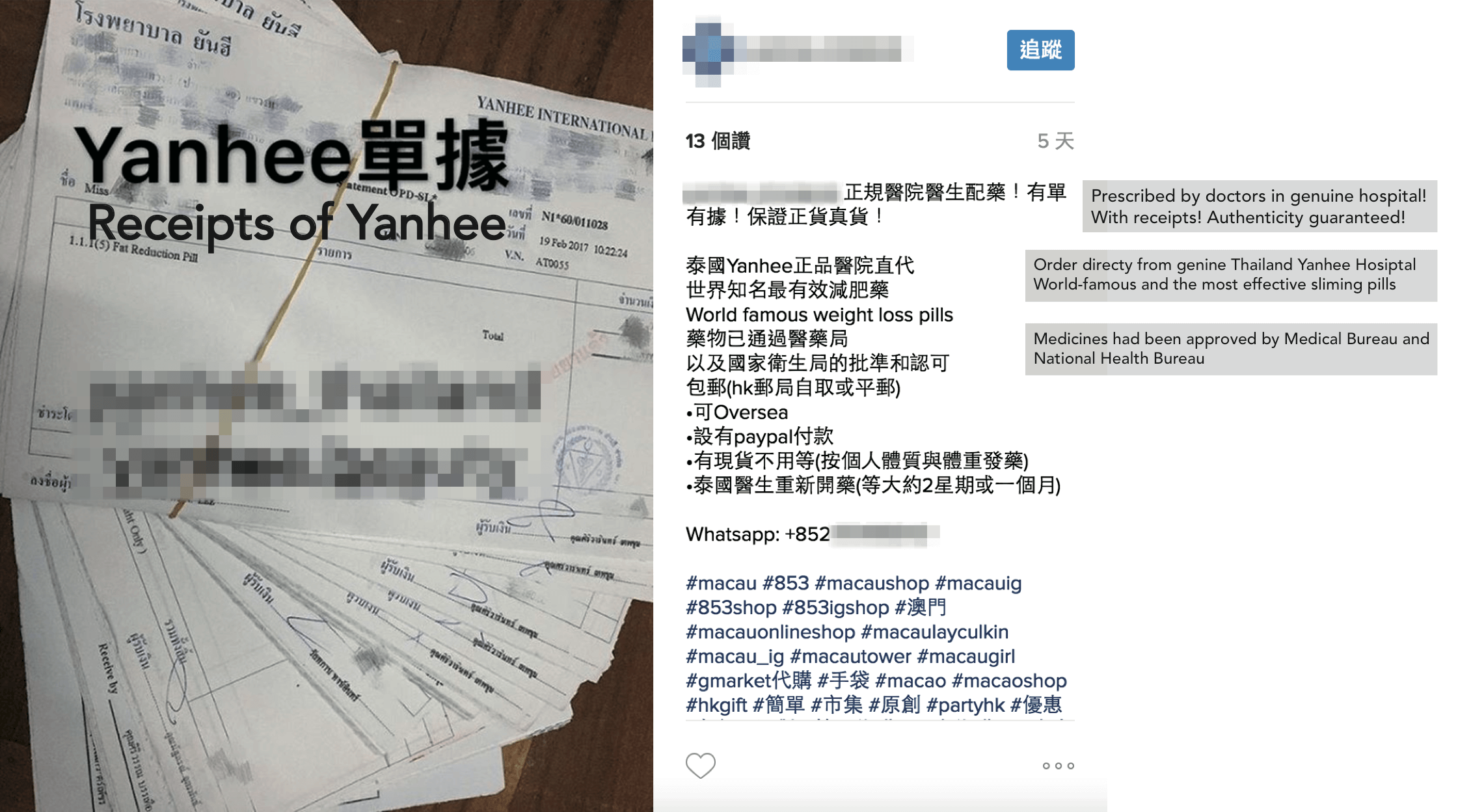 Common drugs offered on social media include those that promise to improve one's appearance, such as breast enhancement or make you grow taller. They come under names such as Cosmoslim, Slim Perfect Legs and Yanhee. Input the keywords on Instagram and you get hundreds of posts of pills.
Online drug sellers often claim there is no medication in their products and that they are approved by the foreign agencies. For example, an online post of a height-increasing pill, High Speed Encourage Growth Capsule, stated it is manufactured by medical firm "GoJar", which is said to be registered under the Food and Drug Administration of the United States. But there is no related record in the database of the department.
According to the Drug Office, the weight-losing pills from Yanhee Hospital, the medicines Amy took, contains sibutramine, and undeclared and prohibited substances that has been banned in Hong Kong since 2009. It is known to cause damages to the cardiovascular system. Other ingredients include psychoactive drugs and laxatives which , by law, can only be prescribed by a doctor. According to the Hospital Authority, 16 victims aged between 15 and 29 years sought treatment for taking this medication in public hospitals from 2013 to Mid 2014. Some of them suffered from shock, mental alienation and heart palpitation after taking the medicine.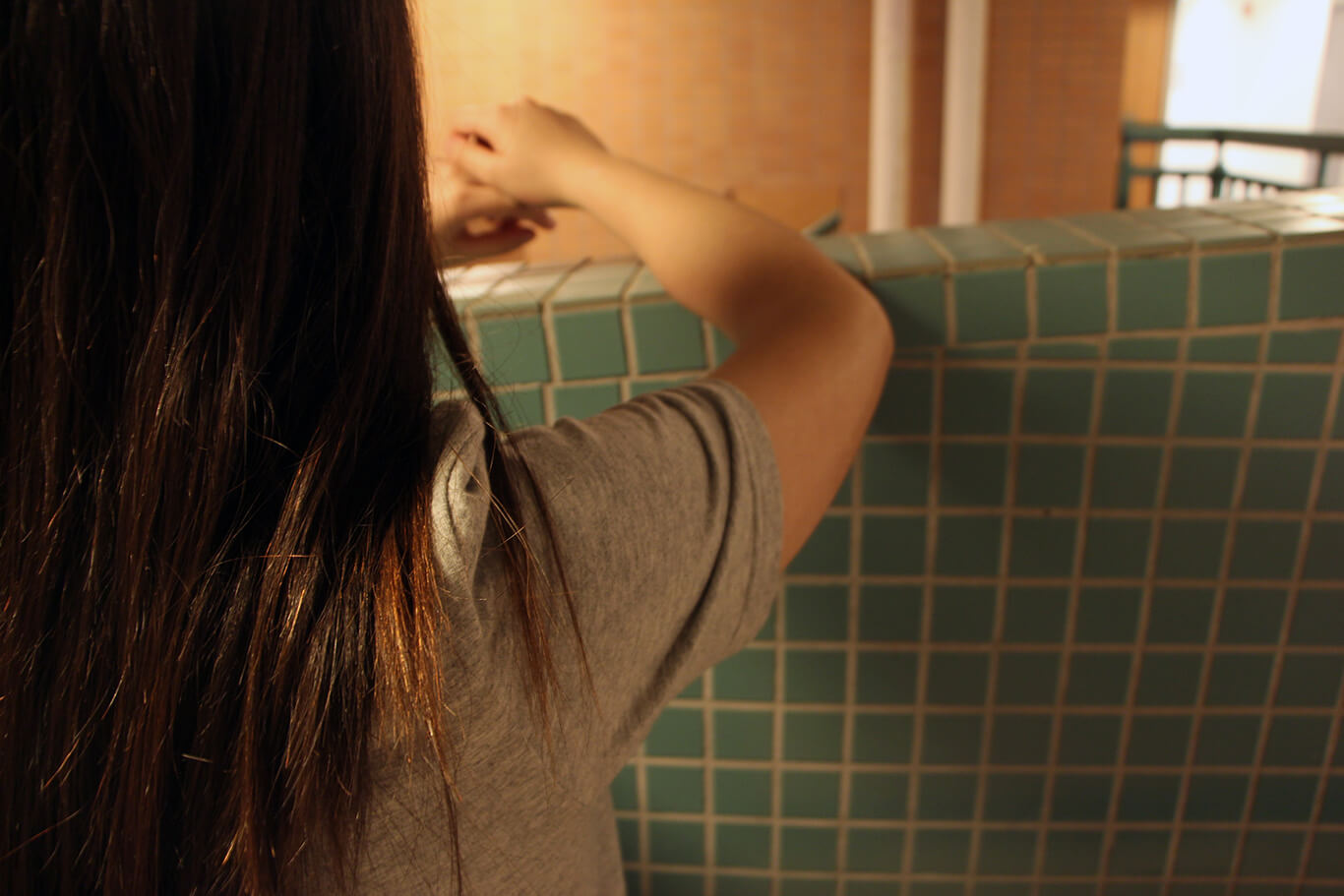 Despite her experience, Amy continued to purchase medication online. "I thought I should get rid of the chemicals from my body quickly, so I wanted to try new drugs again and again," Amy said, "I just wasted hundreds of dollars buying useless products".
"The online shops would follow your account on Instagram and try to to sell you more pills," she added.
Sally (again, not her real name) runs an online shop via Instagram. She sells mainly cosmetics and beauty products.
When she travels, she buys products upon customers' requests and earn the handling fee of around $20 to $30 for each product. But she also buys medicine for shoppers.
"I am not even selling the medicine," Sally said, "I just help people buy them, just like souvenirs."
She once helped a customer buy Taisho comprehensive cold pills from Japan. In 2016, a man was arrested for selling the powder version of this medication. It is not registered in Hong Kong and can only be sold with a prescription. Sally's practice may be illegal in another way since she does not have a trader license as required in the Import and Export Ordinance .
"I didn't even know it is illegal.  But I chose not to sell medicine publicly because drugs may harm our health," Sally said.
William Chui Chun-ming, president of the Society of Hospital Pharmacists of Hong Kong said the government should hold online vendors of illegal drugs responsible. Existing laws on the drug trade, he said ,  date back to 1978 and there is a lack of public education on the issue.
"Only when there are incidents, the government would tell the public not to buy drugs from the Internet," said Chui. He called on the authority to promote community pharmacists as primary gatekeepers of public health because consumers can seek their advice easily and for free.
"Internet vendors separate the process of payment and the delivery of products to the clients. This  makes it hard to trace the trading process which is needed for prosecution," said Chui, "the quantity of medicines involved in the trade have to be relatively large too".
Apart from establishing a specific team to monitor internet sellers, Chui said Hong Kong should refer to laws from other countries. For example, in the United Kingdom, online medicine stores need to be registered with the Medicines and Healthcare products Regulatory Agency and display an EU common logo on their website since 2015.
"Similar to buying clothes from Taobao, you always know there are risks that they are not authentic,"  Chui pointed out, " but for medication, it's dangerous".
Amy does not order medication on the Internet anymore, but there is still a stuffed pill box in her bedroom. She has painkillers, anti-inflammatory capsules and sleeping pills. She has lost count of all the times she tossed and turned every night. Glancing into the darkness, she realized what she has lost  not just her money, but probably also her  health.
Reported by Yoyo Chow
Edited by Tiffany Lui