Getting Away from Petty People
Did 2016 go well for you? If not, consider hiring a 'petty person beater' to beat away the bad luck.
Every day from around 10 am to 7pm, Leung sits at her 'battle field' beneath the Canal Road Flyover in Causeway Bay. Her 'battle field' is comprised of an altar with a Buddha, a Monkey King and a whole host of fruits. Beside the altar, there is a little red table packed with two incense burners with dozens of joss sticks in them, plenty of yellow paper tigers and a thick piece of pork fat.
With HK$50, Leung claims that she can help customers beat any petty people or their specific enemies away from them, using her unique "weapons" - effigies, paper tigers, an old shoe and last but not least, her powerful and fierce voice.
The beating process lasts for around 15 minutes. Leung beats the paper effigy with an old shoe until it is all beaten up. After that, she folds the paper effigy underneath a paper tiger that has been pressed on a piece of pork fat and burns it. The whole process ends with the tossing of sacred cups.
'Petty Person Beating' is a Chinese ritual to dispel evil, particularly enemies around people. They can be colleagues who snitch behind your back or intruders who ruin your relationship with your partner, just to name a few. This popular ritual is listed by the Hong Kong Home Affairs Bureau as one of the Hong Kong's intangible cultural heritage and was selected as one of TIME magazine's 2009 "Best of Asia" features.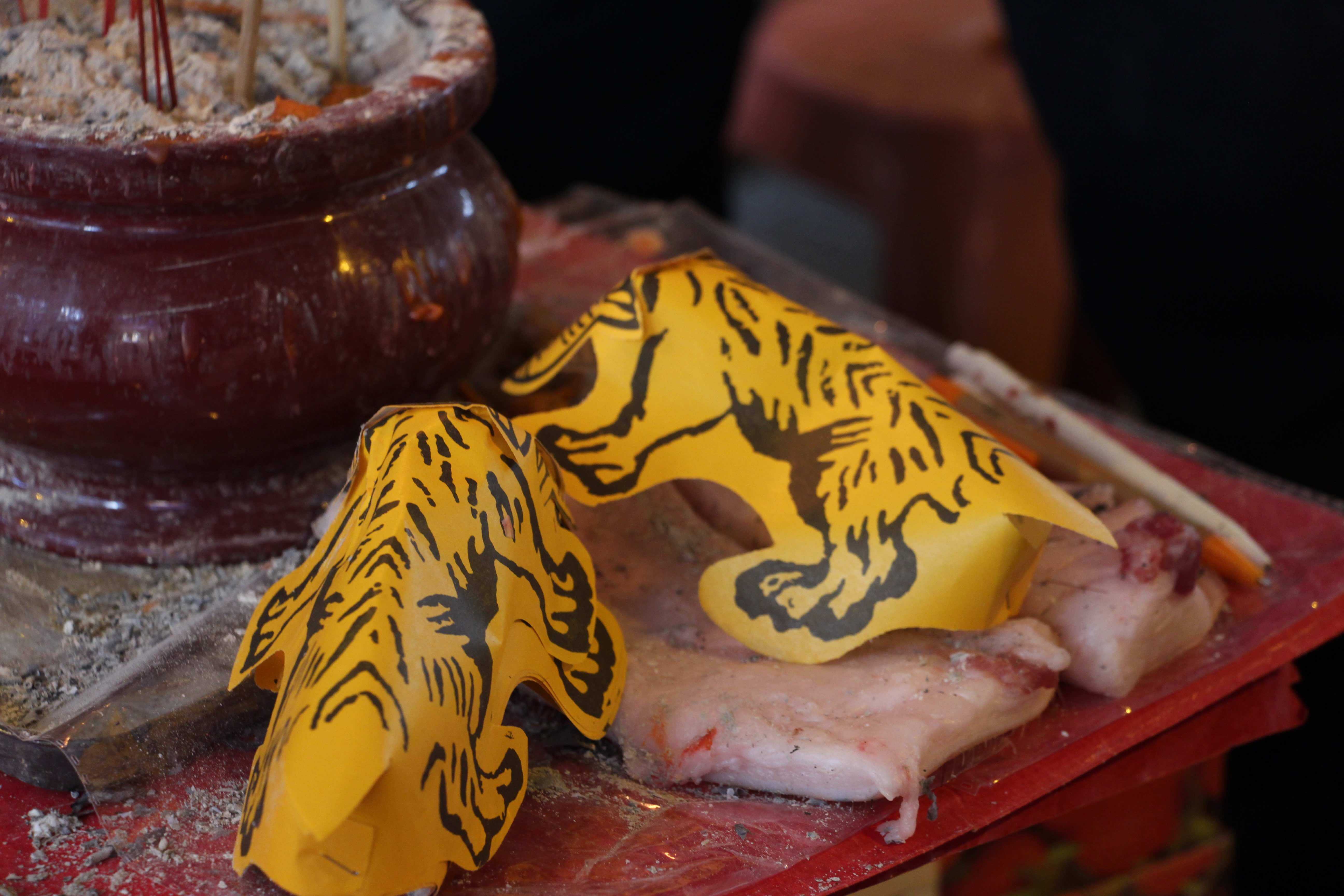 Before becoming a 'petty person' beater, Leung was once a domestic helper. However, her right wrist was hurt during work, and was hence unemployed. She then collected cardboards for a living.
"I was commissioned by Buddha later on," Granny Leung said. Therefore, the old lady taught herself and started working as a professional 'petty person' beater. She has helped thousands of people from all walks of life to repress different kinds of enemies over these years.
"I will not say either I like or dislike this job. I have been doing this for many years. If I do not do this, what else can I do? Just drift along!" Leung said, while dabbing her humpback.
Leung is single. She lives alone. Her brother passed away and all of her nephews and nieces are not in Hong Kong. Being an 81-year-old granny, retirement is not on her to-do list. Instead, she persists in working as a 'petty person' beater every day from dawn to dusk. "Though I am alone, I do not want to rely on anybody. I will not seek aids from the government," she said with a firm voice.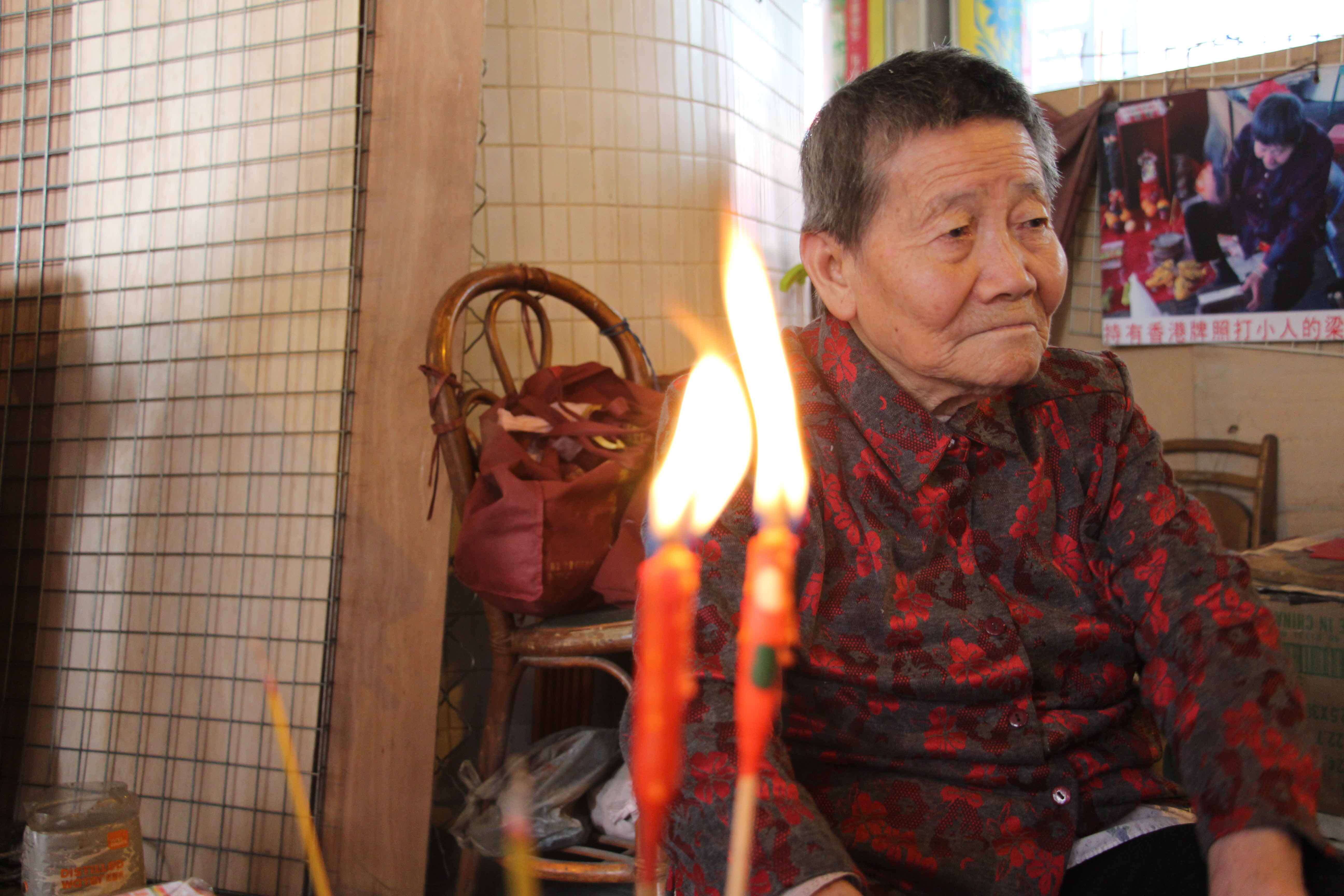 Leung is one of the few professional 'petty person' beaters that still remain in Hong Kong. However, she is not intended to find a successor or teach someone else. What she prefers is to let things slide- if there is a successor, she will take that; if not, she will just let it go.
"If you are commissioned by god, you do not have to learn. If you are not commissioned by god, it is useless for you to learn because the cursing of petty person will never be effective," Leung said.
Nowadays only at Canal Road Flyover can you find beaters performing 'petty person' beating every day. Others just perform it during Jingzhe, the third of 24 solar terms in the Lunar calendar, in some temples. Moreover, beaters are getting older. Nonetheless, Leung is optimistic about the tradition. "This tradition will never die. Nowadays even some youngsters want to become a 'petty person' beater!" Leung said.
People queued in front of her little red table.
Michael Yip, a 36-year-old businessman, came to dispel bad luck for himself and his parents. "If you believe in it, it will work. That's what I do, so it works," he said.
Sharon Chan, a 53-year-old secretary, comes to Granny Leung every half a year. "I beat for a peace of mind. I feel like my career goes smoothly after beating," she said.
Leung coughed several times when she was talking, but she never stopped for a rest. "I do this all for the sake of others, not for myself," she said with a humble smile. "People do not have to say anything good about me. They will come."
Edited by Morris Chan and James Ho