Parents and students criticise Carrie Lam's neglect of student suicides
By: Angie Chan、Ezra Cheung、Japson Melanie Jane、Michelle Ng

Edited by: Winnie Ngai、Jianne Soriano

2017-10-11
The Hong Kong Chief Executive paid little attention to current youth problems in her maiden 195-page policy address released in the Legislative Council this morning.
Various stakeholders, including parent and student representatives and social workers, expressed their disappointment with the report, accusing the leader of neglecting the lives of Hong Kong students.
Covering youth policies in just five pages, she put the spotlight on their participation in politics: creating opportunities for young people to join the Central Policy Unit to be re-organised soon and different commissions under the 13 policy bureaux.
Lam also focused on the provision of internship and exchange opportunities outside the city.
"We will strive to do our best in youth development work by addressing their concerns about education, career pursuit and home ownership," she said during the Legco meeting, "and encouraging their participation in politics as well as public policy discussion and debate."
Yet, the city's leader has failed to mention a single word about the severity of the student suicide epidemic which has claimed 432 lives since 2013.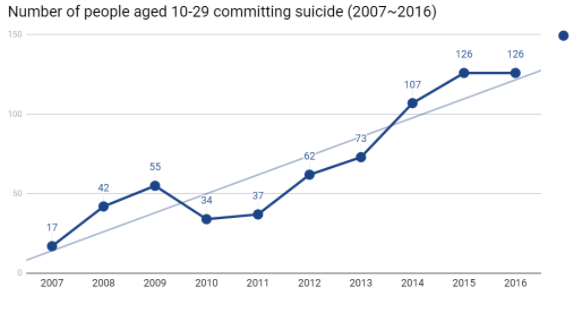 The Committee on Prevention of Student Suicides was formed March last year to tackle this issue. But no further action was done after its final report was published, according to Althea Suen Hiu-nam, the former president of the Hong Kong University Students' Union and a member of this government-appointed student suicide prevention committee.
She expressed her dismay on Lam's failure to include the issue in her first policy address.
"It's absurd to ignore the issue," Suen said, "a disrespect to the lives of the youth."
Annie Cheung Yim-sheun, spokesperson of the Hong Kong Parents United, felt Lam had neglected a major issue given the increasing number of student suicides in Hong Kong.
Cheung attributed Lam's avoidance to the sensitiveness of the sudden death of Peter Poon Hong-yang, the son of Under Secretary for Education, Christine Choi Yuk-lin.
She urged the government to devise a well-established plan and invest more into mental health care.
"When people are already mentally ill, no matter how capable they are, the society will not be stable or harmonious, nor will it be able to move forward," said Cheung.
Legislative Councillor and registered social worker Roy Kwong Chun-yu believed that "the policies in 'Connecting with Young People' is "putting young people on the spot" in reality.
The policy address states that the government is going to recruit 20-30 young people, listening to the voices of the youth in order to make changes accordingly.
However, Kwong doubts the effectiveness of this move.
In the previous year, 126 people between 10 to 29 years old have committed suicide, which is seven times higher than that in 2007.
Three young lives were lost on September 1, 6 and 25 respectively.
(Reported by Angie Chan, Ezra Cheung, Melanie Japson and Michelle Ng
Edited by Jianne Soriano and Winnie Ngai)