Budget 18/19: healthcare expenditure increased while no specific plans on mental health mentioned
By: Vanessa Yung、Oasis Li

Edited by: Elly Wu、Kenji Chan

2018-02-28
Reported by Vanessa Yung, Oasis Li
Edited by Kenji Chan
Infographics edited by Elly Wu
Financial Secretary Paul Chan Mo-po announced to increase the public healthcare services expenditure to HK$ 71.2 billion, accounting for 17.5% of total recurrent expenditure.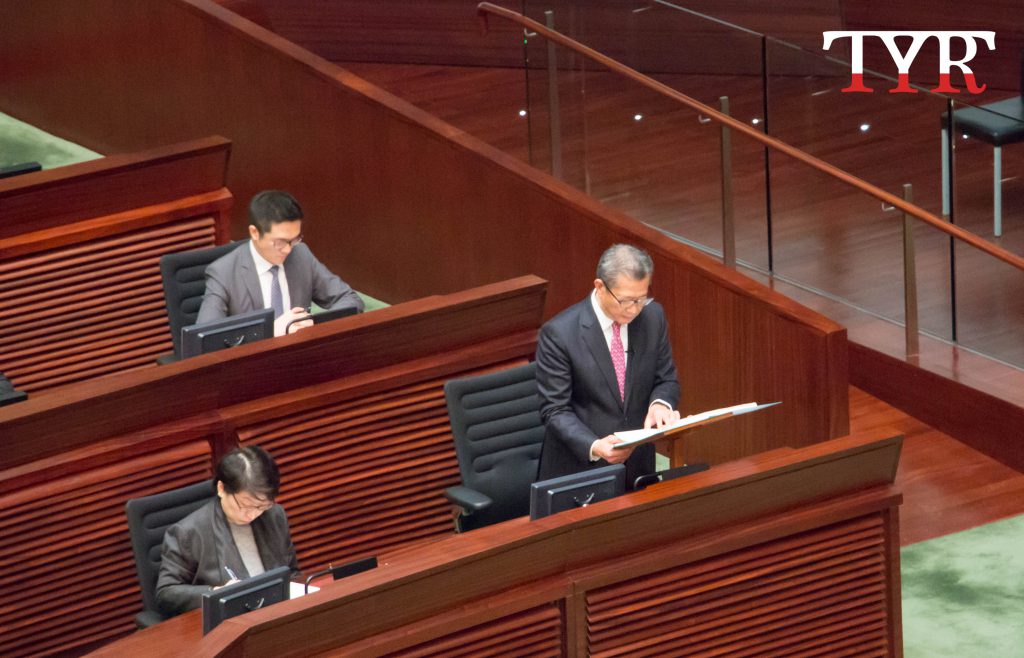 The government provided the Hospital Authority with nearly $6 billion to increase the number of hospital beds, operating theatre sessions, the quota for general out-patient and specialist out-patient services and the manpower required.
Because of the increasing demand for healthcare services, the government has invited the Hospital Authority to start planning the second 10-year hospital development plan, which is expected to deliver 3,000 to 4,000 additional hospital beds and provide additional facilities and quota for consultation.
A sum of $300 billion as an initial provision is set to support this second 10-year hospital development plan, as well as improving the clinic facilities in Department of Health, upgrading and increasing healthcare teaching facilities.
To address the shortage of manpower in hospitals, the government is discussing with the University Grants Committee to increase publicly-funded training capacities for doctors, nurses, dentists, and relevant allied health professionals in the coming three years.
"I will ensure that the Hospital Authority has adequate resources to employ all local medical graduates," Chan said.
Yuen Wai Kit, the spokesperson for Health Policy Concern, thinks the government should not only be focusing on the shortage of doctors.
"The budget allocated resources to increase the number of doctors. What about other medical manpower such as nurses and occupational therapists? The society lacks all sorts of medical manpower instead of only lacking doctors," said Yuen.
Mental health care is not mentioned in the budget. Hong Kong currently has 240,900 people suffering from mental illness, of whom 32,000 are teenagers, while the Hospital Authority is not providing a stable support for mental health care.
According to the Hospital Authority, the number of patients with mental problems has risen considerably by 21.9%, from 197,600 to 240,900 in the past five years, while the health workers only increased slightly by 9%.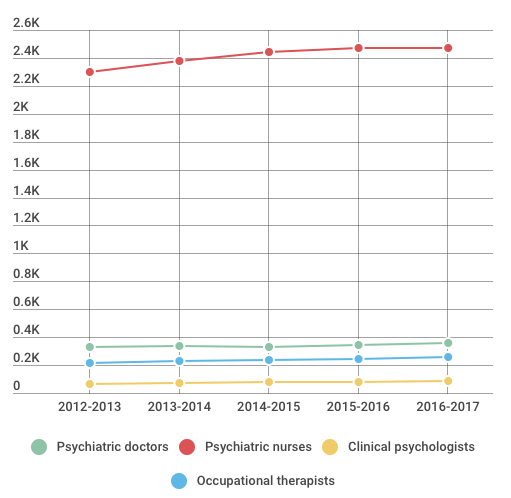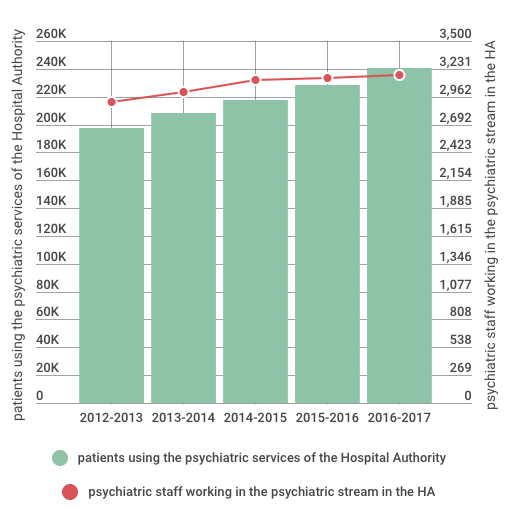 Last year, the government subsidised $73 million to employ 90 psychiatric staff and inputted $40 million to promote the mental wellness through Peer Support Service in Community Psychiatric Service Units.
However, the budget this year did not address mental health in particular. It only mentioned that $100 million will be distributed to the Department of Health to promote a healthy community, including the mental health issues.
"Is it because the government has no clear direction on the mental health issues?" Yuen doubted.
Wong Yan-lung, the chairman of Advisory Committee on mental health, said the government will continue to inject resources into Community Centre for Mental Wellness to set up clinical psychologist posts and enhance social work manpower.
"We will continue to advise the government on mental health policies, including the establishment of more integral and comprehensive approaches to tackle multi-faceted mental health issues in Hong Kong," Wong said.